Bob LeMond - How it all started
After our stunt in the Alps in June for Greg's birthday (read

here

), I was lucky enough to join Greg LeMond and the Eurosport crew in Paris for the last stage of the Tour de France. A lot of family members were in attendance which gave me the opportunity to chat with them. With the release of Guy Andrews's book "Greg LeMond Yellow Jersey Racer" this month, we thought it would be a good time to share what we've learned about Greg's early years, to complement the book.
I spotted Bob, Greg's dad, sitting right after the finish line. Bob was keeping a low profile but he was more than happy to answer my questions. As you would expect, he and his wife Kathy are the kindest people you could meet. I sat next to Bob and turned on my iPhone mic, hoping it would grab Bob's words more than the noise of the crowd and the loud speakers up above.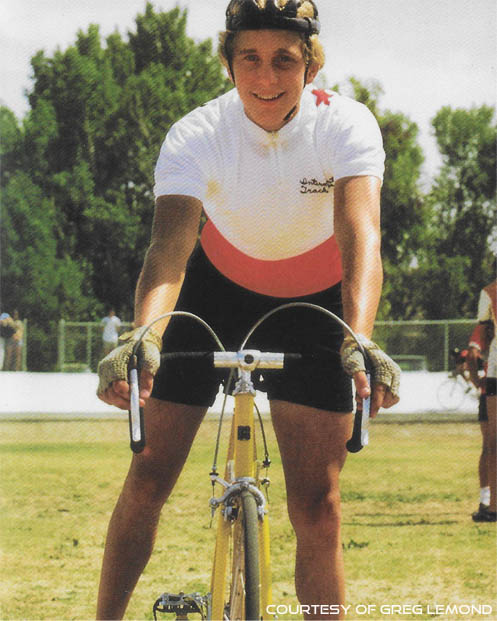 "When we started riding, Greg met a couple of riders in Reno that were good riders but not professionals." Said Bob. "They were amateurs. One was Cliff Young. He's an attorney now, in Reno. He liked the track. Greg started riding with him. Cliff would always want to sprint to some sign or something and Greg would do it. But Greg, from the very start, was determined to win races. I used to say : you can go to a gym and work out with weight and Greg is not the strongest. Now, get him on a bike and he just understands what he has to do. I raced, but I never did have the smarts that he did. He would always want to be a success, he pursued it and believed he could do it."
I contacted Cliff Young later on and asked him what he remembered from those days. It turns out he remembered a lot : "I met Greg LeMond in late June 1975. His dad dropped him off at a bike shop to browse around while Bob ran some errand. I saw Greg in the corner looking at a "fishnet" leather helmet, and asked Greg if he was interested in bike racing. He recognized me, because I won the Junior Division of the race which passed seven times up the hill in front of their house. Greg pointed out that they were spraying water on us, and I remembered that was very welcome on such a hot day. That was the only year the district championships has been held in Nevada, and I received good coverage on the TV and local newspaper. After talking for 15 minutes, we traded phone numbers so we could ride together. Ironically, when the shop owner came over, he told Greg that bike racing was for snobs and touring was "where it was at." I used to work for at that shop, and it was common in those days to hang around the bike shop or go to Roland Della Santa's house to catch up on gossip and the latest in the European racing world. This was long before Facebook, and there were seldom any news about European races. I remember during our first meeting suggesting that if Greg was on a budget, he should look for a used bike with light wheels and a good frame. Rick Bullis, who has been a lifelong friend, scurried me out the door, and Greg ended buying $200 Centurian touring bicycle. In hindsight, I suppose Rick was just being practical about setting Greg up on a touring bike. I was disappointed it the selection, but back then very few people invested in light bikes.
The day I met Greg, I was out riding and just stopped by to see Rick. My next stop was to see my girlfriend's, and I told her about the "bright eyed kid" who really wanted me to help him get into cycling. I was thrilled to meet someone who shared my infatuation with with cycling and thought there was something special about Greg right away.
Greg and I started training together shortly thereafter. I met Bob LeMond when he dropped Greg off at my house to go riding. Greg was 13 or 14 and I was 17. The LeMonds lived about 20 miles south of Reno, so Greg would load up his bike and get a ride to school, and we would meet at my house afterwards. We often rode 25 miles or so until his dad got off work to take him home. Bob drove the coolest restored Woody station wagon that I've ever seen. I was very impressed with Bob right away. He was a successful realtor and followed my recommendations whole heartedly about buying Greg proper cycling clothing and shoes. He was very supportive and enthusiastic about Greg getting into cycling. We were both kind of anti-team sports, where an athlete depends on a coach to put them in the game. We were rebels against being held back by team sports and both loved riding bikes.
I think it only took a couple of months before Bob bought a bike too. Bob would often get off work early to join us on training rides. Bob was riding a Masi for months before buying Greg a nice bike. I think the infamous yellow Cinelli was a Christmas present. My track bike was a Cinelli at the time, and Bob also bought a Volkswagen van camper that was quite similar to mine. Bob was testing the water for months to see if Greg was going to stick with it. I read in one of Greg's biographies that he said I was trying to recruit him to join the Reno Wheelmen. It might have come across that way. I just loved the sport. I was the newsletter editor for the Reno Wheelmen's, and back then no one really contributed much to promoting local events, so I made up weekly rides, promoting races, typed & copied the newsletter at my dad's office (with no budget) before distributing it to the shops. I lived to ride and loved to race.
Greg was a klutz at first. He had the typical trouble of getting his tennis shoes out of the toe clips and fell over more than once. But, he got up and stayed with it. More than anything, that's what his dad wanted to see before investing in an expensive bike for Greg. During those first few months, Greg was pushing his dad to get into cycling more than the other way around. I think he wanted to show."
In his camper in the middle of the TV stations zone set up in a Champs Elysées park, I confronted Greg with what I had just learned. Was he really the one pushing his dad ?
"It was great, because lots of parents went to push their son, I went to push my dad! (laughs) Really. I was the one who'd push my dad. I would read stuff and I would say "today we're gonna do this... Today we're gonna do that", not the other way around."
Cliff Young adds : "Before the end of that year, they competed in some Reno Wheelmen training races. Bob bought Greg proper cycling clothing right away and I think it was about 6 months later he bought Greg the infamous yellow Cinelli, which I'm not sure he ever grew into. I think the strength of the father/son relationship had much more to do with Greg's success than natural talent. They were a wonderful team, and Bob really got into travelling to races, planning their diet and investing in whatever tires, equipment & clothing would help Greg. His mother, Bert, was also tremendously supportive and really got into the whole healthy diet craze.
Ironically, the LeMond's garage did not look like a bike shop. Greg's sister, Karen, was a national gymnastics champion, and their garage was packed with balance beams and gymnastic related equipment. The bikes hung neatly against the wall to make space for Karen's training area."
Bob: "I think my wife and I believed in Greg and my daughter Karen, who was a league gymnast, from the very beginning. Karen was in the national team. My wife was very strict with the kids. They had to do things right and there was no messing around. They didn't get spanked but my wife, really… She'd give a good look at them and they knew they'd do right. We believed in them and supported them 100%, all the way. I think it's important. I look back and wonder how I made a living when Greg was racing, because I was riding and going on trips every week. It was unreal. And there was Karen too, with the gymnastics. So… (You have to) Believe in your kids and help them with their goals."
Greg: "My parents had to work but they also supported us. My mother would get up and get my sister out of her room at 5:30 in the morning so that she could do her workout for her gymnastics 2 or 3 hours before going to school. Driving to school was 30 minutes. She'd pick her up, spend the afternoon with her and drive her back so that was a full-time job. Then I got into bike racing, partly because my dad was getting into it with me and he was very good. I was not the only one racing. My mom was there to support my dad and me, it was good. It's probably a different experience than anybody in Europe because you would get a license, you'd go out and race but I didn't even know what it was. You had to travel from Reno to San Francisco for 4 hours to do a race. So I had to have my parents. It was always a weekend. If I didn't have parents, it would have been almost impossible for me to be a bike racer."
Cliff: "It wasn't until 1976 that we took Greg to some USCF races. His first sanctioned race was a criterium at Wm. Land Park in Sacramento as an intermediate racer. Greg had a lot of heart, and against my advice, he was constantly breaking away instead of waiting for the sprint. The whole family followed a diet that avoided sugars, and there were many times when we stopped at some small store to buy a snack while riding, and he couldn't find much to eat. Greg would rather go hungry than eat a whole wheat fig bar, which was a staple in my jersey pockets. Whole wheat fig bars had too much sugar for Greg.
I gave Greg all my old International Cycle Sport and other bicycle magazines. I also loaned him an Olympic Italian Cycling Manuel (with a blue cover) which was the best guide to racing I owned. Greg ended up destroying the book by studying it so much. I don't know how he ever found another copy, but he replaced it. I think Greg is the only one to ever return a book I've loaned out. I subsequently loaned the book out again to another aspiring racer, never to see it again.
Greg and I would often stop on a training ride to see frame builder Roland Della Santa, w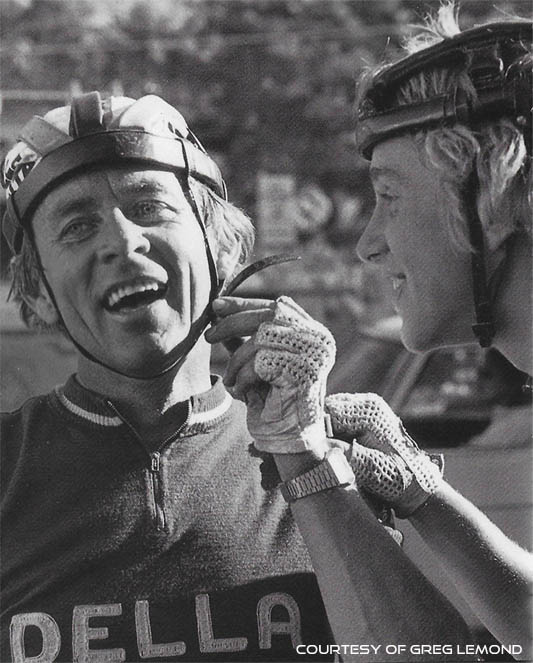 ho was alwa
ys up to
the
minute on the latest racing news. We enjoyed riding by his garage/shop after riding just to hear his witty stories. Roland was a very accomplished racer a few years earlier. He set a national record in the 2 man, 25 mile team time trial with local hero Dan Brown. Roland sponsored the Reno Wheelmen team starting in 1977.
Competitive Cycling magazine picked up sponsoring the Reno Wheelmen the first year Greg raced. At the district championships the year before, my mom & dad set up a booth giving out samples of Cynar, an Italian liquor that had sponsored the Reno Wheelmen for years. Competitive Cycling magazine made a glib remark in their coverage of the event that Cynar tasted like "ground up turkey guts." (My mom probably didn't mix enough Coke with the liquor). Cynar cancelled our sponsorship after that. I think out of guilt, Competitive Cycling picked up the Reno Wheelmen sponsorship that next year.

After Greg's first year of racing, he won quite a few races, but he had not received a trophy yet. He received medals, tires and different trinkets that donors supplied, but not a single trophy. One day, my dad sent me with a trailer of trash to the dump, and I found a nice bowling trophy there. I decided to recycle it for Greg. I had the new tag engraved, "Reno Wheelmen Rider of the Year, 1976, "and replaced the bowling figure with a bicycle. In 1982-83, I felt fortunate to still ride occasionally with Greg, as he lived near Sacramento, where I attended law school. Greg had won many big events by then, but he kept a few trophies. That trophy recycled from the dump was displayed next to his many world championship medals as his first trophy.
I was inspired by Greg's passion to train even on cold and windy days. In Washoe Valley, where Bob LeMond still lives, the winds are famous. Mark Twain even wrote about the Washoe Zephyr gusty winds. It is common that the winds blow over trailers on the highway. It took a lot of grit to brave the cold and windy days to be competitive with racers in Northern California. Greg and I used to get teased because our legs were so white when we showed up at early races. We kept the leg warmers on for months after they had a good tan line. I wrote an article in 1977 about what it was like growing up with Greg. We went camping, fishing, skiing, hiking and did all sorts of activities together. I tried to get it published in Bicycling Magazine, but they sent me a rejection letter. Then about a year later, Greg won the Junior World Championships and suddenly my article was newsworthy and I was paid $250 for my effort. That was the first article about Greg other than in the racing newspapers."
Greg: "My dad went from the last category of racing, to the first category of racing, in his first year. In 77, I was 15 years old, I almost beat a guy named John Howard, he was one of the best cyclists of the 70's. I made 2nd overall. I lost time on the time trial because of the head wind, I had a really small gear and I was up 20 seconds and he beat me. But the next day my dad beat him in the sprint. I just said my dad was really good. Then came the Red Zinger Classic which was a 10 days stage race in Colorado. I was the youngest rider, he was the oldest. I should have won, but I crashed in the last day. I was 2nd overall and he was 36th overall. It was a world class race like Tour de l'Avenir. European racers, lots of young riders."
Cliff : "I realized Greg was really special early in 1976. At this time Greg was telling me dozens of times that he only wished to be as good as me someday. I assured him that he had the potential to go further than winning a couple bronze medals at the national championships. Around this time, my dad was encouraging me to focus on my grades and tune down the attention I gave to bicycling.
Without my dad's financial support, I could see the writing on the wall. Coaching Greg as my protégé was my swan song. My dad's favorite saying was, "if you want some exercise, we have ditches in the back fields that need to be cleaned." My family bought a ranch in 1976, and there were plenty of chores to get it in shape and keep it green."
I mentioned to Bob the list of goals Greg had written, dated october 18th, 1978 : Junior World Championship, then Olympic Gold Medal, then Pro World Championship and the Tour de France. "He wrote it all down. He wanted to win the gold medal in the Olympics but I always looked at that as a blessing that he didn't go. No Olympic rider has ever won or done anything. I felt that was meant to be, Greg should not go. So we were never disappointed in that Olympic deal because I knew that in professional cycling, an Olympic winner never seemed to do anything. So we looked at that as a positive thing."
Greg: "I could have made a difference, there (laughs). That's what we said at the time, that's how we justified it. Who knows? What happened is that there was a boycott (in 1980). The coach and everybody wanted me to stay until the 84 Olympics. That would have been a major mistake, probably. Because of high expectations. When you're young and you have too much pressure, it could work against you. It's like if you won the Tour de France at 20 or 21. You can handle pressure, psychologically, a little bit better as you get older… At 24, 25, you can handle it. The brain isn't fully developed, actually, at 22.".
"That's what happened to Fignon", I ventured.
"You're right. And it depends on the individual. For me, it was better that I didn't win. I think the way I planned it was best. 24, 25… I had the option of racing with Fignon the same year (1983). Guimard wanted me to ride it. (But) He didn't want to push me. He said :"it's your choice". But he always told me I shouldn't do it until I could win it. And, psychologically, you have to know that's your goal. You can't do that 10 days before the start. Fignon just went for it. He did a very good Tour of Spain, where he was with Hinault. He was in good shape, so... But if you look at 83, the competition was really high. Hinault wasn't there. Had I done it, for one I would not have been great and in my mind I needed to be ready for it, not just jump into it. It's just that my goal was the world championship. That was gonna be our choice, to decide we were gonna do this program. I work well when I go "that's my objective". If the objective changes… It's ok, but when it's the Tour de France… It's a big race, you want to be ready for it. Irony is that, if I had done it in 83, it would probably have been much easier than my 84 debut. Because, in 84, I had a cold and I suffered through that so much…"
I know from experience that working with family can be hard, so I asked Greg how they managed to remain so close. "At one point in my career, my dad and I just had a little falling off but I look back at it and I was so stressed… I know that I'm very sensitive and when people tell me that so much depends on my performance, I don't want that responsibility... I started my bike company, my dad was always supportive but it was never truly a business relationship. As a pro, you start evolving and naturally, it becomes a business, so that relationship kind of flipped and it was very difficult for me. My dad was so helpful with me. We were a team and we'd deal with contracts, strategy… We had a good time, it's just that when I got better it became more complicated because there was more stuff coming out in the end. It was when my bike company started, right when we started that I got shot (in 1987)… It was very hard to have a business and... The only friction was that I wanted no business relationship, I wanted him back as a father. And it's not that he didn't want it, but it was hard to get out of that and move from a partnership, a business relationship. It was hard to get out of that. But lots of parents do the opposite: they put a lot of pressure and the kids get burned out, they never do anything and they stop, whereas for me they were so supportive. They were always supportive. So, when that dynamic changed, it pinched. It changed the relationship. That was hard for me. But my parents were great."
I had to ask Bob how he looked at the whole ride, decades later. What appears underneath is the rest of my conversation with him :
What are you the most proud of, regarding Greg?
Well… I'm proud of who he is. Because it's not just the winning. He treats everybody fantastic. He always takes time with people. I think that's his biggest success. It never went to his head. You would stop him on the street and he would talk to you, he would give you time. That's what I'm the most proud of.
Was he like this from the start, a very open kid?
Yes, he never had an ego trip. He's just the regular guy, he would treat everybody… Royally. Always. He gave all the kids and everybody he ever talked to the time that they wanted. I think that's the most proud I am of him. Treating people equally and like they're important. He's just been that way, you know.
He never treated me as a fan. He's always treated me as a friend.
That's the way he's been. This is amazing. I would say that's what I'm the most proud of his. How he treats people. No ego about who he is or anything. It's amazing.
What do you think is Greg's biggest contribution to the evolution of cycling?
He brought it to the US. There were a lot of cyclists, but he brought it to the US, really. When I look at the riders today I see the helmets. A guy named Jim Gentes was in San Francisco with his little tray and a helmet on his tray, trying to make a hard shell helmet and attract people. He went up to Greg's house in Sacramento, showed him the helmet. Greg said : no, you got to change this, do this and do that. Then I met Jim Gentes (NB : who would found Giro helmets later on) at the San Francisco airport a month or so later and he gave me 3 or 4 helmets that I carried to France. I gave them to Greg, Steve Bauer and Phil Anderson and they wore them. Now I see every rider in the world wearing a hard shell helmet. That was a contribution from Greg. The dark sunglasses, Oakley glasses : we made a deal with them, they paid us 50 000$ to endorse their glasses. Greg wore those and the television captured it. The zipper on the jersey all the way down, that was Greg. He had to have some air, he couldn't stand the heat. The clipless pedals, although he didn't invent them but he introduced them with Bernard Hinault. The Scott bars for time trials. I mean, it just goes on and on and on… I look at the riders today and I see all the things that Greg brought. He's always looking at equipment, always studying it, always trying to make sure what's gonna be the best. And here we are today, 30 years later, or 25 years for the bars, and everything Greg wanted : the glasses, the bars, the clipless pedals… That's Greg.
That's game changing.
Yeah.
Do you have a favorite moment in Greg's career? A victory that stands out?
I think the 89 Tour that he won with Fignon. It's probably the biggest year because he got shot in a hunting accident. My son in
law shot him.
We thought he was done, he would never recover. So that was probably the highlight of his career, winning that Tour. That was something else.
Is
there a story that no one ever heard of that you'd like to share for the blog?
(
pause)… He married the best woman he could have ever married!
(we both laugh)
He did! I can tell you right now, Greg could not have made it where he is today without her. I mean, my wife was an absolute blessing in
my
life. This woman is too (NB : he points to Kathy, his 2nd wife. Greg's mother, Bertha, passed away in 2006) but Kathy, Gr
eg's wife, has been unbelievable. I know that, after Greg turned pro… He wouldn't have had her, I don't think he could have made it. I really don't. She's been the biggest blessing in Greg's life. I really believe it. I look at it today, I'm thinking… Ah, God… What a gift Greg got. I really believe it. So that's the highlight of his career, marrying the best woman he could have ever married.
Later on, I couldn't help but share with Kathy LeMond (Greg's wife) what Bob had told me. She got really emotional, blushing a little bit, telling me how fond she is of Bob and then added "That is wonderful for a father to teach his son to have an appreciation for his partner like that." which is one of the best parenting advices I've ever heard.
Greg's early years were a defining moment for him but it also had an impact on the people around him. If I learned anything from that day in july among the LeMonds, it's how profound an influence you can have on people. Make a difference. How fundamental that is.
Cliff: "It was a delightful experience to tutor someone so thirsty to learn about the sport I was crazy about. One of the most endearing aspects of competing in cycling is making friends who want to share tips that have helped them."
I want to thank everyone at Eurosport: Michèle, Antoine and Laurence, the LeMond family: Kathy & Greg, Kathy & Bob, Scott, Karen and Greg's friend Patrick. You are all amazingly generous people.