Alps

So we've been to the Alps… And our lives are changed forever.
Two years ago we went to the Lac de Vassivière for our first pilgrimage. The idea was to get to know each other better, to get Thierry back on the bike and pay tribute to Greg. It was better than all that. We had a blast.
Our 2nd pilgrimage has to be different. Since it is Greg LeMond's 1986 Tour de France win 30th anniversary we have to find a good spot. We ask Greg during a Eurosport online chat in 2015 what a good spot for a 1986 pilgrimage would be. Greg goes for Superbagnères. I get that. Superbagnères is where Greg left everyone behind, where he was free of his movements and where he clearly stated : "I'm the best right now". However, the most iconic part of this race and one of cycling's most iconic images remains the top of Alpe d'Huez with Bernard Hinault and Greg LeMond holding hands. I understand why Greg probably has ambivalent feelings about that day. He restrained himself from attacking, only to hear Hinault claim afterwards that the Tour wasn't "over yet". Talk about a downer.

As I explained in our Alpe d'Huez stories earlier this year, I believe that all the drama behind the scenes does not alter the finishline image. The 2 best riders in the world celebrating a team victory. That has to mean something.
The pilgrimage is also, for most of the GLF team, an opportunity to discover the Alps. No matter what, those mountains are the most iconic in the world. A myth. In terms of logistics, it also means Thierry doesn't have to drive for more than… 10 hours straight, which is already a performance in itself.
Since we are going to Alpe d'Huez, we have to pick what other climbs we're going to ride and such. We spend quite some time defining a schedule. We have to choose what to do and what not to do, what is reasonable (3 bikes in 1 car !) and what isn't (3 climbs the same day !). Hours chatting online. Briançon and col de Granon are abandoned in favor of this:
-Col du Télégraphe
-Col du Galibier
-Col de la Croix de Fer
-Alpe d'Huez
It's more than 4000m of elevation we're talking about. We are very modest riders and since I'm the most experienced in the mountains, I make a checklist for my friends. It's a short list. It says: "train very hard, prepare the bike very well, choose your gears carefully.". And that's it. Once that is established, we pick a date and book our accomodations. The date has to be compatible with summer weather and with Greg LeMond's schedule. Just in case. So we pick the second to last week before the Tour, and cross our fingers.
It appears very soon in the process that it will be hard for Albert to join us, at all. We keep going, hoping for the best. The pilgrimage is also the occasion for an old friend of mine to tag along. Stephan lives in California and runs the www.gitaneusa.com website. We met online through our love of Gitane bikes. It is for him a once in a lifetime opportunity to ride in the Alps. My fellow GLF friends agree to have him on board.
Each of us has made a training plan, based on our past experiences and profiles as riders. Stephan goes the competitor way, making sure he'll ride 5000 miles before June, mostly in group rides in SoCal. I establish a progressive protocol, making the rides harder each month, accumulating grades and elevation rather than mileage. It is harder for Thierry who has to make do with the Antwerp flatlands. He has to focus on intensity. We're having a very grim winter & spring in Europe, not making things easier. Just cold and rain… and more rain. Albert is already behind schedule but doing his very best.
Just a few weeks before our trip, France is flooded with rain. Rivers get out of their beds. Garbage collectors go on strike, as well as Air France pilots. Riots go worse and worse… Good thing we are not superstitious. Without consulting each other, we all buy the same rain jacket, as we'll find out when we unpack.
We make it, eventually and proceed to the Alps… Minus Albert. He is very supportive of us but for personal reasons it is not possible for him to join. We're crushed, but we knew the probabilities were high from the start so we accept them.
First stop: Valloire.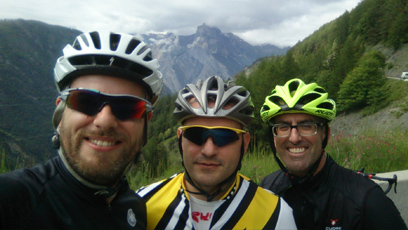 On day one we regroup in Valloire. It's early afternoon . We unpack, hug and give each other treats. We're tired from travelling but we have to stretch our legs out in anticipation of the days to come. Stephan and I decide to ride the easy climb from Valloire to the top of the Télégraphe (5km at 3%). Thierry needs to take a nap since he woke up at 2AM.
It is a short and relaxed ride. Except for Stephan. Once at the top, he decides he might as well go all the way down to St Jean de Maurienne and climb the whole thing. He does it while I stay put, enjoying the view and sipping a bottle of Perrier. I send a message to Thierry who isn't sleeping after all. "Come on ! It's fun !". He hops on his bike quickly and makes his way to the Télégraphe. Stephan arrives a few minutes later, all sweat and smiles. Overall, it is a cool introduction to the Alps.
On day two we have to face the Galibier. We are very lucky, weatherwise. They had to close the summit 2 days earlier because of a snow storm. On june 22, the sun is shining and we begin climbing. It soon becomes clear that the Galibier did not steal its reputation. It's as hard as it is gorgeous. It's like entering another planet, planet cycling.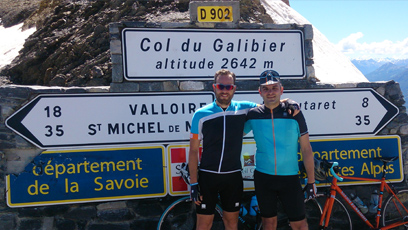 Only cyclists and bird of prey live in those mountains.
As we had anticipated, Stephan, by far the most well trained of the group, takes the lead and flies off. I lose sight of Thierry after a while. He prefers using a big gear whereas I'd rather pedal smoothly on those long climbs. Different styles but one truth : it is hard for everyone. The last 2km, especially, where we are met with walls of icy snow by the side of the road.
At this point, I must say this : there is nothing more satisfying for a cyclist than to reach the top of a mountain. You stop, take a few pictures, enjoy the view, endorphins start to kick in… There a sense of accomplishment among the riders gathered on the sumit. It's perfect.

As he had done the previous day, once he's at the top, Stephan decides to descend to Briançon to climb the other side of the Galibier, col du Lautaret. Legs are fine but heat makes Stephan melt on the road. He finds a shelter in the tunnel and skips the last part of the climb. The mountain just striked. Thierry and I stop for a few reshoots. We have to pinch ourselves. That's too good to be true.
Day three is col de la Croix de Fer. In the morning, we hesitate. Galibier was so hard, I'm starting to think Croix de Fer might be too much. It's 30km long, with 2 short descents. It means that when you climb it back and forth, which we're about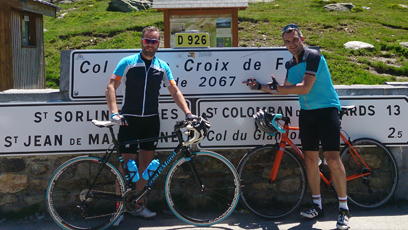 to do since we will leave our cars at the foot of the climb in St Michel de Maurienne, we have to climb back up. We pack the cars and I'm thinking. Why did I come here ? What for ? Do I have anything else to do ? It occurs to me that, no matter how long it takes, I have to climb that Mount Doom.
When we get out of our cars, we agree on climbing the whole thing. Might be the best decision EVER. The climb is spectacular and, surprisingly, I feel much better than on the Galibier. I guess my body had to adapt. I found my climbing pace. I'm feeling great the whole time. Stephan stays with me as he has to recover from previous efforts. We make one with the mountain, enjoying every last minute on it, in it (tunnels), breathing through it… It's beautiful. We find Thierry relaxing at the top and we are so proud of ourselves. We also feel grateful we're having a perfect riding weather : sun but not too much heat (although we should have gone riding earlier), no wind… Excellent. We don't even need wind stopper vests for the descents, which is a rare thing.
I have to say I'm not in the mood for reshoots this time, although I find the coolest bench in the world on our way down and I just need to sit on it. After the long way back to basecamp, we have to climb Croix de Fer again with our cars. Once again the view is spectacular, especially on the other side by the lake, le Lac de Grand Maison.
Since Alpe d'Huez is mainly a ski resort and we are a bit early in the season, we opt for a bungalow in Villard Reculard, a few miles west, to be more comfy. Turns out we're sharing the place with dutch cyclists. Appropriate, since Alpe d'Huez is the orange mountain, celebrating victories of dutch climbers in the 80's. Perfect.
Day four is Alpe d'Huez. THAT climb. THOSE 21 switchbacks. By now, we're just excited. The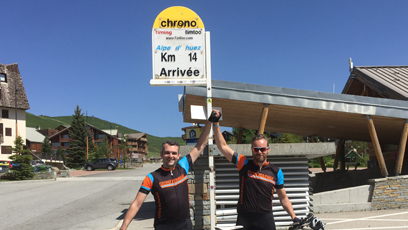 fear of the first few days is gone. We're confident about our climbing skills. Today is every man for himself. Let's have a personal relationship with that road. Stephan goes TT mode, as if some finish line was up there. I keep seeing Thierry until turn 12, where I lose sight of him. It's almost too easy, after climbing both Galibier and Croix de Fer… Scratch that. Alpe d'Huez is never easy, but we're in control. Sadly, this is also the least spectacular of all the climbs we did. Nothing much to see, really. If you plan on riding in the Alps, begin with Alpe d'Huez, it'll only get better after that, in terms of views.
The climb is cool and uneventful, except for the flies that keep mistaking me for a cow. Yes, I am THAT slow. I lose my focus at one point and yell at those insects from hell. That's embarassing, I check behind me to see if anybody heard that. Honor is safe. Or it was, before i shared this online…
On turn 4, I'm just randomly shooting a video when Stephan appears… Right down below ! For a second I wonder how it's possible that I didn't see him when I passed him and then I realize… He must have taken a wrong turn ! He confirms the information just seconds later. He was so into it, and probably tired too, that he lost focus and turned before the village, where he wasn't supposed to. It's only a few turns later, when it became clear that the switchbacks were not numbered anymore, that he figured out he was lost.
Now in the lead, Thierry reaches Alpe d'Huez on his own. As he approaches the finish line, he's overwhelmed. So many images gather into his head : Greg LeMond and Bernard Hinault padding each other on the back, Greg trying to save his neck chasing Fignon, Greg trying to outsprint Bugno and nearly crashing… The road is flat now, and Thierry is at full speed. he's giving everything he's got. Last turn left… "Don't crash !"... Then up the last few hundred meters. His legs hurt, he has no air left in his lungs, he's picturing the famous finish line and that's where his vision becomes blurry. Thierry is in tears. It's over. He's done it. He's right there. Where History was made. His dream came true. Thierry is a very small part of the History of Alpe d'Huez, now.
8 minutes later, Stephan and I arrive with a big grin on our faces. We've done it. Months of training and it all worked out perfectly. What a joy. What a joy. Later that day, after a good lunch made of burgers, we come back to Alpe d'huez for a special photoshoot. We've made replicas of jerseys and shorts of the 1986 Tour de France and we want to replay the Alpe d'Huez finish, hand in hand. Thierry is Greg, I am Bernard. This is fun. A cyclist is waiting for a friend there and he probably thinks we're crazy. That's fine. We are.
As we had done in Vassivière, we try to find a recognizable spot to re-act a picture of the Alpe d'Huez. Unfortunately, if there are thousands of pictures from that day, it's difficult to single out one that's recognizable. We pick an amateur shot in front of a hotel called "le Petit Prince". It's a suitable nickname for Greg and the hotel logo is still the same as 30 years ago. Unfortunately, a few trees have grown since the little prince of cycling won the Tour and we can't see it from where the picture was taken.
Then we proceed to turn 11, the Bernard Hinault turn. Not only are the switchbacks numbered, but they carry the names of stage winners on Alpe d'Huez.Still dressed as Greg & Bernie, we jump on our bikes and film this turn, just "as if". We look just like the real deal. From a distance. When you blink. Come on, we're just having fun!
Then we have a little family row. Thierry's had a great idea : he printed Greg's name the same way Bernard's name ap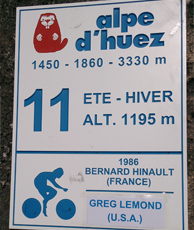 pears on the official plaque. He sticks it on the plaque and it looks great. We take a few shots. Thierry is in favor of leaving Greg's name here. I disagree. I think it's not our place to decide whose name appears or not. We argue for a while. Thierry is gracious enough to give up, eventually. I'm thankful for that. Time to head back to our bungalow for a little swim in the pool.
We're now on day five and thinking. How could this be better than it's already been ? How could we possibly top everything we've done so far ? The answer stands in two words. A name. And a first name. LeMond, Greg.
It's been a long work in progress. Greg is a very busy man and every time he's in Europe, he's swamped with sollicitations from virtually everyone he knows on the old continent. Because, you know, people kind of like him (that's an understatement).
We've been working with Eurosport for a few years now, providing mostly fact checking and access to our archives. In return, they authorized us on their shoots on a few occasions.
A few weeks before the pilgrimage, we receive the confirmation that Greg is going to be in France at the same time as us. Then we learn that Eurosport's plan is to shoot some stories in the Alps, ahead of the race. When we approach the Eurosport team, we just want to know if there is a possibility that we join them at some point. Not only is it possible, but Michèle Segura, in charge of the "LeMond stories" on Eurosport, offers us to actually appear in one of these stories. Greg meets his fans. How cool is that ?
It's meant to be a surprise for Greg, so in the morning of july 25 we hide at the foot of the Bisanne climb, our rendez-vous point. Michèle and Antoine, cameraman, join us. We prep up for the surprise. Michèle and Antoine are not just passionate about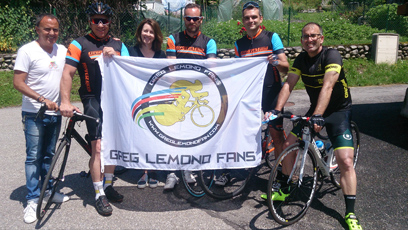 what they do, they're also the nicest people you could meet !
They have a lot of work to do but they also can't wait to see Greg's face when he sees us. Greg is told to go ride Bisanne. When he arrives at our corner he's assaulted by crazy fans screaming and waving a brand new GLF flag. It's a funny, unexpected moment. Minutes later we hug with Greg, Kathy and Patrick, Greg's faithful wingman.
Greg is here to check this uncharted climb, la montée de Bisanne. We alternate climbing on our bikes and driving. Antoine sometimes stands on the back of a car, or he uses a drone. The images are spectacular when we watch the playback. We're thrilled to be a part of the show. As always, Greg is playful on the bike. He talks, then attacks, then stops, talks some more… At one point, when we're shooting with the drone, we have to go up and down this road and on our way down, when nobody's paying attention or filming, I see our man Greg trying to catch speed for a few hundred meters. It might be just 5 seconds but I swear I recognize the unmissable style of Greg, very low on the bars, right knee out as a biker… Awesome.
When we reach the summit, Greg has to share his analysis of the climb as we stand beside him. Michèle Segura then conducts interviews, first with Greg, then with Thierry and I. I just try to act natural, which seems impossible. I guess we're doing all right. That's a wrap and the end of our shoot. We go for a late lunch (5PM) where Greg tells us about his plans for LeMond bikes. You can definitely see the spark in his eyes when he's describing what he has in mind for his company.
We head for our hotel while Greg and the whole Eurosport crew go shoot the Sallanches ITT route. Is thi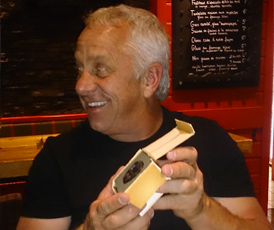 s the end ? No, because we're june 25th and Greg's birthday is on june 26th. We regroup for a late dinner in Megève. In town we find the most expensive parking space (we count a dozen cars or so : Ferrari, Maserati… Megève is a fancy place. Stephan compares it to Disneyland. While we eat we give his birthday gift : a vintage but never used Avocet Cyclometer 20. It was suggested to us by our friend Jonathan and Greg is quite impressed by the condition of this 30 years old piece of electronics. It's still working ! This is what you call NOS (New Old Stock).
After that comes the real party, but… This is where our story ends. Let me just say that, what happens in Megève stays in Megève. In the club where we find ourselves later that night, there are a few frames on the wall with sayings and proverbs. One of them claims : "Be yourself. Everybody else is already taken." Well, if I had to choose a proverb to describe Greg LeMond, that would be this one.
Our most grateful thanks to the LeMonds, Patrick, to Michèle, Laurence and Antoine at Eurosport for this incredible ride that concludes our pilgrimage in the Alps. 140km and 4 300m elevation, pizzas, pasta and burgers, one birthday party. Tough week.
Since we came back to our homes, Thierry is filled with nostalgia everytime he sees a mountain on television. He can't wait to go back. Stephan describes the whole thing a "near religious experience", in the sense that you have to experience it to fully understand the magnitude of what you see on television.
It wasn't my first time in the mountain. It wasn't my first time in the Alps. But I had never had so much pleasure, so much fun on a bike. And having Greg with us (or us with him)... It just made so much sense, you know ? It was a celebration of Greg LeMond, of the bike, of friendship, of great TV !
One question remains : what can we possibly imagine for our next pilgrimage ??? Stay tuned and see you in 2018, approximately.
Thanks to Jonathan Panoff for suggesting (and finding) the Avocet. You rock.