Troyes - Tour de France 2017




Since the first time we met Greg in 2012 we succeeded in meeting him at least once a year. 2017 was not supposed to be different since Greg was coming to the Tour with Eurosport and there were some places relatively close to where we're living. We had some places in mind. Düsseldorf, Liège, Troyes, Chambéry and Paris. Great chances to meet our friends at the Tour.

Like every year we provide pictures from our archives to Eurosport. They use them every day in the item "LeMond Stories", broadcasted in the evening show with Ashley House and Greg LeMond. And so we manage to arrange some passes to enter the technical zone in Troyes where Greg will be present during the day.





Everything goes well. The agenda looks promising. Greg will first meet his former teammate, Jérôme Simon. After the shoot he'll be in the technical zone for the "LeMond Alerts", a short intervention by Greg in the live broadcast of the stage in case something important would happen.

Nicolas and I are ready. Our minds are set for Troyes. Albert is not going to make it because Spain is a bit too far to visit Troyes just for 1 day. Nightmare. Less than 48h before the holy day, an email arrived from Eurosport telling us it would be impossible to get passes. Apparently the whole technical zone only allows a maximum of 30 passes a day for invitees and security levels are raised. It's impossible to reserve them for us. Even Eurosport can't arrange them for their own special invitees. We're on a rollercoaster of emotions. Is this a year without meeting Greg? Will it ever be possible to meet him again? Greg's agenda is very charged with his business plans and so the Tour seems like the only place and time where Greg is availab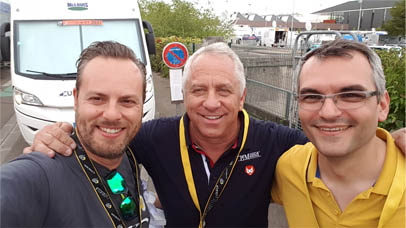 le. We both handle the bad news in our own way and try to move on.
July 5 - 13:00 PM.
I receive a phone call from Nicolas. He sounds positive. "We have passes for tomorrow". A miracle just happened. Patrick found a solution. We're back in business. Let's pack for Troyes.

July 6 - 04:00 AM.
The alarm wakes me up. I leave Antwerp by 4:30 AM. After a long ride on Belgian and French roads I arrive around 10:00 AM at the Hotel de la Gare in Troyes. Nicolas is already there with his son. He's only 9 years old, has the same birthday as Greg and wants to see the Tour de France. Nicolas showed him all Greg's Tour de France victories during the past days. The kid is brainwashed.
When entering the hotel we meet Kathy, Patrick and Greg during breakfast. We talk about his business at LeMond Composites while eating some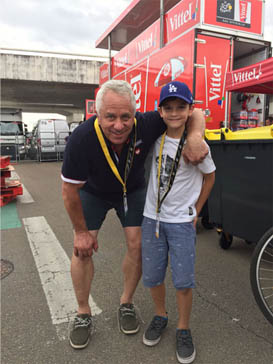 croissants. We can't report too much about his plans, but bicycles are in the scope of the project. One thing is for sure. This is huge and looks very promising. We all just have to be patient. Greg tells us it's not a good idea to set a deadline. But the result will be amazing. Believe me, we've seen some very nice designs on Greg's computer.
We leave the hotel and walk to the finish which is only 500m further down the road. The Tour de France is huge. It's only 11:00 AM, 6 hours before the end of the stage, and the streets are already filled with people wearing yellow and polka dot caps. Some of them recognize Greg. "Greg, Greg. A picture please". But Greg's too busy with the first shoot of the day. He meets Jérôme Simon, one of his teammates in the 1990 Tour de France. Simon was one of the riders who helped Greg getting back in the peloton when he had a flat on the Col de Marie Blanque. "This is the man who saved my Tour de France victory" says Greg when the cameras are rolling. Simon laughs and the chat goes on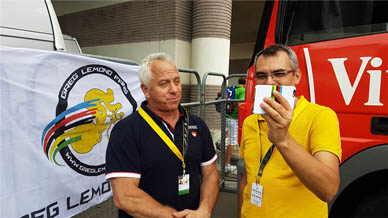 . It's not a surprise Greg later heads back to the selfie hunters and smiles to their cameras.
Later we go to the technical zone where Greg's camper is parked. It's hot. Very hot. 33 degrees and everybody's sweating. We get in the camper where the air conditioning is working hard. This feels good. We start talking. About Greg's business, his career, the way the riders are racing today. Greg just can't stop talking about it. He's very motivated and shows us some awesome designs of the bikes he's planning to build.
Everybody's hungry and we decide to have lunch. The improvised restaurant feels like a Michelin 5-star place. I'm eating between Kathy and Greg. There's no better place in the world to eat. After our lunch and desert we head back to the camper.
Nicolas' son has a plan. He wants to interview Greg. With all these videos he has seen during the week he has a lot to ask. "Why did you choose to ride for ADR while it wasn't that great team?". "Are you friends with Bernard Hinault?". Greg insists and answers every question with a great story. The boy is happy. His first interview is a fact.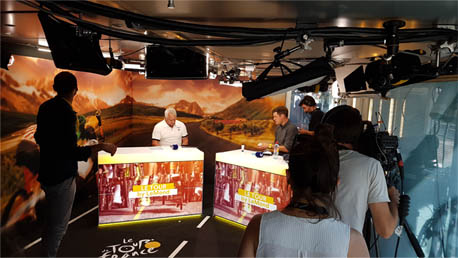 We decide to go outside and make a short live video with Greg who's telling our followers they can send us questions he will answer in Paris. Some of them. We will filter them to a shortlist. It's a funny shoot. We all have a laugh and enjoy this quality time.
The peloton is almost arriving. We decide to get ready at the finish line. A Quick Step rider punches the sky. It's Kittel winning the stage. A battery of journalists is chasing the riders. They all look exhausted because of the heat. We make some pictures and head back to the camper.
Greg is preparing himself for the "Le Tour by LeMond" show where Ashley House and Greg look back on today's stage. I decide to join them in the big Eurosport trailer which is transformed to a high-tech studio. After 5 minutes I want to get out, but I can't. It's like hell inside. Really too hot. Everybody's suffering. Ashley looks like he swam into the studio. His shirt is wet and both Greg and Ashley are using a towel to dry themselves in between the takes. 40 minutes later we all jump out of the studio and realize it's better outside. Even when temperatures are still around 35 degrees.
We end our day talking to Greg and make some last arrangements for Paris. In two weeks we might meet again on the Champs Elysées. Hugs and kisses. We say goodbye. It starts raining. The streets of Troyes are empty now. What a cool day. Or should we say hot.