Wallers Arenberg - Lille
Last year we'd gone to Compiègne on a bluff, figuring maybe we'd get a glimpse of our man Greg. Not only did we but the in the end we'd been able to ride with him on "les pavés", quite unexpectedly, I have to say. We thought there was no way we could pull this off again.
It's good to be wrong sometimes.
Greg was in Europe last week (April 2015) to shoot a new episode of "LeMond of Cycling" for Eurosport. The network allowed us to follow Greg during the shoot in northern France.
A meeting is set in Wallers, site of the scary Arenberg trench, to shoot Greg hitting the uneven roads of Hell (of the North) and share his wisdom. As always with the LeMonds, greetings are cheerful and heartfelt. Even the sun has decided to show himself for the occasion (a rare treat this year). Or maybe it is just Kathy's smile. Or both.
Anyway, we meet Eurosport's crew and the atmosphere is relaxed. Sam & Philippe smile a lot and work fast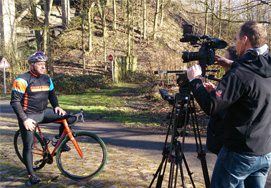 . A shot is soon established and Greg starts doing the job : interviews, then going up and down the trench on his bike, as if back in the early 90's. Proof of that is this comparative work from Thierry putting the 1992 Greg next to the 2015 Greg (see picture on our Facebook page). No matter what, the hands are exactly where they were at the time. Some things do not change. What's remarkable is how much pleasure Greg actually takes in riding those roads. He's definitely having great fun.
And LeMonster wants fun to prevail. He has an idea : why not shoot a commercial for the Revolution trainer here in Arenberg ? I won't spoil the plot but Greg and his friend Patrick engage in a goofy dialogue on camera. Several takes are needed since Greg is having trouble… NOT to talk. I'm not sure this commercial will see the light of day but I will remember it as a testimony of Greg and Patrick's friendship. They are a great comic duo because they have a strong complicity. A 30 years old bond.
When this part of the shoot is done, Greg offers us to accompany him down the trench and on to the next sector, "Pont Gibus" (Gibus being the nickname of Gilbert Duclos-Lassalle, winner in 92 & 93). It is an excellent test ride for my brand new Washoe bike and I jump on the occasion of riding with Greg and his faithful friend Patrick. It turns out LeMond knows how to build as well as he knows how to ride. The bike is impressively steady and efficient, even with an average and slightly overweight rider (me). The ride isn't easy by any means but it is definitely exciting.
After a few shots on this sector, it is decided that we will ride back to the hotel. Thierry joins us on one of Greg's bikes and off we go. It is supposed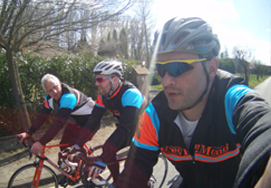 to be a casual ride and, quite naively, we pay more attention to bringing cameras than actually bring useful items like… You know… Food or beverages. Boy oh boy, are we wrong. Because the tortuous streets of the North have a knack of just never going straight and because we are Sunday morning, it soon seems apparent mileage will grow and we're never going to find a "ravito". We're on our own. And just when we think it couldn't be worse, we realize we are late on our schedule and there is a chance we might miss the broadcast of the Ronde. It is too much for Greg who decides to head us back… Fast.
Half the ride is done with the GPS app in one hand, trying to figure out where to go when, out of the blue, Greg finds a cape and the accelerator pedal at the same time. Let's just put it this way : when Greg decides to go, you'd better be on his tail, or else… 35, 40km/h… even sheltered, it can be rough. I try to pass Greg and help share the load but he just looks at me and says "no, no, stay behind". Head down, there is no doubt we're with Greg LeMond. The style is definitely recognizable. That's awesome. We are indeed fast, but still… We're slowly dying of thirst.
I'm desperately looking for a place to stop but every "friterie", "Boulangerie" or grocery store we find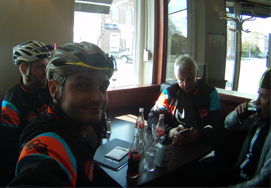 is closed. Survival instinct is strong and thirst makes you very aware of things as eventually I spot some customers inside a restaurant and start yelling "BAR !!!!! BAR !!!!!". We are saved. The poor barmaid doesn't know what she's in for. 4 cyclist rush in craving for Coke. Yes, Coke. We engulf more than 2 litres of the brown, sweet and bubbly miracle in a matter of seconds. "Another one ! another one !" is all we can articulate for a while. Poor Thierry can't even swallow as his throat is still trying to recover from taking the LeMond Express.
Rescued by the rush of sugar in our brains, we find the shortest way to the hotel (including pedestrian tunnels, stairs and other non cyclist friendly paths) and finally arrive. Flanders is still on for 60km. We've done it. The world will remember our ride as we establish a KOM (King of the mountains) on Strava on a short but may I say historical segment (click here for the result).
All right, you might be unimpressed by this 500m long, slight descent sector but, hey… It's always good to win a KOM, isn't it ?
In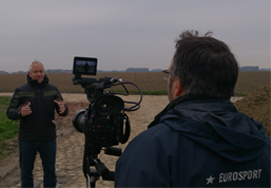 the following morning, we find ourselves at Carrefour de l'Arbre. This time, the idea is to have Greg interview Rolf Aldag, DS at Ettix. Both ex-pros will talk bikes and how you adapt the machine to the rougher of rides. Carrefour de l'Arbre is absolutely awful : the middle of the road is supposed to be the best place to ride on the cobblestones, but here, the sides are so damaged that the middle is pointing up and the safest path is maybe only 10cm wide. Riding on it is pure agony.
But when Greg LeMond discovers the sector, his eyes sparkle, he is like a little boy in a candy store. You can tell he'd like nothing more than jump on the bike and hit it. But he won't. He has a job to do and, let's face it, it is very, very, very cold. The shoot is efficient, Sam finds some fine angles with his camera and Philippe asks the right questions. That's a wrap, we're heading back to the hotel.
It's time for us to show Greg & Kathy our work. We discuss our new website & blog, Thierry brought his albums. They are made out of all the pictures & newspapers cuts Thierry was able to gather over the years. Greg is impressed and these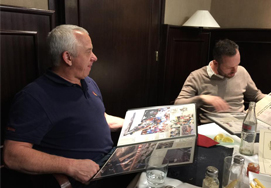 objects tend to jog his memory. There are things he has forgotten, like finishing 3rd in the last ITT of the 1991 Tour de France. "Less than a minute in 55km? That's not bad…". Greg says he doesn't remember much about the years 1993-1994. "You're not missing much", I venture. We smile, but we share the same feeling of frustration. I get a few jerseys out, including a Renault world champion jersey that's damaged on the right shoulder. It takes a few minutes for Greg & Kathy to understand where the crash occurred : Greg got into a bad crash and lost consciousness for a while in Belgium in may 1984, just a few days before the Dauphiné. We own a piece of History.
Always on the run, Greg LeMond has to fly to his next appointment. We say our goodbyes and promise we'll meet again soon. I'm sure we will. Greg is a man of his word.
Our many thanks to Greg, Kathy & Patrick for… well, everything. Thanks to the Eurosport team : Laurence, Philippe, Sam & Jessica.