Paris - Roubaix (Compiègne)
Compiègne 2014. It was the day before the start of Paris-Roubaix. It's a tradition that the team presentation is organised in Compiègne, a town near Paris. Without any expectations Nicolas and I decide to visit the place in the morning. We know the next day Greg will be live on Eurosport so he has to be in the neighbourhood. A bike trip in the difficult Forest of Wallers Arenberg is planned for the afternoon.
There's a lot going on in Compiègne. First there is the team presentation at the main place in front of the palace. But a bit further there's also an exhibition where you can buy old books, magazines, jerseys, ... which is interesting for us. After meeting up in the streets of Compiègne Nicolas and I meet each other for the 2nd time in real life. It's a happy reunion and we both decide to start the day at the exhibition. Packed with a big bag, a camera and a lot of money we travel through the streets of the French town.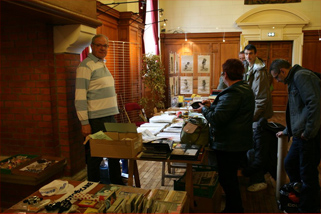 At the front of the exhibition entrance an amateur cycling team is showing some cycling skills to the spectators. The smell of hamburgers and the sound of the speaker makes it complete. We're on the right spot. As we hear the speaker saying "We expect Bernard Hinault to visit the exhibition at 11:00 AM" Nicolas starts to smile. He surely is a huge Greg LeMond fan, but he also likes Hinault. His bag contains a poster with both riders during the Alpe d'Huez stage of the 1986 Tour de France. Greg already signed it so all Nicolas needs is an autograph of the Badger to make it complete.
First things first. We enter the exhibition. There's different rooms filled with tables full of magazines and books. We start searching for the ones we're interested in. Every time we see a picture of Greg we disturb each other to show it. Nicolas is going fast holding a big tube in his hands. In a few minutes his bag is filled with 3 books. I'm searching for the magazines containing pictures I need for my albums. After a while both of us feel happy as kids with our filled bags. There's a guy selling jerseys. Nothing special about that, but he's selling a yellow jersey of 1986. It's a blank jersey without the la vie claire logo but it contains the Tour de France's sponsor logo's. We ask for a price but the guy only wants to trade it for another. We go along knowing Nicolas already has one. Only Nicolas' one is signed by Greg.
When we leave the place we decide to sit on the border of the street looking through our goodies and wait for Hinault. Suddenly I get surprised by Nicolas who jumps up t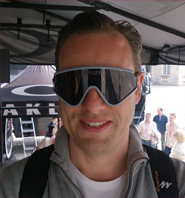 akes his poster and runs away. "He's there", Nicolas shouts back to me. Who Greg ? Then I realise it's Hinault arriving to the place. I stand up, look through the mass and find two heads. The one of Nicolas just besides the one of the Badger. Two minutes later Nicolas comes back with a smile, shows his signed poster and puts it back in the tube. "Ok, let"s move on. We're done here". And so we take the car to the team presentation.
Focus is high now. We think Greg might be coming here soon. And when we talk to a friendy guy from the Oakley stand, our pulse is getting higher. "Greg said he will be visiting us", says the guy. After a chit chat with the Oakley guy and trying the Oakley shades we decide to have diner in a nearby restaurant.
When the team busses arrive we're not looking for the riders who get out of the bus, but were focussing on grey hair. The hair of Greg LeMond. Sun is shining and that makes it nice on the big square. We sit on bench, lean on a pole waiting for Greg. But nothing happens. Then Nicolas decides trying to get information from Greg's entourage. We get an answer. There in a small hotel not far away. Greg is not coming to the square but he invites us to come over. We hurry back to the car, configure the GPS and head to the hotel. After a while we arrive at the place and our contact is already outside welcoming us.
Greg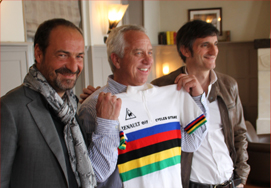 is still busy in an interview with Eurosport, but we can enter the magic room. There he is, sitting on a couch responding questions to the reporter. When he's finished he steps up to us and greets us like we're his friends. "He still knows us" is what Nicolas and I are thinking. I took some nice jerseys with me and show them to Greg. One of the jerseys is very special. It's a real worn world champion jersey from 1984. The Eurosport team (Stefano Bernabino - LeMond on Tour presentator and Arnaud Simon - General Director of Eurosport France) ask us to make a picture of them with Greg and the jersey. A bit later Kathy is joining the group. We never met her, but from the first moment it was like we know her for years. She's a very nice and friendly woman. Just like we expected her to be. Nicolas gives her some pictures he printed at home containing she and Greg in the early years. It's for her birthday. Greg gets a pair of Team LeMond gloves and is surprised we even found those. Both Kathy and Greg thank us of the presents.
Greg wants to get away a take a ride. He's talking to Patrick and Kathy and steps up to us. "Let's go and find some cobbles". We don't realise what's going on and in a few minutes we're standing outside discussing where we'll go. Our plan was to visit the Forest of Wallers Arenberg. Greg agrees. A few minutes later Nicolas and I are heading to "Le Nord", the region of the cobblestones.
When we arrive at Wallers we meet again. Greg is anxious. The sector is full of people making a walk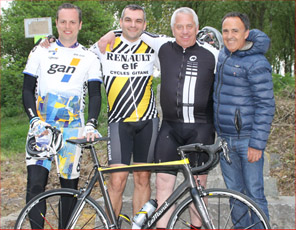 and there's no way Kathy can follow us by car. So we decide to move on and go a few miles further. We finaly arrive at sector number 13 near Orchies. I quickly ask Greg to sign a few of myhis jerseys and start to dress myself in the vintage Gan outfit. Nicolas takes us back to the 80's with his Renault kit. Bikes are ready and so is Greg. Kathy proposes to make some pictures and after the shoot we step on our bikes.
There's no time to warm up. The first meter is the start of the cobblestone sector. And it's a difficult one. Greg is ahead. He's going fast. Nicolas is right beside him and I'm having difficulties with my leg warmers. The shocks on the cobbles makes them come down to my knees. After the first sector I take them off while I'm still recuperating from the surprisingly difficulty. The second sector isn't better for me. My bottle cage is falling of my bike. Cobblestones are hard. They put you to the limit. The third sector is going much better. Pace is good. Some guys staying at the side of the road cheer to us. They recognize Greg and shout at him. We continue our road. After chatting to Greg while riding we notice it's getting dark. It's 19:30 PM and we still need to get back to our cars. Kathy and Patrick are with us driving their car. Greg decides to stay with us and get back to our cars. Everybody agrees. The warmth and attention they give you is just fantastic. Greg, Kathy and Patrick are very nice people.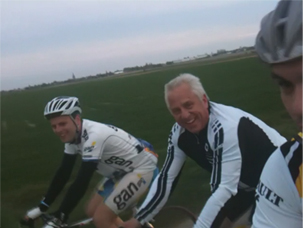 We pass the same guys again and again they're shouting. But when we have to make a U-turn because we think we took the wrong direction, Greg decides to stop when we pass the guys for the 3rd time. They're from Belgium and staying until the next day to watch the race. They love Greg and take a selfie with him.
On the last sector we get surprised. Surprised by a man testing himself on the cobblestones. It's Greg. We're riding in his wheel as he accelerates. Nicolas is dropped, I try to hang on but get dropped as well. Greg is going fast. Very fast. He's loving the cobbles and rides them as when he was a professional. Exhausted we arrive at the end of the sector and congratulate Greg with is performance. That was awesome.
All good things come to an end. And so is this day. The sky is dark and we have to split up. We thank Greg, Kathy and Patrick for this great moment and we say goodbye. But not before Kathy tells us to come to the Tour de France. They will be waiting for us there. So nice people.
Nicolas and I put our bikes in the car. Change the vintage look into 2014 and say goodbye. This was a day never to forget.