Châtel 2022
July 2019.We're having an incredible week with our friends in Châtel. Greg, Kathy and Patrick join us and the week can't last long enough. We agree to meet again every year at this place. However, Covid-19 prevented us from attending the event for the next 2 years. I did meet Greg in 2021 during the World Championship in Leuven and we were both looking forward to next summer. July 2022 was supposed to be the moment where we would meet all our friends back in the familiar place.
The preparation is going quite well. We train to be in some kind of shape, but I quickly notice that the motivation is lacking. A lot of rain in Belgium and big renovations in our garden ensure that I only reach a decent level on the bike very late. And just when I think I'm almost ready, we get knocked-out by terrible news. There is a statement on the main page of the team-lemond website. "The purpose of this statement is to let you know I have been diagnosed with Chronic Myelogenous Leukemia". Meanwhile, the news has already filtered through to the media. There is mainly disbelief and a lot of questions. We discuss the news with our friends on a chat channel. One sentence gives us hope. "Fortunately, it is a type of cancer that is treatable, and it is a type of leukemia that is not life-threatening or debilitating."
Kathy lets me know that Greg is doing well. He started therapy and they are already looking forward to meeting us again next summer. As expected, he will not be able to attend this year. The news sticks in our heads. The motivation to keep training weakens and we discuss what we are going to do. Kathy also announces that their son Scott will be attending the event in Châtel.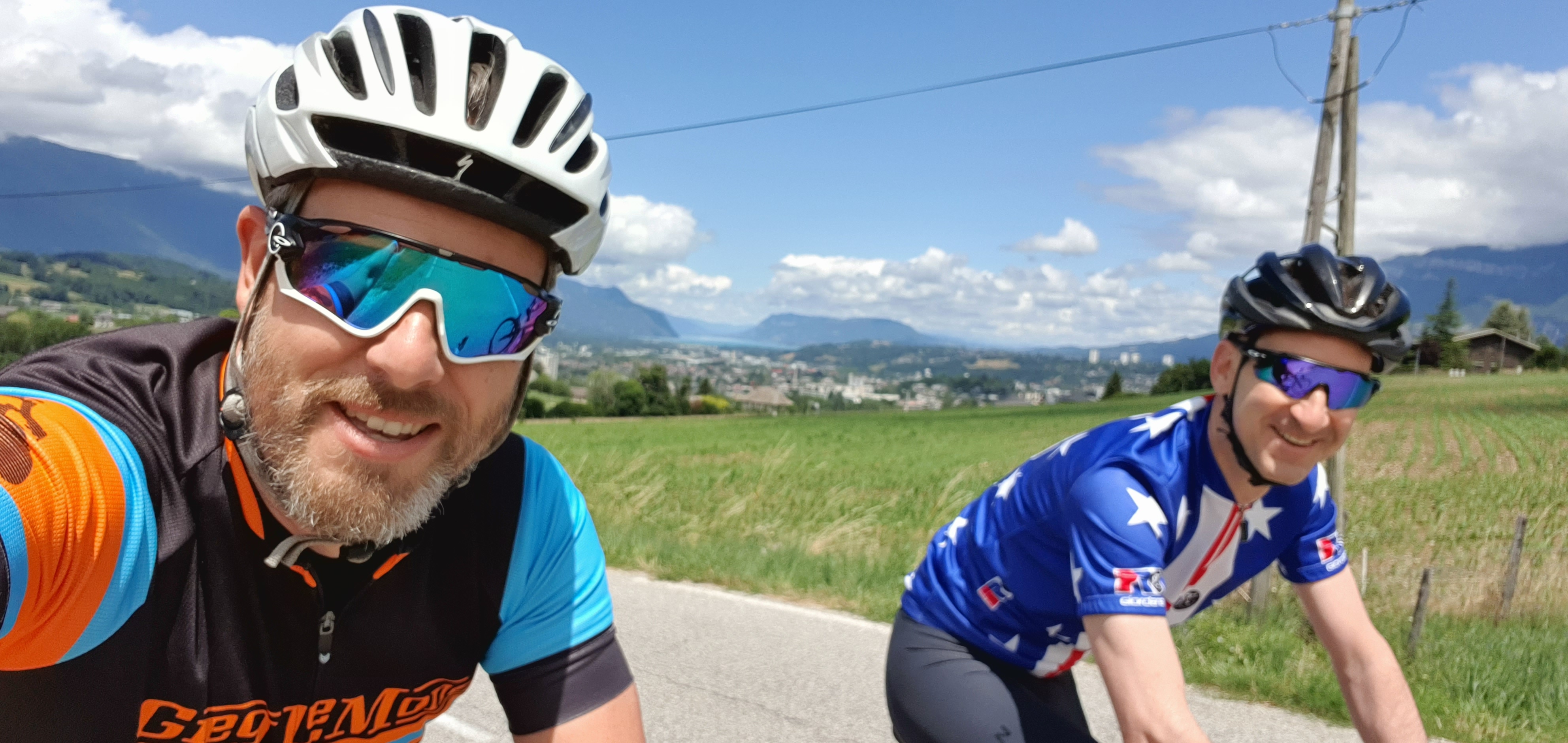 We decide to somehow support Greg and compensate his absence by honoring him in Châtel. We propose to the organization to provide a tent in which we can hold an exhibition. We will bring our most important jerseys and other memorabilia and will represent the name "LeMond" at the event. Patrick, Greg's best friend and co-organizer, immediately agrees and reserves a place for us in the exhibitor's village.
A few weeks later we make the final preparations. After a few last-minute cancellations, the three of us eventually go to Châtel. Emmanuel, Nicolas and Thierry. Emmanuel lives "close by" in Aix-les-Bains. I decide to visit Nicolas first in Paris and from there we continue to Emmanuel together.
On Friday July 1, we meet Emmanuel in Chambéry at the foot of the côte de Montagnole, the climb on the course of the 1989 world championship. Like Emmanuel, I have my bike with me. Nicolas has a drone. He will be filming us while climbing the mountain. Just like in 1989. It soon becomes clear that I haven't trained enough. After riding up 2 times, the 3rd time requires quite a bit of oxygen and strength. When we get to the cars, we see Nicolas standing with his hands in his hair. His drone has ended up in a tree and is completely stuck. We try in all kinds of ways to get the thing out of the tree, but it is much too high and the place is difficult to reach. Even a neighbor's ladder won't help getting the drone out of the tree. We make a final attempt with a rope and an empty oil can that we fill with water and attach it to the rope. After about 1 hour I suddenly manage to get the drone loose. Nicolas is overjoyed and promises us a dinner in Châtel.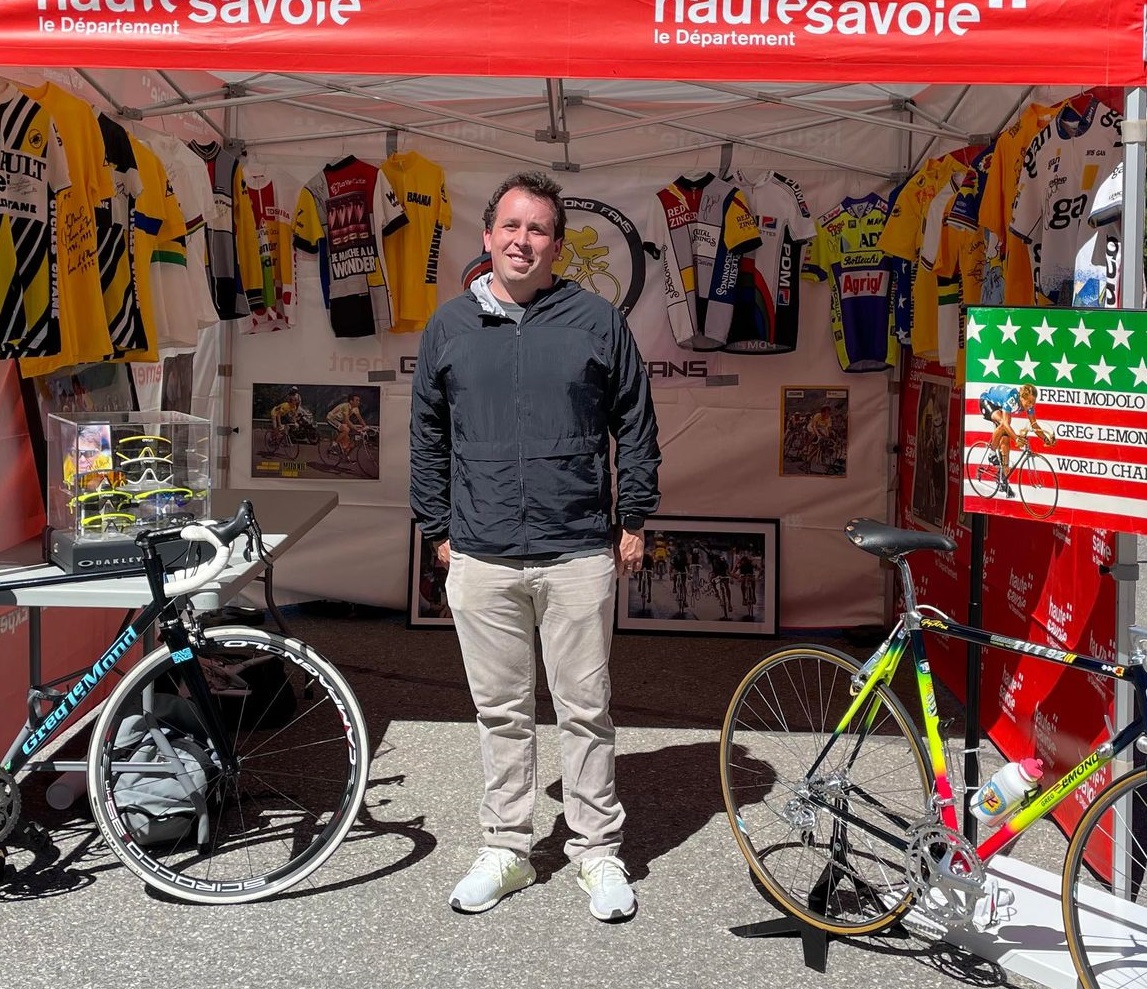 After a barbecue at Emmanuel's house, we drive on to Châtel. We are staying in an Airbnb. Just big enough for the tree of us. Emmanuel and I are sleeping in a bunk bed. A deer head watches over our very small and dark room. We get the giggles of the animal and fall asleep not much later.
The next morning we head to the exhibitor's village. All partners of the Châtel Chablais Lac Leman race are preparing their booths. Today the participants come to get their goody bags and starting numbers. Some of them are already doing the gravel ride.
Our booth is quickly filled with all our LeMond stuff. All jerseys are hanging in a logical order around the tent. Emmanuel also brought his LeMond TVT Team Z bike. Identical down to the last detail to Greg's when he won the 1990 Tour. On a table we place in a nice Oakley presentation box containg almost all Greg's sunglasses.
Soon people come to our booth and take pictures of the various items. One of them is Scott LeMond. He is happy to see us and is impressed by the exhibition. He's there with his wife, Allison. Both of them are enjoying a vacation in Europe. We immediately ask about Greg's condition. Fortunately, it's positive or even very good given the circumstances. We're happy with the good news and are very hopeful for the continuation of his fight against this disease. Scott informs us that he will also be present at the event tomorrow. Meanwhile, the village quickly fills up. A lot of people ask us about Greg and look at our collection with admiration.
After a very hot day we decide to quickly put some meat on our small barbecue and then crawl into our bed. Again the deer head watches us and we're having fun again in the room.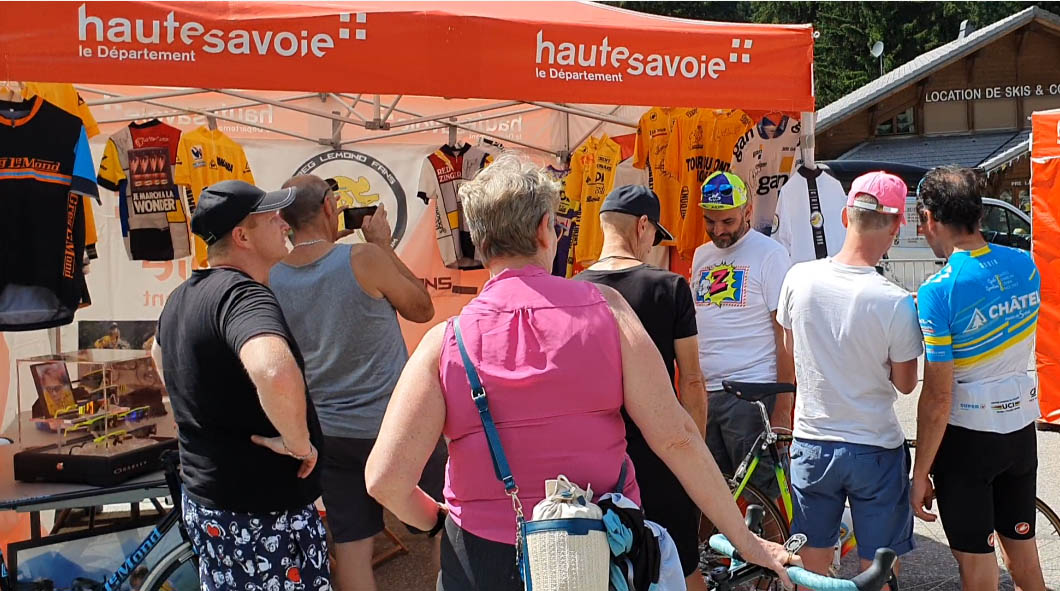 Sunday July 3 is the day on which most people are expected. Once arrived in the exhibitor's village we're set up our gear in the tent. It's a very hot day. The temperature quickly rises above 30 degrees. Scott suddenly comes to our booth with a big box and gives each of us some LeMond t-shirts, socks, a cap and drinking bottles. A very nice surprise and we are grateful to him. Now we can show the name LeMond even more in public.
We might be the most popular booth at the event. Ex riders such as Eric Salomon, who was a teammate of Greg, come to take a look and reminisce about nice memories. When the first riders arrive, it gets even busier. Almost everyone wants a picture of our bikes and jerseys. We answer all questions and occasionally try to enjoy the beautiful weather in the sun loungers.
When everyone is clearing their booth around 17:00, many people are still standing at ours. The stories keep on coming. People are remembering the great LeMond days. There was even a lady who admitted to having a crush on Greg when she was a young supporter.
At the end of the day we say goodbye to Scott, Allison and Patrick and thank them again for the wonderful time together. Nicolas treated us, as promised in Chambéry, to a pizza after which we crawl exhausted into bed.
The next day we leave Châtel and drive back home. We can look back on a successful weekend and think we have been able to compensate for Greg's absence a bit. But the best news of the weekend is that he's on the mend. And just that makes us leave Châtel with a big smile.