Châtel 2019
In 2018 I receive a call from Greg's friend, Patrick. He tells me that Greg will participate a bike event in Châtel in July, the Châtel Chablais Léman race 2019. Patrick takes part of the organization. I don't want to miss this opportunity. It's almost 2 years ago that I met our man again. Moreover, he will spend the entire week in Châtel, which will make my 800 km trip to the French-Swiss border a bit more enjoyable.

Of course I spread the news with my 2 friends, Nicolas and Albert and we decide to invite our forum members. Soon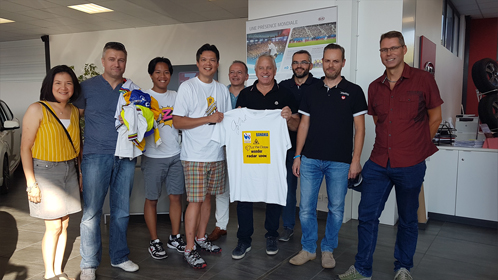 the first reactions are coming in and all of a sudden we have assembled a team of 10 members. Edwin and Justin from Canada. Stephan, Jean-Marc, Emmanuel D. and Nicolas from France. Emmanuel G. from Switzerland and I from Belgium. Team Greg LeMond Fans is ready.

My adventure starts 3 days earlier. The Grand Départ (big start) of the Tour de France in Brussels is about to happen the next day and Greg's invited to a charity event organized by Rudy Pevenage. A group of ex professional cyclists will make a 90 km ride in the Flemish Ardennes. I decide to surprise Greg and Patrick on the first stop. When the peloton arrives, I immediately see a man with a familiar style on the bike. And yes. Greg passes by. I shout "Hey Greg" and see 2 blue eyes searching and looking at me. A big smile betrays that he's happy to see me. A big hug and a few friendly punches later we walk to the feeding zone. Greg is absorbed by the crowd within the minute. Everyone wants a selfie with the 3-time Tour winner. The press wants an interview with the 2-time professional world champion. Others have their jerseys signed. Oh yes, Greg is still very popular in Flanders. Eventually I get the chance to talk to Greg for another hour. We agree to meet again in Châtel within 3 days and have a great week. That's something to look forward too.
3 days later I arrive in Châtel after a 10 hour drive. Nicolas, Edwin and Justin have already arrived. Edwin's wife, Janet, also joins them to Europe. It's a nice reunion with Edwin who traveled through the Pyrenees with us last year.
We learn that Greg goes to Thonon les Bains in the evening. Kia, the main sponsor of the event, is organizing a meet & greet in the garage. Greg and Patrick go to Thonon by bike. The descending road takes them 70 km further to their destination. We follow by car and meet there with our friends from the forum. It's the first time we will meet them. The forum members now get a real face and voice.

Greg has arrived and we decide to say hello to Kathy. She is pleasantly surprised and didn't know that we would be present. Andy McGrath, editor of Rouleur magazine, and his photographer Anthony
are also present. In addition, there's some other local people asking Greg for a photo or signature. We spend the evening with our friends, Kathy, Patrick and Greg and talk about the past 2 years. Outside Greg makes some nice photos in a Citroën 2 CV. We agree to stay in contact with each other during the following days and say goodbye to Greg and Kathy for the time being. Jean-Marc takes us to a restaurant on the Lac de Lausanne in Thonon les Bains. We enjoy a delicious meal and return satisfied to our hotel.
Since the next day Greg is out with Rouleur in the mountains, we decide to go for ride. Our local forum members Jean-Marc and Emmanuel G. have to work, but Stephan, Edwin, Justin and I have the whole week off. Emmanuel D. accompanies us from Aix-les-Bains. We take the car and drive to Morzine where we will do the ascent to Avoriaz. A pass that was also the place of arrival in the Tour de France in 1985.

It is quite hot. Moreover, Morzine is apparently the place to be for motorcyclists. The planned event on the following day means that the place is difficult to reach. After we finally parked our car, we click our shoes in the pedals and we leave for the ski station.
It's the first time for Justin to climb a mountain by bike. And that's clearly visible. Toiling and puffing, he tries to hang on, but halfway he has to let us go. Stephane climbs with his LeMond Calfee bike from 1991. His smallest gear in the front is a 42. He is also dropped. Upstairs we all enjoy the fantastic view and descend towards Morzine where we consume a delicious burger.
That same evening, Nicolas, Emmanuel D. and I meet Greg at the hotel. Emmanuel returns home for the time being and was given the opportunity to meet his hero. Greg first has some obligations with the local press, but then willingly sits with us. The agreed half hour becomes a lot longer and before we go back to our hotel, we take some nice selfies.
On Thursday we ride in the neighborhood with the remaining forum members. Not so far from our hotel is the Col de Corbier.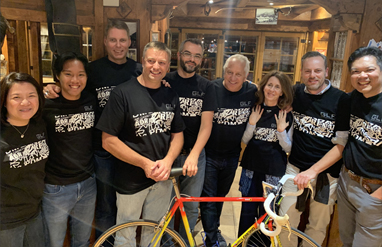 Only 5 kilometers, but with difficult percentages and very beautiful hairpin bends. Justin is looking forward to it. After being dropped yesterday, the youngster is now riding at the very front with a small gear and tries to leave us behind. The young Canadian succeeds. Stephane again has to fight the percentages with his big gear. Back downstairs, Nicolas and I decide to ride through our home town, Châtel, to the top of the Pas des Morgins, which is exactly located on the border with Switzerland. Next Sunday we will also be riding here but in the other direction.
The day before Greg and Kathy agreed to have dinner with the whole gang in Châtel. All our friends are present now. Except for Emmanuel D. and Jean-Marc, who can't make it until Saturday. It's a very nice evening where we're not only amazed by the singing talents of the local mayor, but as usual we see Greg and Kathy move up as true friends with our forum members. The LeMonds are simply wonderful people who accept everyone as their equal. When suddenly UCI president Daniel Lappartient enters the place, we we're all surprised. The friendly man shakes hands with us, recognizes Greg and starts a short conversation. Later that evening we go to a notorious cafe at Ginette. An elderly lady who is known by almost everyone in and outside Châtel because of her looks and way of life. After a lot of laughter and pleasure, taxi driver Greg LeMond brings us back to our hotel.
Friday is one of the hottest days of the week. Patrick told us that there's a nice climb nearby. The Col de Bassachaux. We can't resist and jump on our bikes towards the col. Janet follows us by car and takes some photos and videos along the way. I will never forget the name of this beast. "6% average over a distance of 10 km ". That's what's written on the sign. After 4 km I know enough. The percentages we have climbed so far were barely 3 to 4%. There were eve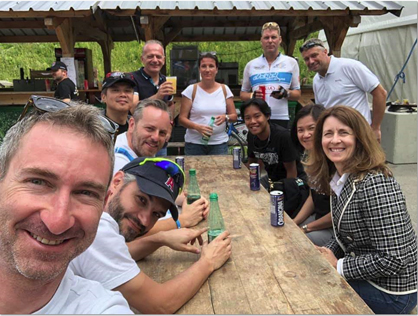 n some descending sections. The last 5 km are a real hell. Hairpin after hairpin the percentages are rising. 8%, 9%, 10%, ... Poor Stephane is trying to keep up with his big gear. Along the way we're almost eaten by bugs, but once on top at 1800m the view is really fantastic.
On Saturday, the day before the event, we have to take our bikes to the starting place in Aigle. Meanwhile, Emmanuel D. has also arrived at our hotel. Since the start of the event is located at the UCI headquarters, we decide to take a look inside. What strikes us immediately is the huge track where world hour records were achieved in the past. Everywhere there's pictures of cycling champions and of course a large one of LeMond wasn't missing.
Back in Châtel we go to the "event village" to pick up our numbers and goody bags. Greg and Kathy are also present. As usual, Greg is fully engaged with sponsors and the press. Kathy joins us and enjoys the hot sun while we have fun. A little later Greg also joins us. Time for autographs, photos, fun, ... We agree to meet each other the next day at the start in Aigle and to ride together.
Sunday. D-day. Early in the morning Janet brings us to Aigle by car. Emmanuel G. and Jean-Marc are waiting for us. Team GLF is ready for the ride in the Swiss Alps. Only Edwin is not ready. He's sick and can't ride. Greg and Patrick already notice us. Quickly we take a few photos and off we go to the start.
The crowd also notices Greg now and at 8:30 AM sharp a gun sounds and everybody starts racing. I'm a little further down in the group with Emmanuel D., while the rest is with Greg at the front. I'm surprised by the start. Like wild animals the peloton leaves for the mountains. The flat approach invites the riders to race at high speed. Greg and most of the forum members are in in group 1,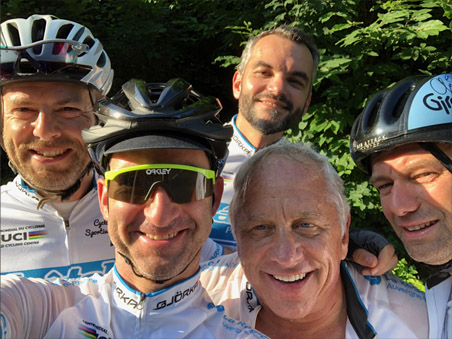 which is quickly split into 2 groups. I'm too far behind and start a hellish chase to catch up with the group with Greg. Speeds of more than 40 km/h are reached and a few riders crash badly. When everything settles down a bit I'm able to finally join the group with Greg. Everyone seems to be completely cooked. This was an amazing first 10 km. We relax a bit and are able to finally enjoy the ride together. Greg decides to get in the car halfway through the first climb. He still has a lot of obligations in the event village. But he can't resist waiting twice for us on the way encouraging us.
It's hot. The first col, the Montée des Rives, is about 17 km and quite difficult. The second pass, the Pas des Morgins, is shorter and less steep. Our group is split up and Nicolas, Stephane, Emmanuel D. and I ride together towards the last col. We each go our own way there. In Châtel we're rewarded with a medal and a very welcome lunch.
We decide to go back to the hotel, take a shower and return to the event village for the presentation of the prizes. The organization awards, among other things, 2 cars to the participants. Greg and Kathy get the honors to award the prizes on stage. At the moment suprême everyone's heartbeat goes a little bit faster. The first car is won by a woman. And then Greg grabs a number for the 2nd winner. "Le numéro 1036". Right behind us we hear cheers. As the sound is very close, we turn around. Jean-Marc and his wife jump into the air. Before we realize it, Jean-Marc is on stage to receive the keys of his new car. Greg and Kathy are just as surprised as we are. A Greg LeMond Fan wins the main prize.
The riders village is empty now, but our group stays on site. Greg and Kathy join us with other people from the organization. We close the village together and say goodbye to our American friends. We return very satisfied to our hotel. Then it's time to say goodbye to our forum friends and we agree to meet again the following year. We split. One goes back to Normandy, another to Canada. As for me I'm heading for Belgium with a big smile on my face.
Thanks to Patrick, Greg and Kathy we had a fantastic week. A week that will remain in our memories for a very long time.