After the race Eddy Merckx expressed his critics on LeMond : "Everybody thinks he's the man of the season. I doubt that. Ok, he wins the Tour and becomes World Champion. The two major races of the season. But where was he in the spring classics ? No, I like Laurent Fignon more. He was in the front line in almost every race of this season. To me, he's the best rider of 1989. LeMond just has luck that cycling is not popular in the US and all they know is the Tour and the Worlds."
LeMond reacts furious : "I can't show any respect to Eddy Merckx anymore". Why does he get to me ? He lived in another era. He's not the man to decide what I must and can't do. I tell you something. I linked my name to a competitor of his bicycle company and he doesn't like it. Why doesn't he criticize Hampsten ? He hasn't won anything. Merckx is speachless. Why ? Because 7-Eleven is riding Merckx bikes. That's really sad."

(From a Dutch book named "8 seconds" written by Herman Chevrolet)
It's true. Eddy Merckx won the Tour and Giro 5 times, the Vuelta 1 time, the World Championships 3 times, a lot of classics and other races. The Cannibal is maybe the best cyclist in history of cycling. But … that was in the 60-70's. Cycling has changed.
These days a lot of riders are peaking to the spring classics, others to the Tour de France. This evolution started in 1990 when Greg LeMond, the World Champion, was invisible in the beginning of the season and won the Tour de France in July. Just like he introduced a lot of other innovations he just started to focus on his races. Remember the small paper he wrote in 1978. He had 2 major goals. The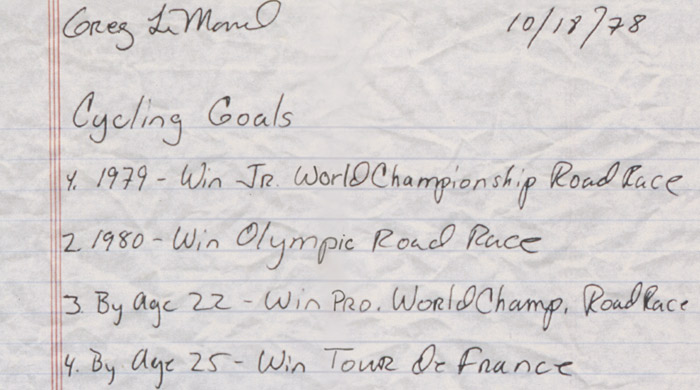 Tour de France and the World Championships. Was it a lack of motivation not to write down the other big races ? I don't think so. It was 1978 … European cycling was not famous in the US. The Worlds and Tour were the most known races.


When Greg became World Champion in 1989 he appears with his rainbow jersey in the peloton in 1990. The first results of the season are not promising. It seems like Greg LeMond is not doing well. After 4 stages in the Ruta del Sol in Spain he abandons the race. The Tour de Mediterrannée in France is not different at all. And even the Tour of Valencia in Spain is not terminated. A few days later Greg finishes his first race of the year in Holland. A 33rd place in the Grand Prix Wielerrevue, named by the Dutch cycling magazine, is not what fans hoped for. Paris Nice, Milan Sanremo, the Criterium International and the 3 days of De Panne are not good. Greg returns to the U.S. diagnosed with a virus.
Critics are laughing. "What virus, he's just not good enough". "He's earning a lot of money but he isn't worth it". When Eddy Merckx' comment in a Belgian newspaper is headlighting "A real world champion must show himself more than just in the Tour" I realise it's hard to prove yourself as a world champion. Even after all you've realised before.
And that's exactly what a lot of people forget. Greg realised a lot more than just winning the Tour and the Worlds. He didn't win much, but when he won, it was spot on. Everybody remembers the duel LeMond-Hinault and LeMond-Fignon. But did you ever heared of a duel LeMond-Visentini, LeMond-Kelly or other ones againt European riders ? There were a lot of them and not only in July or September. Yes, there was a Greg LeMond before July too.
Let's take a look back. In the fall of 1980 Greg becomes a professional rider for the Renault Gitane team managed by Cyrille Guimard. 1981 is his first real season in that nice white-yellow-black Renault jersey. He's still very young and shows himself often in front of the race. An 11th place in the Criterium International and a stage victory in the French Tour de l'Oise are his best results of the spring. The Dauphiné Libéré, which is a difficult and important stage race in the Alps just before the Tour, is his first great performance. A rookie finishing 3rd in the General Classification of an international top stage race. In July he wins the Coors Classic in the US and the world suddenly knows who Greg LeMond is. 1982 is even better. Finishing 2nd in the Tour de Mediterannée and 3rd in the Tirreno Adriatico, where he wins a stage, is a very good start of his season. Ending that season with a silver medal in Goodwood means a lot for the rest of his career.
1983 is maybe his best season ever. He wins stages in early season stage races, finishing top 10 in the Fleche Wallonne and winning the Dauphiné Libéré against Pascal Simon, a French top cyclist. His 4th place in the Tour de Suisse is just a confirmation of his talent. He's ready to explode in the Tour, but Cyrille Guimard dec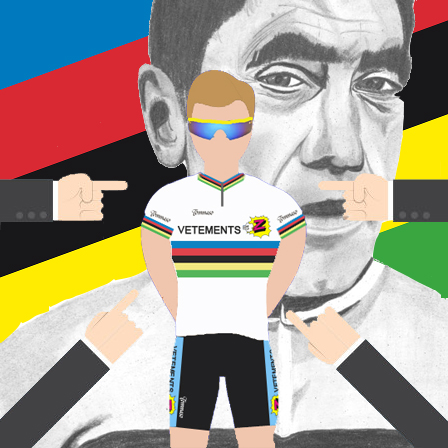 ides is too soon to participate. So he wins the World Championships in Altenrhein, almost wins the Tour of Lombardy and wins the Superprestige Pernod, the price for the best cyclist of the season.
Well Mr.Critics … 3 years without Tour de France and yet some nice results. Not ? Let's continue.
1984 is the first season wearing that nice rainbow jersey in the peloton. Tirreno Adriatico, Criterium International, Gent-Wevelgem, Liège – Bastogne – Liège and the Dauphiné Libéré. Greg's name appears each time in the top 10 rankings and even wins some races. Read it again … a World Champion with these results.

1
985 and 1986 are seasons with a very stong LeMond in the spring classics. He's close, but always finishes just behind Kelly, Vanderaerden, … . In the Giro he's going for the pink jersey, but first there is his teammate Hinault and then there is Visentini.
And then … BANG !!! The old LeMond is replaced by a new one. A new way of life. Two years trying hard to come back. A very hard time. He shows himself in the 1988 Milan – Sanremo on the Cipressa but then crashes in the descend. That's the end of Greg and the classics. Or not ?
Well in 1989 he starts well in the Criterium International. But due to payment problems of his team, he decides to go back to the US. You know the rest of the story, which is written here.
It's hard to be good during the whole season. Pressure is high, your contract too. You don't want to fail in the race your team brought you in for. So what do you do? You train for it. You try to be good in those 3 weeks. 1990 was the perfect example. A few times in the front, but being good at the Tour is all that counts.

Even after that Tour he finishes 2nd in the GP of Zurich in a milimeter sprint against Charly Mottet. He was always close to winning a classic, but someone always was that little bit faster in the sprint. But no one remembers the 2nd best.
Two years later that same Eddy Merckx shows up in a Belgian television show where Greg was the main guest. Merckx is asked what he likes about LeMond. "Greg is the best cyclist of his generation and he's a real champion. He's has more class than the whole peloton together". Greg's face is full of unbelief. I'll never forget that face expression. What an hyprocrite. Watch those images and more about the two men in our video on the GLF Youtube Channel.
Never forget these words of Greg I once read. "Don't tell me I made wrong choices when you're 7000 km (4200 miles) away from home, your friends and sometimes your wife and kids". It was a brand new world for him and his life was different than all these other European riders. He had to make priorities after his accident. His kids grew up, he had to make some choices. Greg was a real family man.
Just to give you an idea of what Greg achieved in his career, check out his results. I don't think you'll find another Tour de France winner since Greg having these results in one day classics and other races. Some came close, most of them not.