As part of our June 2016 pilgrimage in the Alps, we will tell you the tale of Greg's adventures on the most famous mountain of the Tour de France : Alpe d'Huez.
Part I : 1984-1986
In 1984, Greg LeMond is a rookie. This is his first ever Tour de France and he has never finished a 3 weeks race before. His previous attempt, the 1983 Vuelta, back when the Vuelta took place in April, saw him quit on stage 17, sick. However, his overall qualities and reigning world champion status make him a serious contender. Many journalists even consider him their favorite. Hinault is still recovering from a knee surgery the year before. He has a big question mark on his forehead. Laurent Fignon, Tour de France winner in 1983, is seen as a bit too soft to last.
The first week of the Tour sets the tone : LeMond and Fignon's Renault team makes a hold up. This is payback for Hinault's desertion (he left the team in 1983). Marc Madiot wins stage 2, the bee-like jerseys win the team time trial on stage 3, Vincent Barteau takes the yellow jersey with a 17 minutes margin on stage 5… Then Fignon hammers down the first individual time trial (stage 7), before his buddy Pascal Jules steals the show on stage 8.
Where is Greg LeMond ? After a brief interlude with the red jersey (now gone, the red jersey stood for in-race sprints classification), Greg is struggling with bronchitis. On stage 11, stunned by heat and unable to breathe, he tears his jersey apart to ease the pain. Greg is down 4 and a half minutes on Fignon and half as much on Hinault. He's barely in the top 10 and losing time a little bit every day.

Week 2 sees the Renault team grab stages 12 (Poisson), 13 (Menthéour) and 16 (Fignon, for another ITT). Stage 17 is Alpe d'Huez. This is where Greg LeMond starts making his way back up the classification. He's wearing the white jersey, the "best young rookie" jersey, but only because his teammate Vincent Barteau cannot wear both the yellow and the white jersey at the same time. Colombian « pocket climber » Luis Herrera throws himself in an heroic and lonely breakaway. Behind him, all hell breaks loose. Hinault, being already 3 minutes down on Fignon, senses he doesn't stand a chance at breaking him if he attacks in a conventional way. Everyone underestimated the blonde Parisian. When Hinault surprises the riders with an attack in the valley, Fignon smiles… He knows the Badger is bluffing. At the foot of Alpe d'Huez, Fignon calmly passes Hinault as if he weren't there. Checkmate.
Just seconds behind this duo, Greg LeMond stands in a chasing group. The more they climb, the better he feels. He lets the pure climbers go but as far as general classification goes, he's the toughest behind Fignon (unreachable that year). On top of the mountain, Laurent Fignon does as he had done in 1983, he takes the yellow jersey at Alpe d'Huez. He's on his way to won the Tour. Greg crosses the line in 6th place with a sigh of relief. He's back on track. His white jersey is once again ripped off on the chest. It was hard but Alpe d'Huez has given him his strength back. 8th at GC in the morning, LeMond leaves Huez in the top 5, eventually reaching the 3rd spot of the podium in Paris, thanks to a very strong 3rd week. He's confident he can do better than this.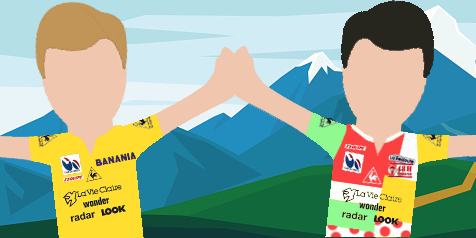 When Greg LeMond reaches Alpe d'Huez for a second time, in 1986, he is wearing the yellow jersey for the first time in his career. And boy, was it hard to take it off Bernard Hinault's shoulders ! It's the Badger's last Tour and he's not giving up without a fight. Greg and Bernard are once again in the same team but things are not going as well as Greg had foreseen. The team is doing great in terms of results but it's torn apart. There is Greg's camp. There is Hinault's camp. There are 2 swiss riders in the middle, trying to remain neutral. At the start of stage 17 of the 1986 Tour de France, Greg LeMond is in the lead. Hinault is 3rd at 2'47''. In between stands tall climber Urs Zimmermann from Switzerland. He's doing good but he is very isolated. He stands at 2'24''. It's the last mountain stage of the Tour. It won't be long, now. As he had done in 1984, Hinault attacks when no-one expects him to. He'll say he did it to get Zimmermann out of the woods. He wants his opponents to chase him. But in 1986, the peloton knows better than to go after the mighty Badger. It all looks too familiar for Greg LeMond. That's exactly how Hinault took the yellow jersey with a 5 minutes lead earlier in the Tour. Taking Zimmermann by surprise at the feed zone, LeMond catches Hinault. Both leaders can proceed and crush the Swiss. It's them Vs Urs. In the Col de Croix de Fer, they maintain a average pace. They want Zimmermann to believe he can come back and spend a lot of energy. Once it's done they use the boosters. They reach the top at a steady pace and throw themselves in a solid descent. At the foot of Alpe d'Huez, Urs Zimmermann is 5 minutes behind the duo. He's done.
It becomes clear that not only the stage but also the Tour will be decided on the slopes of Alpe d'Huez. Greg LeMond is almost 3' ahead of Hinault at GC. He's happy with how things turn out, confident he can keep the Badger under his foot. He's also concerned the crowd would not be happy to see him drop a french legend. Things ain't too bad for Hinault, either. He's had a rough week, losing time a little bit every day since his initial hold up. Leading LeMond up Alpe d'Huez is a nice symbol and gives the impression he's still on top of things.
The last few hundred meters of the stage are historical. Never in the past had we seen the 2 strongest riders of the Tour arrive hand in hand as a sign of truce. It's unexpected and could only have happened with true champions. Some will say that gesture lacks sincerity. I strongly disagree. In an ocean of bitterness, this might be the most genuine and affectionate gesture of that whole race. Hinault and LeMond were not meant to coexist. They were different on a lot of levels and core values, but… They both recognized each other's strength and respected it. The victory at Alpe d'Huez is a celebration of that mutual respect. Everything that comes before or after that is irrelevant.
For the record, after Huez, Zimmermann is set back 7'41'' from LeMond at GC. He manages to climb Alpe d'Huez roughly at the same pace as the La Vie Claire duo who does a 48 minutes climb. That relatively slow performance proves that no battle occurred on that climb. It had already been done on Croix de Fer. Greg LeMond wins the 1986 Tour de France and fulfils his destiny, confirming he is indeed one of cycling's finest.
Part II : 1989
The 1989 Tour de France is the story of two come-backs. After winning the Tour twice, in 1983 and 1984, Laurent Fignon underwent surgery on his ankle. He was never the same after that. For 4 years he's been able to win on and off but unable to sustain a constant form. 1989 sees him win both Milan-San Remo and the Giro. Fignon is back. Big time.
Greg LeMond is coming back from injury too. He was accidentally shot in the back by his brother in law in a turkey hunt in april 1987. His chest remains riddled with lead pellets. 30 of them. Since then, he's been struggling to be his former self again, to no avail. So far.
Greg is once again wearing the yellow jersey when the peloton presents itself at the start of stage 17. Competition is fierce. Both he and Fignon are in opposition of styles. Greg is the time trialist. His team is non-existing. He took the jersey after both the Rennes and the Orcières-Merlette time trials. In between stood the Pyrénées. That's where Laurent Fignon figured he could attack and grab the yellow jersey back. And he did, at Superbagnères. Only for LeMond to take it back again on the climbing ITT at Orcières-Merlette. At this point,, LeMond and Fignon are 53 seconds apart. That's the maximum they've been since the start of the race. There's only 3 more mountain stages, in the Alps, and then a final ITT in Paris. For both riders, things have to happen sooner rather than later. Alpe d'Huez should be where the decisive move takes place.
Laurent Fignon is determined. He wants to fight. Greg LeMond is cautious. He's still unsure about his ability to sustain a 3 weeks effort. He has not been able to do so since his winning 1986 Tour. "If I can manage to follow Fignon until the foot of Alpe d'Huez, I should be fine. I can afford to lose 1 minute at the top. I'm confident I can take some time in the last ITT.".
The foot of Alpe d'Huez is precisely where Laurent Fignon decides to get rid of Greg LeMond. He's had enough of him. He considers him a wheelsucker. He wants to show him who truly deserves the yellow jersey. "I attacked as if the finish line was just up the corner" he would say later on. The effects are devastating. Instantly, the two dozen riders that were in the group are all over the place. Legs are burning. But as soon as Fignon thinks he's put a major hit in Greg LeMond's face, the American counter attacks. This is brutal. Soon, both riders stand exhausted in the middle of the road, each of them trying to catch his breath. This is not gonna work. None of them seems to be on a higher ground.
So they wait. Most of the climb is done in a small group : LeMond, Fignon, Delgado and his aide Rondon. The pace is steady. Nobody dares to attack, fearing a counter-attack. In fact, the struggle is taking place just a few meters behind. The team cars are right behind the group. Inside are Greg's coach, José de Cauwer and Laurent's coach, Cyrille Guimard. Guimard knows LeMond really well since he coached team in his first few years as a pro. And he can tell Greg is not well. There's something in his body language… Signs. It sets an alarm in Guimard's brain. He has to tell Laurent. But in order to do so, he must get in front of De Cauwer's car. Team cars are placed in the order of the rider's GC position. Greg is #1, Fignon #2. It's not easy to pass a car on Alpe d'Huez. The crowd is everywhere. The path is narrow. De Cauwer is not helping. The belgian has seen Greg is about to turn the lights off. They spend a few minutes like this, bumper to bumper. Guimard finally reaches Fignon. There are 6km left. "You have to attack, he's cooked !" yells Cyrille. "I'm cooked as well !" is Fignon's desperate answer.
The "5km" sign passes… Soon they will be 4km from the top. It's better to attack when the grades are high if you want to make a difference, and there is a flat in the last kilometer. Soon it will be too late. Greg LeMond is on the verge of collapsing. He's more than happy to be standing in this group at this point. He's trying to hide his loss of power. Barely. "It's now or never !" shouts Guimard one last time.
Fignon attacks under the "4km" banner. He still has some juice left. Delgado is having a hard time keeping up. Greg is… Glued to the tarmac. For a few seconds he can barely stand on the bike. This is not a pretty sight.
When he realizes he has left LeMond behind, Fignon feels his strengths coming back him, as if he had begged some bike god to answer his prayers. He seems to be flying. In pain, but flying nonetheless.
Left for dead, Greg LeMond gathers his very last coins to buy a few powerups. It's not game over yet. He knows he can make it to the top and limit his losses if he holds together. Greg can barely hold his chin up and watch in front of him. Every movement seems to be putting him in an enormous pain. It's there, when he's so close to be put out of the race for GC that he has to have faith. Keep pushing, no matter what.
When he finally reaches the finish line, Greg LeMond is 1'19" down of Fignon. This is the biggest gap of the whole race between the two. The last few hundred meters were agony. Greg kept lifting his butt off the saddle, only to sit back down… And up again. Never giving up.
Alpe d'Huez 1989 is Laurent Fignon at his finest. His attack not only leaves LeMond behind, but he nearly drops Pedro Delgado as well. That day is the 3rd time Fignon takes the yellow jersey at Alpe d'Huez. He remembers that and sees it as a sign. He won the Tour twice this way. It could be his 3rd. Laurent Fignon is now 26" ahead of Greg LeMond at GC. He feels confident it should be enough for a 24km ITT but he wants to try and make the best out of the last few stages.
In the following stage at Villard de Lans, Fignon will indeed take 24" more and win the stage. Both he and Greg will sprint for the win at Aix les Bains the day after that, the American claiming the stage. Of course, by now you probably know about how Greg won that Tour for 8 seconds. What I find most noticeable about that small gap is that it proves a 3 weeks race is won a little bit everyday. Had he snapped a tad more on Alpe d'Huez, Greg LeMond would not have won the Tour. The day he lost 1'19" is in fact the day he did not lose more… And contributed the most to his big win. You know that saying about losing a battle, but not the war ? Right.
Part III : 1990-1991
For Greg LeMond, the 1990 Alpe d'Huez is all about team work. He is riding for Z. The yellow jersey is in the team and yet, Greg is wearing his rainbow world champion jersey. How could this be ? Fast rewind to the first stage of this Tour. A 4 riders break is allowed a 10' margin. None of the leading teams has cared to pursue the fugitives. Nor the Castorama team who had won the yellow jersey the day before with Thierry Marie, nor the Z team of former winner Greg LeMond. How so ? For Greg, the answer is simple.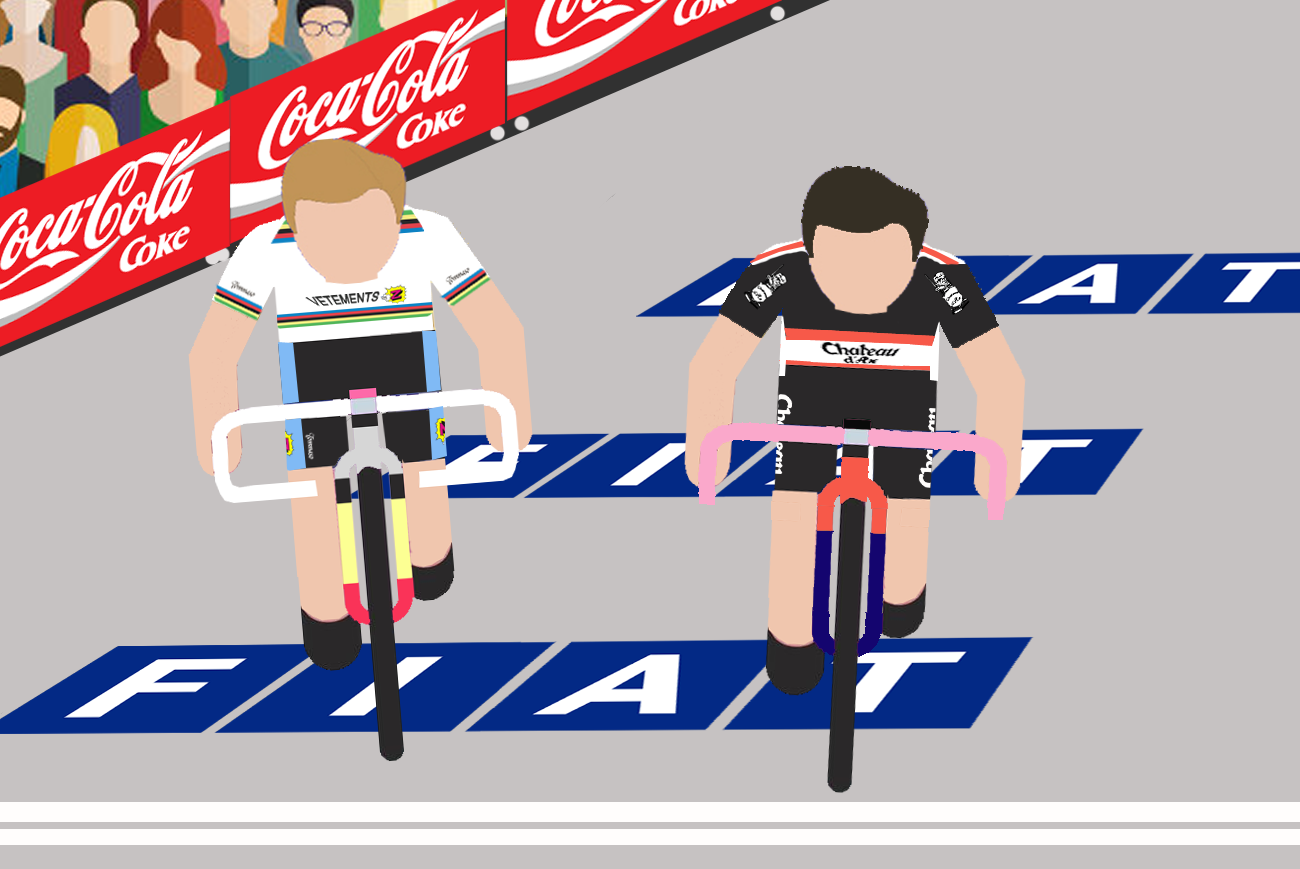 Out of the 4 riders in the break, Greg has one teammate in Ronan Pensec and one of his best friends in Steve Bauer. This chase is definitely not his to engage. What's really strange is the indifference of the other teams. Breukink's PDM and Delgado's Banesto fail to cooperate. The sprinters teams also let things go. They'll say they didn't want to ride ahead of a team time trial on the same day, in the afternoon. They do not realize how this move will shape the race for the 1990 Tour de France. A similar story had occured in 1984, but at the time, none of the escapees had any kind of Grand Tour general classification pedigree. Frans Maasen, winner that day, is no threat to anyone on GC. Not a climber by any means, he'll vanish with the first mountain. It can't be said of Ronan Pensec who was 6th in the 1986 Tour de France or Steve Bauer, 4th in the 1988 Tour. Letting them begin the race with a 10' free powerup is dangerous. No one is really paying attention to the 4th guy, Claudio Chiappucci. He's a decent climber but that's it.
Steve Bauer wears the yellow jersey for a whole week, then Pensec takes it in the Alps, where Bauer starts to fade. Alpe d'Huez comes up on the 11th stage, on the 2nd day in the Alps. Greg LeMond is 8th at GC, Breukink is 10th, Delgado is even further. Alpe d'Huez is in fact the first true test for GC contenders.Greg LeMond crashes early in the stage but he doesn't seem to be too badly hurt. He's not letting anyone know, but in fact he dislocated one of his fingers. He's putting it back in but still… That hurts.
The Z team is controlling the race. They're at the front of the peloton. In the last few slopes of col du Glandon, Indurain and Delgado attack. Bugno catches them and Greg LeMond covers the break for the Z team. It's a good scenario for Greg. He's in the leading group but since his yellow jersey teammate is behind, he doesn't have to contribute at the front. Indurain is in time trial mode and doing a lot of work for Delgado. They catch early attackers Eduardo Chozas and Thierry Claveyrolat in the valley. Further back in the peloton, the Z team can rest easy, as it's not their job to chase LeMond. They let the PDM ride. It is indeed a good scenario.
As soon as the first ramps of Alpe d'Huez show up, Delgado takes the lead. But it appears he's not as strong as he thought he was. LeMond and Bugno have no trouble following him. A little further down the road, Robert Millar is helping Ronan Pensec. Not only is Delgado not dropping anyone anymore but he has to slow down. Claveyrolat comes back from behind. Bugno attacks but Greg LeMond makes it clear he will not allow anyone to drop him. 5km from the top, the leading group is only 45" ahead of Pensec and losing pace. So much so that Erik Breukink is able to catch up with the leaders.
There is a point when it seems that it will be a 3 men sprint : Breukink, Bugno and LeMond, but Claveyrolat and Delgado make their way back on the flat portion of the last kilometer. Greg wants this stage badly. He has good legs. He had the means to attack but didn't want to jeopardize Pensec's journey in the yellow jersey. All he has to do is make a good sprint. Greg knows the place quite well. He also knows he has a good jump and wants to be the first outside the last curve. Greg is in 2nd place and turns his head left and right, checking behind him. Bugno tries to surprise Greg in the interior. Greg makes his move but that's when his finger reminds him it's not quite as good as it should be. Greg misses the brakes and his rear wheel slips. It doesn't seem like a big deal but this little grip loss cuts Greg's speed a lot and all of a sudden, he's not in the right gear for this sprint. Gianni Bugno's specialty being those kinds of hilly sprints, he seizes the opportunity and passes Greg just inches away from the line and wins.
After the stage, GC shows Ronan Pensec still in yellow but Greg LeMond is now 3rd, less than 8 minutes behind Chiappucci now in 2nd place. Breukink, Bugno and Delgado stay behind Greg. After this stage, the Z team will keep on displaying its tactics against Chiappucci, recovering more than 5 minutes two days later at St Etienne, then the rest (bar 5") at Luz Ardiden. The final ITT will be the last nail on Chiappucci's coffin and Greg will win his 3rd Tour de France. Greg's climbing time for Alpe d'Huez in 1990 : 45'45".
Greg LeMond is anxious when he enters the first few slopes of Alpe d'Huez in 1991. After a strong debut in the Tour which saw him wear the yellow jersey for 5 days, he receded abruptly on the Tourmalet on stage 13. The Val Louron climb that ended the stage looked like a calvary. For the first time since his first win in 1986, it seems Greg LeMond might not be able to win. But he's not giving up without a fight. He attacks the day before Huez, en route to Gap and grabs a few seconds. Greg fails to win the stage but he has an important message to send "I'm not dead yet".
Stage 17 starts with two category 2 climbs. It's a fairly easy start that suggests Alpe d'Huez will be violent. An usually big peloton begins the climb and Greg is dropped quickly on the brutal first few grades. He fights bravely as his excellent time of 42'23" (his best yet) suggests but he is no match for the 1991 Tour de France leaders. As he crosses the line 2 minutes after Gianni Bugno, Greg LeMond probably wonders what he did wrong within the last 12 months… In fact, he'll think about it all night and the following day he'll have a major failure. He'll shed a few tears, realizing he's unable to keep up and ride by his own standards. It is only the start of a long way down.
Alpe d'Huez is, maybe more than any other place, a symbol of Greg LeMond's highs and lows. Let's hope we will meet the former rather than the latter when we get there.