What can I say about this day that you haven't heard already ? Let me try…
Sunday morning, july 23rd, 1989. A beautiful summer day. The Tour ends today. It's magnificent, but the results are not what I had hoped for. I have spent the last 3 weeks following the race on TV. And when I'm not in front of the telly, it's because I'm on my bike. I'm 15. I love cycling but it's so hard. I have competed the previous year. I have failed to win a race. I wasn't bad but… I wasn't a winner, either. I was probably too hard on myself. To me, it's either winning or losing. No middle ground. So I quit the bike, until… Greg re-appears. As Mr LeMond gets back in our lives, I get back on the saddle. I'm alone at home for the summer. Not much else to do, anyway.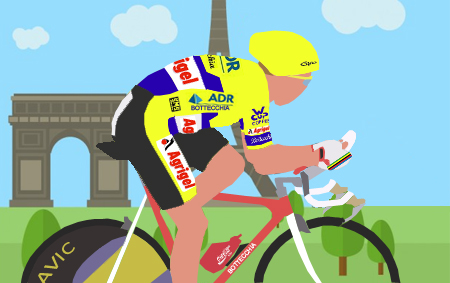 I ride every other day and I make progress quite fast. I'm young. My body is resilient. I have basically no fat. For the Villard de Lans stage, I am nervous. I go riding instead of watching the race. Greg has just lost the yellow jersey at l'Alpe d'Huez, he took a big hit. He is now 26" down on Fignon. Today is his last chance to take some time back. 26" is probably too much to recover on the last ITT. It's an average 1" per km. In Rennes, during the first week of the Tour, Greg took only 56" over Fignon in 73km.
Because I am so nervous I go out riding. I have an idea. Here's the deal : today, I'm gonna go as fast as I can, doing the ride I did last year when I was competing. My all-time record on the 30km course is 61'. I decide that, if I can make it in less than 60', Greg wins the Tour. I ride and give it everything I've got. I feel good. I do good. Looking at my Avocet, I can see the speed, but I'm not checking the chronometer until the end. When I reach the sign which marks the finish line, I take a look. I achieve a 56' time. Ecstatic, I come home and turn the TV on. I know Greg must have done great. He's probably in yellow. Images appear. Fignon is on the podium. He's still in yellow. He won the stage. He is now 50" ahead of Greg. 26" was a stretch. 50" is impossible. It's over. The Aix les Bains stage doesn't change a thing, despite a stage win for Greg.

So, in the morning of the Versailles-Paris ITT, I don't think Greg LeMond stands a chance. Versailles is only 25km from where I live but going there means taking dangerous roads with lots of cars and, most importantly, missing the broadcast. I want to "live" this race from beginning to end. I don't want to give myself false hope but deep down, because there is still, at least mathematically, a slim chance, I want to see how things go.
Patrick Chêne & Robert Chapatte are commenting for French television. From the start, Chêne makes it clear : thinking Greg can win the the Tour is "not realistic". Coming from a guy who would later interpret a tiny movement of the finger from Miguel Indurain during his attempt at the world hour record as a sign that he could get off his bike and take another (!), it means something. An ex-pro, Chapatte is in his last years of broadcasting, tired of his 5-hours-a-day job, mixing words and making up sentences that lose their meaning. You can smell red wine when you hear him, really.
Race starts. Riders go one by one, then Greg LeMond slides down the starting ramp. He's looking good. He is fast. Then it's Fignon's turn. He's not too bad, either. Both guys are going full gas. After 10km of a quiet TV program comes the first time check. And it instantly wakes everyone up : Greg LeMond is now only 31" behind Laurent Fignon overall. He's already taken 19" over Fignon. It's close to the 2" a km security blanket the French thought he had. Chêne gets his calculator out of his pocket. Chapatte orders coffee and probably regrets having taken "the last one for the road". I'm not lying down on the couch anymore. I'm on my feet, anxious.
After 14km, Greg is now 26" behind Fignon overall. Still losing time, the ponytailed yellow jersey makes it clear he won't let go without a fight. My stomach hurts.
After 18km, Laurent Fignon's lead has melted to a mere 15" over Greg LeMond. I welcome every time check with a scream, now. 6km to go, everything is again possible. The Champs Elysées climb will decide who wins the Tour. It is indeed a climb. Not very steep, but a climb in a long straight line, with cobblestones. Depressing for anyone struggling on a bike.
When he enters the "most beautiful avenue in the world", Laurent Fignon is still in the lead for… 5 seconds. He does NOT look good. But what I see on his face is not pain. It is fear. For 5 years now, Laurent Fignon has been struggling to become HIMSELF again, the 1984 Laurent Fignon. The one that trashed all his opponents. Less than half an hour ago, he was about to achieve this goal. Now it seems to escape from him. This is not fair. He deserves to win. In his mind, he deserves it more than Greg LeMond. Both Guimard and Fignon have said the same thing repeatedly : LeMond never attacks. He's not worth of the yellow jersey. He's stealing the show.
On the other side of the "Elysian Fields", Greg LeMond is fierce. He's a lion. He has nothing to los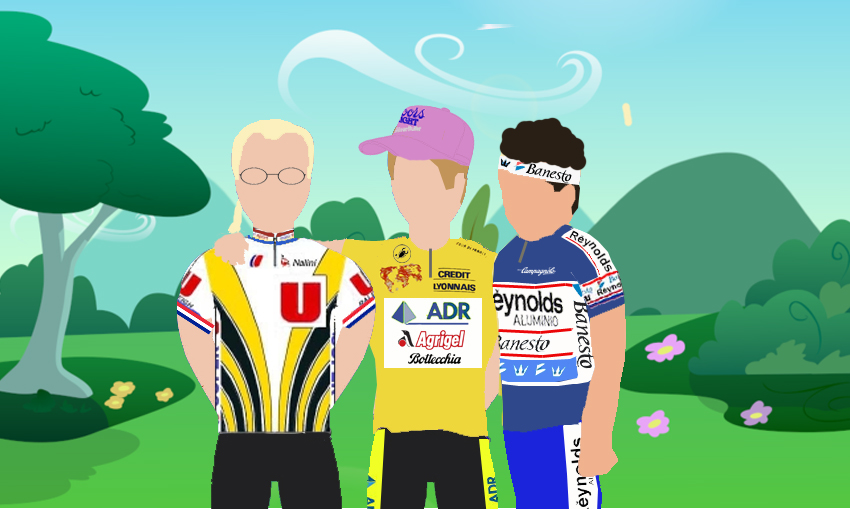 e. 2 years ago, he was nobody, nowhere, cyclingly speaking. Half dead after being shot while hunting, he was just lucky to be alive. For him, having the chance of fighting for the win here is more than he could have hoped for. He's having a blast. He's not thinking. He's just going as fast as he can. With this egg shaped position given by the aero tri-bar, he looks terribly efficient. One goal : give it all and you'll have no regret. For days he's been repeating this : no matter who wins, it will be by a very small margin.
Greg LeMond finishes his ITT at the fastest pace ever recorded for that kind of race : 54,545km/h. It was in slight descent and there was a constant tailwind, but still. Laurent Fignon painfully reaches the Arc de Triomphe. He doesn't know this, but he has already lost the 1989 Tour de France for about 2 seconds. If Greg LeMond is the lion, Laurent Fignon is the gazelle. The elegant animal runs for his life, trying to avoid what is now his inevitable fate but it is too late, he can smell the breath of the lion on his neck… The countdown to his doom comes in multiple languages on Mondovision. The gazelle-man finally crashes on his flank, indifferent to the flesh-eaters gathering around him, searching for blood, sweat and tears.
I JUMP ! I SCREAM ! I can safely say that I never felt this way before and I probably never will after that. Greg LeMond joins me in this silly dance. "Woo-hoo !". Something impossible just happened. Paris is a mess. Patrick Chêne is looking for new words in his vocabulary, trying to catch his breath. Robert chapatte decides he's going for another round of liquor, eventually. We're all in shock. History was just made.
The podium looks damn good : 3 winners of the Tour who have fought against each other for 3 weeks. These guys will be together for eternity, no matter what. In cycling History books, you cannot mention Greg LeMond without mentioning Laurent Fignon. And vice-versa. Every good story needs antagonists. Perico is standing aside.


Up there, on the podium, you can see Greg LeMond is feeling bad for Laurent Fignon. He's trying to find the right words :
-Now we both have 2. And you've won the Giro !
-I don't care about the Giro… says laurent.
Then it hits me. Again.
I love cycling but it's so hard. It's either winning or losing. No middle ground.