Greg LeMond came back into the world of cycling with an unusual beast: the Washoe. A steel bike, quite stylish with playful colors. It's not the type of bike you see at every corner. After having had the pleasure of riding such machines for a few months, it seemed natural to share our thoughts on the matter. Mind you, it's a fan review. A Greg LeMond fans review? No, a Washoe fan review since we've come to love the bike. Let us explain why. First Albert. Then Nicolas and Thierry.
When I was a child I was a complete fan of Greg. And of course, I loved the bikes he was on. Just having the possibility to ride for a while one of them would have been a dream.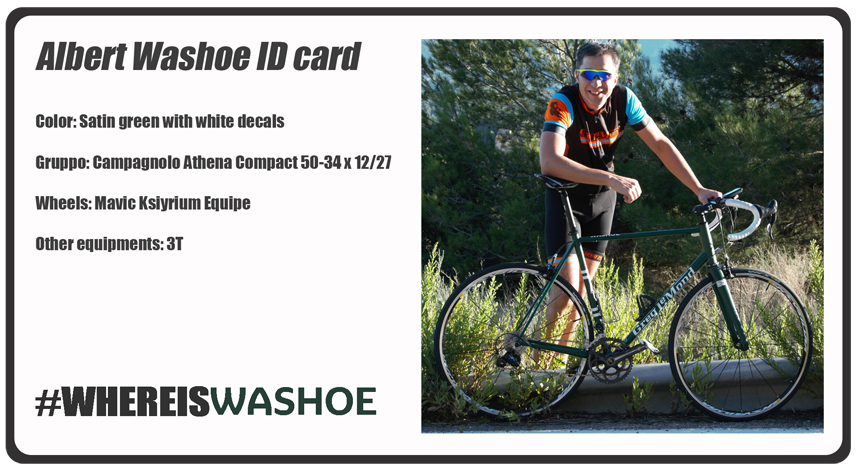 I was specially interested in the bikes he rode in the 90's, since the carbon one manufactured by Craig Calfee – the best carbon bike I have ever ridden, in Greg's words – and the blue-gray fade titanium frame manufactured by Litespeed, were simply awesome. But they were just too expensive for me, so the dream was just that, a dream...
Some years later, the dream came true, and in a few months I managed to get THE frames I was looking for. Man, those were moments of a pure joy, I finally had a bit of Greg in my stable. The possibility to experience a tad of what Greg felt while he was a professional, regarding the equipment, was now real. YES!
These bikes are still considered the real deal, so called "Pre-Trek", and at least for me they were the last "pure" LeMond bikes. I liked the manufacturing. Very limited and handcrafted. I liked the brand logos, the best ones, IMHO, and they were all used by Greg while he was still racing. On the other hand, they are pretty rare and hard to find nowadays, so they are pure gems.
I sadly but sincerely believed they were going to be the last ones, but I was happily wrong. Greg Lemond was back in business again! WOW!
He was launching, at first, a limited set of bikes manufactured by Time, to commemorate his 3 Tour de France victories in 1986, 1989 and 1990. But the best was yet to come. Following that launching, he was also releasing a completely new model, entirely manufactured in the USA – with Greg being a key part in the design process – and set to break all the molds. The bike was called WASHOE, and I'm telling you right now: IT is a beast.
Just 3 months ago I managed to get my Washoe frame. A beautiful satin green one. I'm pretty sure it was a painting prototype, since I have only seen the shiny green being sold. So the frame is unique. That looked amazing once out of the box in the daylight. The only thing needed was building the bike. I took it to my mechanic – Xavi Miró from Miró bikes, in Lleida – together with the Campagnolo Athena groupset and the rest of the components I received. We were all busy and the process took almost a month, but let me say that he did a beautiful and artisan work – he even installed a beautiful satin chromed front shifting adjusters for both derailleurs, so thank you so much man!
So let's start: Lemond Washoe, out to ride!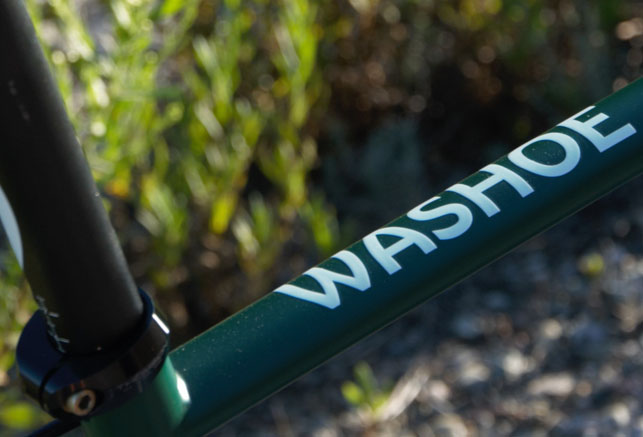 The first aspect I noticed immediately is the lightness of the bike. Roughly 8.3kg for a steel bike is just great. The Enve carbon fork is the perfect match to this frame. More taking in account that it is an L size (around 58cm) and the fact that if the components would have been even better, we would had been introducing here a 7.5kg-bike or so. As I said, that is incredible, because the weight of my Lemond Carbon – with not so good components, that's a fact – is very similar. So kudos to LeMond bikes to have managed to achieve this in a steel bike!
Moreover, the geometry of the bike remains the same. Very relaxed angles (73-74º). The bike is very comfortable if you are going to spend some hours riding out there. And yes, the steering is still the same – terrific. The bike goes exactly where you want. No strange reactions and surprises here. You can descend like a demon and completely trust the bike. The Washoe is not going to let you down.
Another thing I noticed about the bike after some days riding it, is that the Washoe is a beast of a bike. I mean, no matter how hard are you riding, it is always demanding you for more, and more, and more... You feel you're riding a very light bike and that every watt of your energy is being transmitted to the wheels – no more wasted energy. It is not like feeling that somebody is pushing you, but kinda of. The bike reacts so fast and so well to the accelerations that you have that sensation ... and believe me, what a great sensation it is!
Certainly, the Campagnolo Athena groupset and Mavic Ksyrium Equipe wheels are a nice match to the Washoe. The bike feels very responsive as the wheels are very light and the shifting is precise and fast – very Campagnolo style. I used to have a Selle San Marco Regal in my Lemond Carbon bike. It was nice to see the revamped version of the mythic saddle. Pretty light and comfortable. It looks elegant and at the same time modern.
Finally, I decided that the pedals must be white, so they will be matching both the logo letters and the handlebar tape. I also had Time pedals on the other bike and I was happy with them, so they were the logical option. I have to say that I was impressed by its behavior. They are far superior to my old Xen Carbon ones.
As a curiosity, just to mention that I opted for a traditional pump, as I believe it is the most reliable option. You could run out of CO2 cartridges, but the pump is never going to let you down. So long life to the pump. And last, but not least, I created a new bike profile in my Garmin Edge 810 called Washoe, as it has to be. The bike is pretty unique and it deserves to have its own profile, don't you think?
My conclusion is that the Greg LeMond Washoe redefines the concept of a steel bike completely. I had a steel bike when I was young, and I've ridden pretty expensive steel bikes, but the Washoe remembered more to a carbon bike than a steel one – that's impre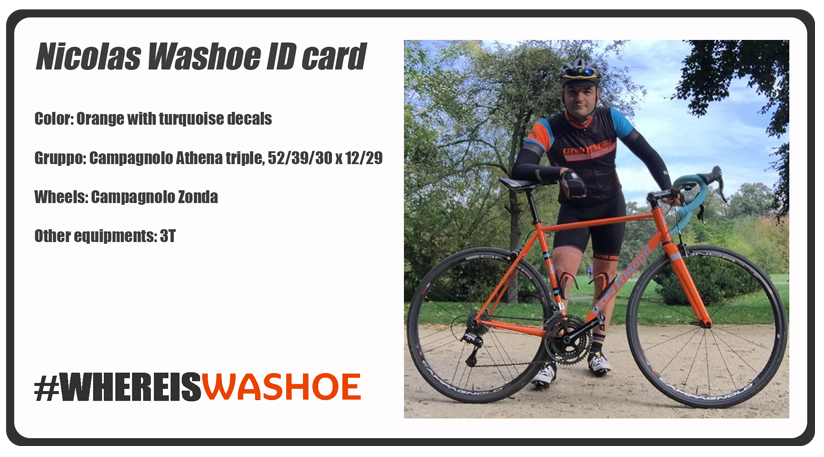 ssive.
Looking on Strava I see that I have now ridden my LeMond Washoe for close to 1500km. It might not be much for the most competitive riders out there but it is half the distance I ride in a year, on average. Moreover, I have ridden the Washoe on such terrains as the Hell of the North cobblestones, the steep mountains of the Pyrénées, the short hills of the suburban Paris as well as the 100% flatness of an urban cycle track. It makes for a good test.
At first glance, you can't deny this bike has the « Wow » effect. It's the first bike I own that gets me compliments and raises questions. The guys at the bike shop could not believe it was steel. It sure is an eye catcher. It's not the most important criteria, but I can't deny it contributes to the pleasure of riding the beast. It's steel all right but the tubes and geometry don't point to a steel bike. That's the catch. The people at LeMond's HQ took advantage of steel's long history of durability and comfort, then pushed it to the next level. I'll come back to that.
I like steel. I like the feel of steel under my fingers when I carry the bike, I like the sound of it when there are bumps on the road. I assimilate cycling to steel. I've never had any affect for carbon. So far. Of course the frame carries a few extra pounds (it weighs 1,450 kg) but so do I. I carry an extra 5 to 10 kg myself so… then again, not an important criteria for me.
What can I say about the way the bike behaves on the road ? Well, so far I've had a blast.
Flat roads :
I ride a lot on a 3 km track east of Paris where there are lots of cyclists of all origins and profiles. You can ride very fast there. Riding with my previous bike (Specialized Roubaix) was exhausting because it was very mellow, hence a lot of energy was lost in between the legs and the wheels. Here, the bike reaction is instant : you push on the pedals, you go faster. It's probably linked to the oversized down tube and the BB30. And it works. It works on the morale too, because now I know that if I can give a little push, the bike will bring me there. With my previous bike I knew I was going to have to suffer a lot for half the same result. I trust the bike like I could trust a horse. Not sure why but it is also great for drafting. When I'm in a peloton, sometimes I feel like I'm being pushed from behind. It's an exciting feeling.
Cobblestones :
Steel is real ! I believe there is nowhere the superiority of steel is more apparent than on cobblestones. The bike is steady but doesn't kill you. You also don't get that feeling of being ejected from the saddle which can occur sometimes. I had a Roubaix which was supposed to be the most comfy carbon frame on the market. It was good. Just not as good.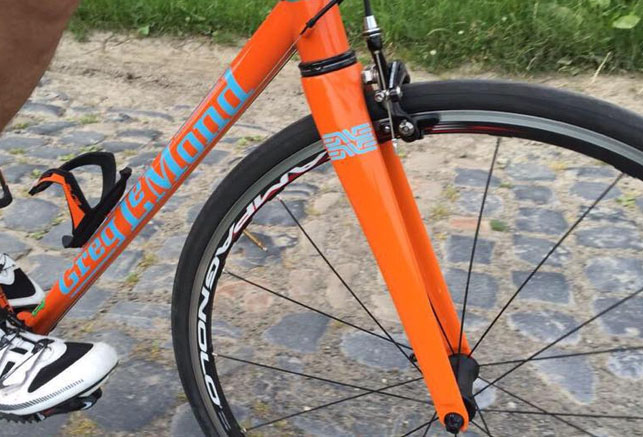 Mountain :
Before Washoe, when I felt bad on a climb, I used to feel like if I was dragging a fetlock. You know, carrying my fat ass up that mountain and try to make it to the other side. It's still hard. I'm not a climber by any means although the mountain is my favorite terrain. But the difference is that I don't feel let down by the bike. Here again, I can feel the bike react to every drop of energy I'm able to transmit. It's re-assuring. Again, it's good for morale. This summer I was sick for a few days and made the error of scheduling a long ride with multiple climbs as my come back. I suffered from high dehydration and was left powerless on the road. I carried on at my pace, stopping at every creek to sprinkle myself. I never, ever felt like the bike was betraying me, I kept moving forward, nothing was dragging me backwards as I had felt occasionally.
Steering is awesome with Washoe. The bike is precise which makes descents more fun and relaxing. The Campy Zondas are not the best at steering, though. I tried Shimano RS21 with Washoe and they were better in that area. The Zondas make up for it as they are quite light and their output is way better. I guess you have to find the right combination for climbing and/or descending.
Overall, I think Washoe is close to being perfect for someone like me. It's great fun, allows you to do so many different things and I feel like being a better rider. It is also great if, like me, you travel a lot with your bike in the trunk. I'm happy to report that, so far, it doesn't have a scratch. If you're the competitive type the only thing you'll have to mind is the extra weight. Hardly noticeable on flat roads, I believe you can compensate with the right equipment for the climbs (at a cost, of course).
It'll be interesting to see what Greg comes up next with, especially if a carbon frame is in the works, but… For me, Washoe will be hard to beat.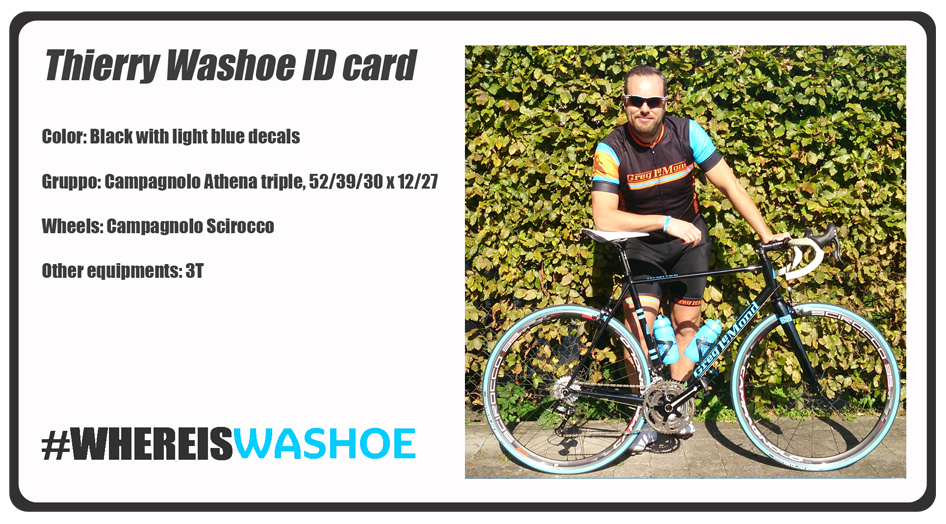 Some call it a machine, some a beast. I didn't understand why until I clicked my shoe into the pedals and started riding it. The Washoe is a beast. It's a machine. It's the perfect match for your body.
I admit it. When reading LeMond Bicycles introduced a new steel bike I hesitated being too positive about it. Steel? To me steel had 2 synonyms. Vintage and heavy. So when lemond.cc published a discount on the Washoe in 2014, I hesitated. I wanted to wait for more information, a review maybe. I couldn't test the bike. It was in the U.S. and I was in Belgium. No way I was taking that risk.
A few weeks later the first reviews were published and they were positive. The more I saw pictures appearing on the social media, the more I got interested. I started customizing the frame colors on the LeMond Bikes website and chose my favorite. This was my future bike. Hesitation was replaced by destiny.
The first time I jumped on the Washoe and try to tame it was in April. We met Greg in the Forest of Wallers Arenberg for the Eurosport "LeMond on Cycling" shoot. In the afternoon we had the honor riding the Washoe back to the hotel. The bike was definitely tested by the surface … cobblestones.
It's hard to give a first impression on the cobblestones. You're shaking and focusing on reaching the end of the road without crashing. But I had a good feeling. The bike was steady, felt strong and gave me a safe feeling.
In July 2015 my own Washoe arrived at its final destiny. My house. The hand painted black glossy frame has these nice blue logos that create a beautiful contrast. Just looking at the frame makes me smile. I equipped it with a Campagnolo Athena group, grey Look Keo pedals, a white San Marco LeMond saddle and white ribbon on the handlebar. Finally I opted for higher rims and blue Michelin tires. The tires just make the look complete. They have the same color as the logos on the frame.
In April I had no time to really test the bike in detail, but my first impression there was that it was very light for being a steel bike. There goes my definition of steel. Steel is not a synonym for heavy. At home in July I examined the frame closely. LeMond Bicycles chose to use more weight where the bike needs it. The horizontal top tube is much smaller than the seat tube. It doesn't only make the look nicer, but it also is decreasing the weight of the bike. It even feels lighter than my former aluminium bike. LeMond Bicycles did a good job there by asking Reynolds 853 to specialize those tubes. No way steel is vintage. Innovation might be a better word in this case.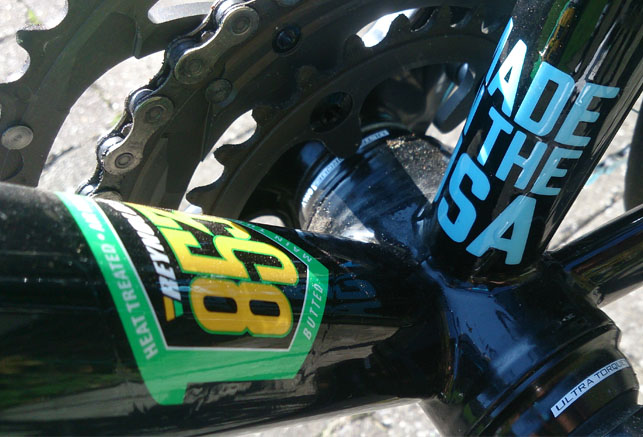 The size of the head tube is bigger than usual. I have a 55cm frame and it looks oversized. When riding the bike you know why. It just gives you more comfort and delivers more stiffness to the bike. The frame is sloping to the seat tube and gets your position more behind the pedals which increases the power on the pedals. It becomes clear LeMond Bicycles invested in comfort and stiffness of the bike. They succeeded very well.

Every time I ride my Washoe I feel one with the bike. The bike guides you through the turns and gets you safe at your destiny. The innovative geometry gives you some kind of magic power that makes you go faster. LeMond Bicycles calls it the "LeMond feel". Believe me, I never felt this good on a bike. It's unique.





For more information about this beasty bike just go to

lemond.cc

.





We are so impressed by this bike that we created a map. The "Where is Washoe" map. By using

#whereiswashoe

on Twitter, Facebook or Instagram and posting your Washoe with a short location description we'll put your Washoe on this map. Taka a look at it and be surprised by the journey the Washoe has made so far.