| | |
| --- | --- |
| "Fabulous world of cycling 1983" by Eddy Merckx | |
I became a Greg LeMond fan when I was 9. It was 1983 and Greg was the only thing that seemed to matter outside… Star Wars. Coming from a galaxy far, far away (California), Greg did indeed look like Han Solo would have looked if he was riding a bike. I mean, he was that cool. And, of course, his yellow/blue Gitane seemed as sharp and fast as the Millennium Falcon. It certainly did reach lightspeed sometimes.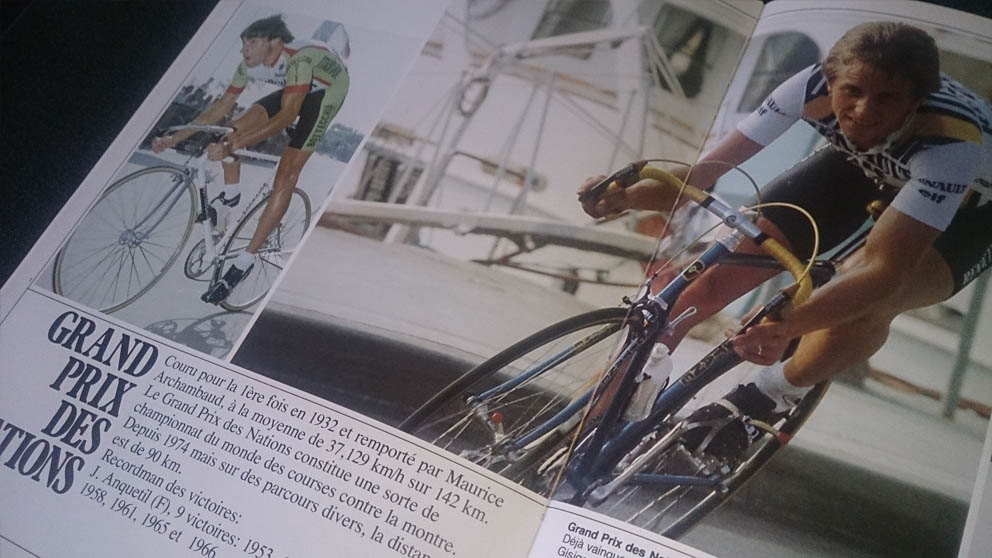 Anyway, I was really in fan-mode at the end of the season. I was lucky enough to have a cycling library at home, thanks to my dad. He was buying the occasional magazines (Miroir, Velo, Sprint International and soon the Winning-produced Cyclisme International) and the late season books. I could spend hours just watching those publications. Pictures. Results. Comments. Photos sometimes looked like war reports : injuries, screams, pain, sweat, blood, tears… or it looked like car catalogues : brand new state-of-the-art bikes ! Looking at results, you could explore the details that you had missed. Victories are obvious, but looking at results you can see the bigger picture, the pattern that lead to victory.
A few books stand out. This is one of them. I spent an awful lot of time exploring every detail, cover to cover. Fascinated by the story it told. Detail, on page 12. Sean Kelly is riding for the win in Paris-Nice. In the Col d'Eze ITT, you can see him wearing number 1. The sponsor appearing on his « dossard » is La Vie Claire. It says the company was already interested in cycling before launching the La Vie Claire team one year later, in 1984. Detail, page 14. A sprint in Tirreno-Adriatico. You can see world champion Saronni, Moser. Hinault and young Greg LeMond are only a few meters back. First glimpse of the new Gitane bikes, blue and yellow. Oddly, there is a rider from an obscure italian team upfront. He's riding the old Gitane from 1982. Loser.

There aren't many words in that book. Eddy Merckx is no writer. In fact, Léon Michaux wrote the book, Eddy Merckx just gave interviews, sharing his thoughts. Eddy certainly has a point of view, but sadly it tends to be one-dimensional : « I would have done this », « I would not have done that », « He should do as I did ». For Merckx, there is just one way, the Merckx way. Take it or leave it.
More details. In the Flèche Wallonne, Greg is chasing Zoetemelk. His Gitane has a black tape. It does NOT look good. But Greg does. In Gent-Wevelgem, Hinault is changing his clothes, Pascal Jules right beside him. Jules's bike is strange, bar tape is white (it is not bad at all) but you can see the blue paint fading one one of the tubes, chrome paint has taken over. This probably explains why the color will change in 1984; not stable enough.
Page 106, enters the Greg LeMond stuff : the Dauphiné Libéré. Greg wins in Oyonnax, he also wins GC after Pascal Simon is given a 10′ punishment for doping. Merckx sells his routine « a rider should be allowed to use medication to treat an illness(…) especially with such an intense calendar ». Right. We now know where this will go, bud.
At the end of the Tour de France report, Merckx expresses his excitement towards the 1984 Tour when Fignon and LeMond will both be on the starting line. Greg is under the spotlight for the world championship as he wins the rainbow jersey. Here starts what I would call the « LeMond orgy », for Greg is everywhere for the end of the season : Grand Prix des Nations (this is the time when TT bikes are roughly the same as road bikes), Blois-Chaville, Giro di Lombardia… full pages of our man Greg in his world champion splendor, with a kind of silk/lycra world champion jersey made by castelli. Book ends with Greg sitting with a trophy on his lap (Super Prestige Pernod), rewarding the most regular rider of the season. You can tell by the comments that Merckx is in awe of the young american. How things change.
I would not rate this as the best cycling book of all times but I love it. It certainly meant a great deal to me at the time and still does. It fueled my dreams as a child and very few books really do that.
This book is fairly easy to find on ebay, and relatively cheap too. And as a bonus you can find it in an English, French and Dutch version.