Questions for Greg
Paris ! this is the last stage of the Tour and Thierry and I are here to make sure we deliver on our promise : the first ever Greg LeMond interview for Greg LeMond Fans forum members. When we saw Greg in Troyes, he announced the event on the forum, using a live video on our Forum. If it's not a scoop, we don't know what is.
We are told this is a slow day for Greg and it'll be easy to proceed with the interview. In fact, Greg's slow days look like a busy day for most of us. It's already getting late in the day when we sit in his trailer for half an hour. Our job is to maintain Greg's focus, as there are sollicitations everywhere. Greg is tired but as you'd expect, once he starts to talk it's hard to make him stop.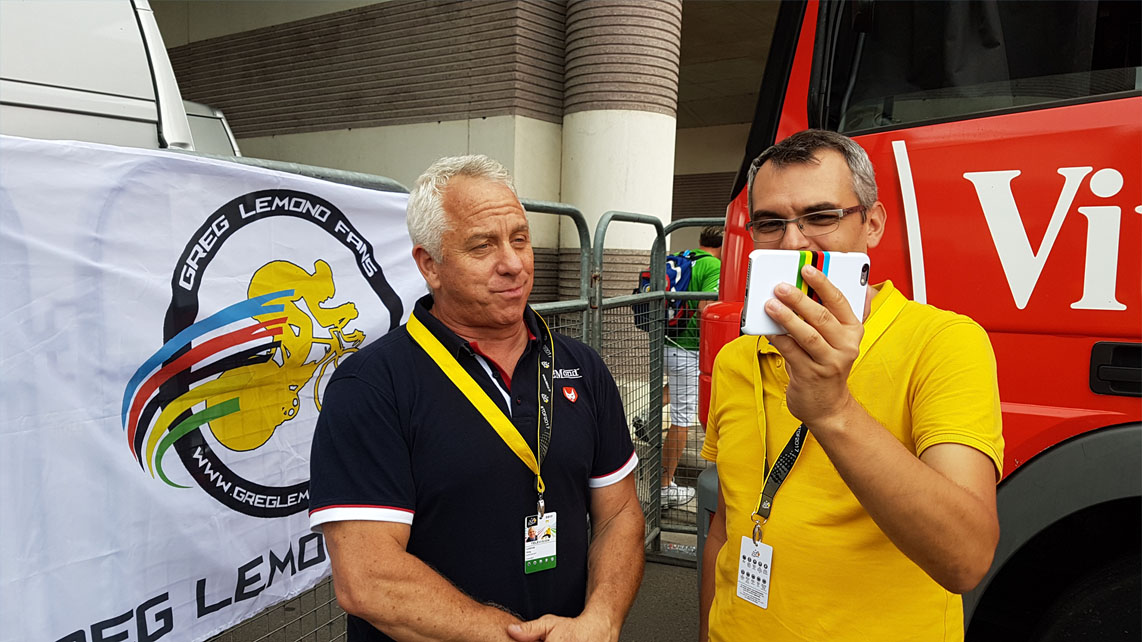 GLF: What can you tell us about LeMond Composites and the future of LeMond bikes?
GL: LeMond Composites is a carbon composites manufacturing company. We're gonna make the first low cost industrial and airspace carbon fiber at 50% lower than the market, or more. The goal is to bring carbon fiber to a larger market, for automotive wind energy, infrastructures… That's our primary business, but we're using the bicycles to innovate new ways of manufacturing. It's a product development. We're not real carbon fiber composite experts. We're gonna try to innovate manufacturing processes for composites, using the bikes. We've made prototypes so far, we've made stems, cranks… I don't want to talk too much about it, we want to keep surprises for our competitors. We're gonna develop a full line of bikes and hopefully we will have bikes by next spring. I would have had a rideable prototype bike made by july but we decided not to. The bikes will hopefully come out next year but I never want to set a date (lowers his voice) it's a secret…
GLF: It's still a work in progress.
GL: Yeah! I don't want to set a date but it could be very quick once we have it nailed. Small scale next year, then ramp up the next year. Maybe I'll sponsor a pro team one day when I know there's no motorized doping.
GLF:
Do you have a favorite bike?
GL: (long pause)… 2005 or 2006 Triomphe carbon fiber bike. It rides as well as any carbon bike today. Next I would rate the 1986/87 Della Santa steel bike. I was amazed how nice it rode. It made me think about longer wheel base. Wheel base are too short today. That's what I'm gonna experiment, a new geometry with longer wheel base. You don't need to have it longer if you have disc brakes, anyway… My favorite bike when I was racing? Honestly, it could be so overrated. I've had shitty bikes and I won races on them.
GLF: Name them!
GL: We tried to make them so thin, to the point that we couldn't even ride them. If you look at Gitane, they were all made by custom manufacturers, nobody had production bikes. They were all custom made, they all had the same angles. Obviously the TVT bike was the one that I won the Tour with. I like it because it's light. But whenever there's talk about stiffness… People think stiffness is better but there's no reason to have a harsh bike. The important thing about bike handling is the geometry and the way the rider is set up on the bike. You put somebody too far forward, over the front wheel, pointing down and a perfectly good bike will feel like crap. When I put people on a bike, they all feel immediately balanced, and it's still the same time of positioning I've done since the 80's. I put the saddle up a little bit higher.
GLF: You're on record for saying a longer crank length is better for time trialling…
GL: That's what Guimard told me…
GLF: …but when you gave us our bikes you advised us to take shorter 170 cranks.
GL: Even smaller. They picked 170, 172, 175 out of the air. It's the same thing with max heart rates. I mean… Two cardiologists are sitting on a plane and they say "how do we standardize heart rate for people who exercise?" They say 220 minus their age. They just picked it out of the air. That's what the cranks were. There was no science, there was no engineering reason. The cranks were that lengths. In the days of… Coppi, maybe ? When the gears were restricted, when you went up a steep grade, longer cranks gave you more leverage. Now, we know power is force x velocity. If you have really long levers, you're repeating that force at a very slow rate. This was the theory back in Guimard's day. I know now that the cranks were too long. Way too long. It's funny because Paul Koechli kept arguing and I said he was wrong but he was right (laughs). "Pushing big gears develops more power" Guimard said. It doesn't. Power is power. There's a certain amount of force and a certain amount of velocity that generates a certain amount of power.
GLF: Were you always this interested in technology or is this something you picked up from Guimard?
GL: I took it all up and I continued to read and study. People keep asking how much things have changed since I was racing. I didn't stop reading, I didn't stop thinking about how things are made. The more I know, the more I see things were pretty well known back in the 80's. We were just as conscious of weight and aerodynamics way back then. Paul Koechli calculated 1 kilo is 1 minute and a half up a climb. Right now, when I'm designing bikes, I'm trying to think about how to accommodate geometry and property for small riders and large riders. Because there's only a sweet spot of bikes, like 53/55/57, that fit people with the right geometry balance. When they get bigger, they try to keep the same wheel base, they just extend steep and head tube, relax the seat tube. So, a really tall person goes more on the wheels. And it's the same with smaller people. They use too long a crank, they have their toe overlapping.
GLF: You made a very big Washoe for Adrie Van Diemen.
GL: Yeah. We want to make it totally different than that. Better geometry. It will be the same geometry as my bike. If you see small riders and women, with the long cranks, the thighs go up to their chest. So, if they have shorter cranks and higher seats, a different build, they can ride over relaxed, just like a racer. And the geometry is better. So, we're gonna make crank specific geometry. I think my optimum crank length when I was racing would have been 160, 165 maybe. University of Utah showed the best crank length for peak power for sprinting is 140. If you're not losing power at 140, it means for smaller riders they'd lose nothing. Why would my wife crank length be the same as mine ? It makes no sense. So… Smaller riders, they think they need a shorter top tube but they don't. They need to have their crank length lower, up the saddle a little bit, so they can relax on the saddle. I want to do totally different designs so the sizing is always consistent all the way through the line. Ride quality.
GLF: Did you have a hero growing up?
GL: (exhales for 30 seconds)… I saw this guy Wayne Wong. I wanted to ski, so he was my hero… Eddy Merckx, Hinault, I respected them but I don't know if I called them heroes.
GLF: Inspirations, maybe?
GL: Yeah, maybe. Hinault and Merckx, much more from an athletic perspective. « That's what he did, I want to do the same ». If Eddy Merckx turned pro at this age, I want to turn pro at this age. If he won the Tour or was world champion at this age, I want to do the same. Almost like milestones. I did that with Hinault. Because at one point, when I was 15, 16, 17, I was winning almost every race in the U.S. Then I went to Europe and I won every race I entered. I went to France, I went to Switzerland. I went to Belgium and I won 6 out of 8 races. I went to Poland, I won one stage and I went through a crash. So I said « Hinault and Merckx started like me ». I'm riding as well as anybody that I raced in Europe so why can't I think of a career like Eddy Merckx ? Who knows ? I looked up to Hinault. He came over when I was 18. You're sitting with the man you look up to and all of a sudden he's your teammate. But it was more of a friendship relationship than a hero type. And the more I got to know them, you know, they're not my heroes anymore (laughs). Hinault was always pretty good. I don't know about Merckx but riders like Francesco Moser… They were so arrogant. I met Merckx when he was retired, I didn't really know him well.
GLF: Did they inspire that « goals list » of yours?
GL: Yep. When I started racing, you have to remember that I didn't know anything about cycling, about the Tour de France. I bought a yellow bike and a yellow jersey. One of my first races I lost to a guy named Kent Gordis. He was pissed at me for some reason. When he won the race, I broke the ice and he said :
-Greg, you know what ? Have you heard of the Tour de France ?
-No
-Well, it's the biggest race and the only one who wears a yellow jersey is the winner of that race.
I'm like « Oh… Ok ! ». He's the one who educated me, he's the one who invited me to Europe. He started talking about European riders. Roland Dalla Santa in Reno had every magazine about cycling, Miroir du Cyclisme, Bici Sport… That kind of got me really into it. People were building up European riders as mythical gods. There was a complex.Those guys were so good. My thought process was quite mature, in a way, as I was logical : « Ok, they're good, so why can't I be that good ? ». I was fortunate to have a good coach, Eddie Borysewicz. He defected after the 76 olympics. He had a good background in physiology and he also knew some world class riders. He recognized that into me and a few other riders and we focused on the team time trial. We had a bronze medal at the junior worlds in 78. So the goals that I made in 78 were just like my fantasies of Europe. I was racing and winning, winning, winning… the bronze medal… I was 9th at the road worlds with a broken seat… so I knew I was really good, but I didn't really know until I got to Europe, I did beat the best swiss riders. I won 2 races in France and then Belgium. I was really competitive. I figured Bernard Hinault and Eddy Merckx had to put their pants just like me, one leg at a time. I had done it two legs at a time…

GLF: (laughs) It doesn't work that well…
GL: (laughs) No, You have to do it one leg at a time.
GLF: Did you crash?
GL: I crashed a lot… with my pants.
GLF: Do you think you could have won Roubaix if you had written it on the list?
GL: Yes, I could have won Roubaix, but… I got shot ! Nobody's ever had a career like mine, in cycling. I was at my prime and I got shot. It took 39 years for Gilbert Duclos-Lassalle to win Roubaix. Your first 2-3 years, you're just figuring out Paris-Roubaix. On my first year I did 230km with Hinault and did the final attack before he attacked, but I was in the front. I raced in Belgium specifically so that I could learn how to ride the cobblestones. That was a goal of mine. But as an American, when you come to Europe, you're constantly getting sick. The first 2-3 years is getting used to the load of racing an then weather an then cold. In 83 I did the Vuelta and I got sick, could barely finish the race. In 82 I broke my collarbone. In 84 I know I did Roubaix because I crashed with Fignon… You need to do it more. In 86 I was there with Moser, at one point, right in the front, floating on my bike. I felt so good, that year… I win the Tour and then I get shot and I'm not even competitive in years. That really fucked up everything.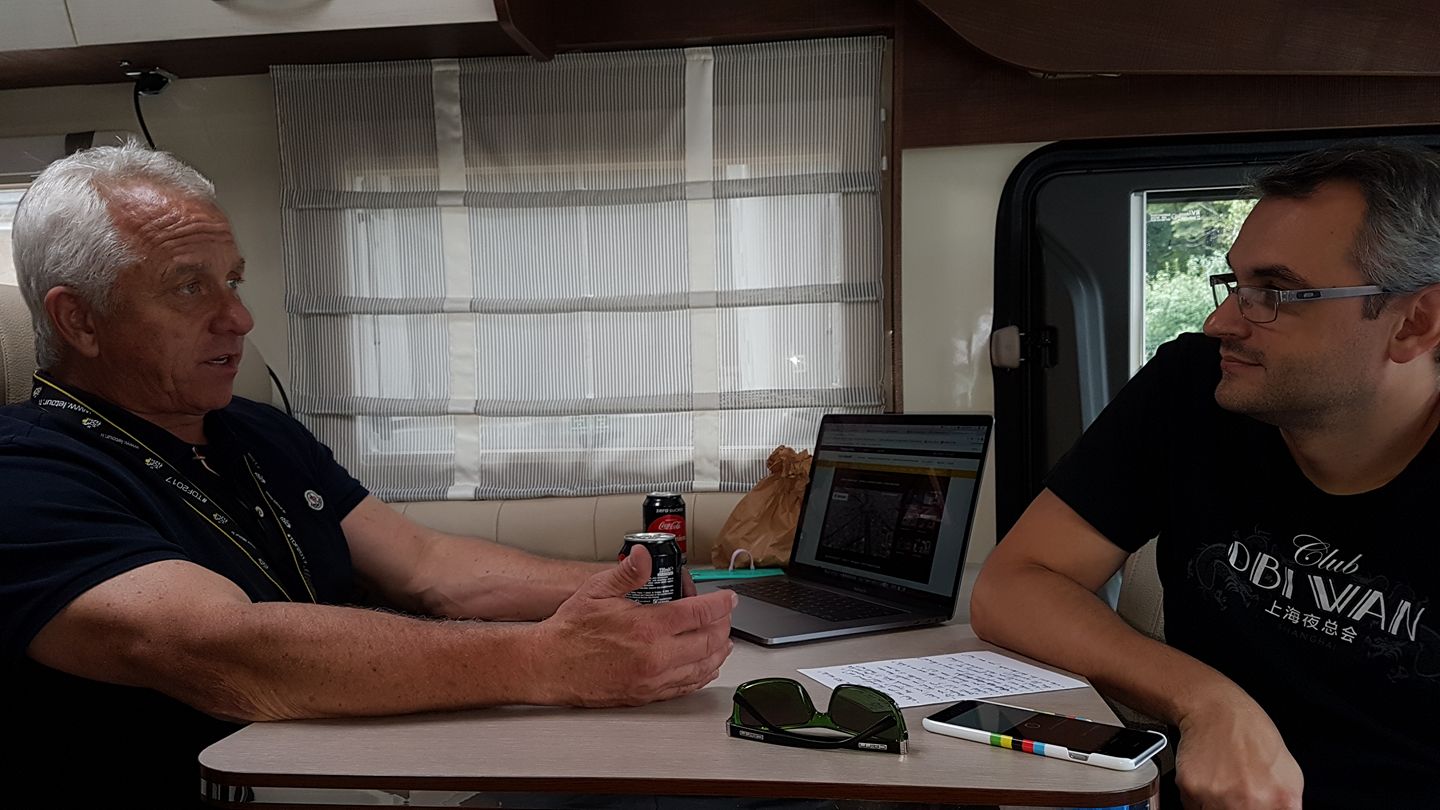 GLF: Do you think you would have been as strong in 87 as you were in 86, if you had not been shot?
GL: Oh, yeah! I was a little down after 86, but I think that would have gone away once I got rid of Hinault. I wasn't looking forward to stay with Toshiba. 87 was not going to be my best year but I won the Tour in 1990 and it was not a good year with mono, so… If you take Hinault away, I'm sorry for Roche and Delgado but they weren't close. Fignon wasn't there… I missed really good years.
GLF: Jeff Bernard was at Toshiba in 1987. How do you think it would have been with him?
GL: He wasn't even in the same class. Jean-François Bernard was a domestique, come on, no way! What did he do in the Tour that year ? He won a time trial…
GLF: He finished 3rd.
GL: Not winning. If you're good you get 1st or 2nd.
GLF: You did 3rd on your first Tour.
GL: Yeah, but I had bronchitis. I mean he raced as a teammate. He was good, but he wasn't a Tour de France winner. Never. If I was there, it would not have been a question, to me. I would have had to be sick or unhealthy. I raced with all the same riders in 89 and 90, those guys didn't retire. They had a chance to beat me in those years. I don't like to say this, but if you really look at it, there's no rider recovery like mine. I got 35 lead pellets, it was severe. Even despite that, Roche and Delgado were there in 89, they were there in 1990. They were there in 91 and that was the year of EPO, so… 84, 85, 86, those guys were there too. We were not in the same class.
GLF: Which competitors were in the same class as you?
GL: Fignon and Hinault.
GLF: No other?
GL: Not in the Tour. Nobody.
GLF: As for Classics?
GL: You look at the Belgians and they're racing there full time, always in the wind. That's such good training. I was racing with a french team. Renault did those races. At La Vie Claire it was a second thought. You need 1 or 2 riders help you for the classics. I never had that. After 85, 86, I knew I needed a teammate to be there. Imagine every crosswind you go, always battling by yourself. 1 or 2 good teammates there, at the end of the race, make everything. That's why the Belgian teams were so good. It's a different mentality. The Classics are important to them. I would have loved to have 2-3 riders like Johan Lammerts. I wanted to win the Classics. But after I was shot, I was never stable. I would come from so low and then train, get there and be tired. Then I'd recover and train back up. 85, 86, I was fine all year long. I never was the same (after being shot), physically. It was tough, mentally but I could manage. It was physically…
GLF: Who was your best teammate?
GL: Johan Lammerts.
GLF: Why?
GL: He was a good friend. He helped me, kept me in races. Good teammates are good friends that keep you going. « You're gonna be ok ». Steve Bauer and Andy Hampsten were good teammates at times… but in 85, 86 we had a different style of racing. We raced how good we were that day. I was a leader one race, then someone else was the leader. 85, 86, I didn't have a dedicated teammate. 89, 90 were the first teams where I had a dedicated teammate… But I only got one good year with them! (laughs). I was partly a teammate from 81 through 84. In races like Tour de l'Avenir or Dauphiné I was able to be a leader. 84 I really wanted to go and win the Tour, but I got sick and got bronchitis for 3 days. Who knows what I would have done because Fignon was super that year.
GLF: He was flying.
GL: He was. I don't know how I would have done. It's interesting because the year before (1983) I ought to do it but it wasn't in the plan so I didn't do it. I raced against Hinault, Fignon… All 3, we were really top level riders and that's a big difference to be racing with such riders. 1990 was easy. It was nothing. Hierarchy is hierarchy. You race for years and you know who are your competitors. That's why it got so confusing in the early 90's because the guys that are still racing with you, all of sudden, they're beating you. And you go « I don't understand it ». But I didn't look too much at everyone else, I looked at me. I was so used to struggling, if I wasn't feeling good, then I wasn't feeling good. Because I was never feeling good (laughs). That's the problem. I didn't feel good… I was glad I raced when I did. Sport had doping issues before, but I think I came in in a very innocent period. I don't know what everybody was taking, but we were tested for amphetamines and cortisone. All I know is that I beat people. There were no miracle drugs at the time, I don't believe. Maybe I'm naive. I saw Andy Hampsten win the Giro, the Tour of Switzerland. Hampsten, Bauer, swiss riders… I know they were clean. So, you were capable of doing it. It started changing in the late 80's. Moser, Ferrari, they're the ones who started bringing in organized doping. I'm glad I competed when I did. I'm glad I won the races that I did. There was a lot more doping in the late 80's. A lot more. I've heard stuff that happened since and all I can think is « man, I was lucky ». I was lucky. They might as well had EPO in 85. We think EPO was up in 86, 87, 88. It was Ferrari. That's a rumor.
GLF: Roberto Visentini was only good in Italy never came to the Tour, or maybe just once.
GL: I hear stories about the Tour and I go: how did I win? Felix Levitan was the controller of the Tour. He was there in 86 when Hinault and I were going at it. If he had not warned me, I would probably have turned out positive. I protected myself, cleaned up the vials… So, when I look back I can say that I did it on my own. I wasn't forced to do anything that I didn't want to do. That's a big luxury. Most riders after 90 didn't have that choice. They had no option : you want to race ? That's what you do. If not, you're out. I'm glad I didn't have to face that. It would have been horrible. Imagine you just fall in love with the sport, you're really good and all of a sudden… From an American perspective, there's no history of the sport. You have to fly over here (in Europe) and see what you have to do. I remember the one American rider I had as a teammate in 81. His wife said « Greg's gonna have to start taking drugs ». My wife was like « what ? No, he's a pro, he'll never do that! ». Then (the wife of the American rider) started screaming « You're so naive! ». That's the mentality.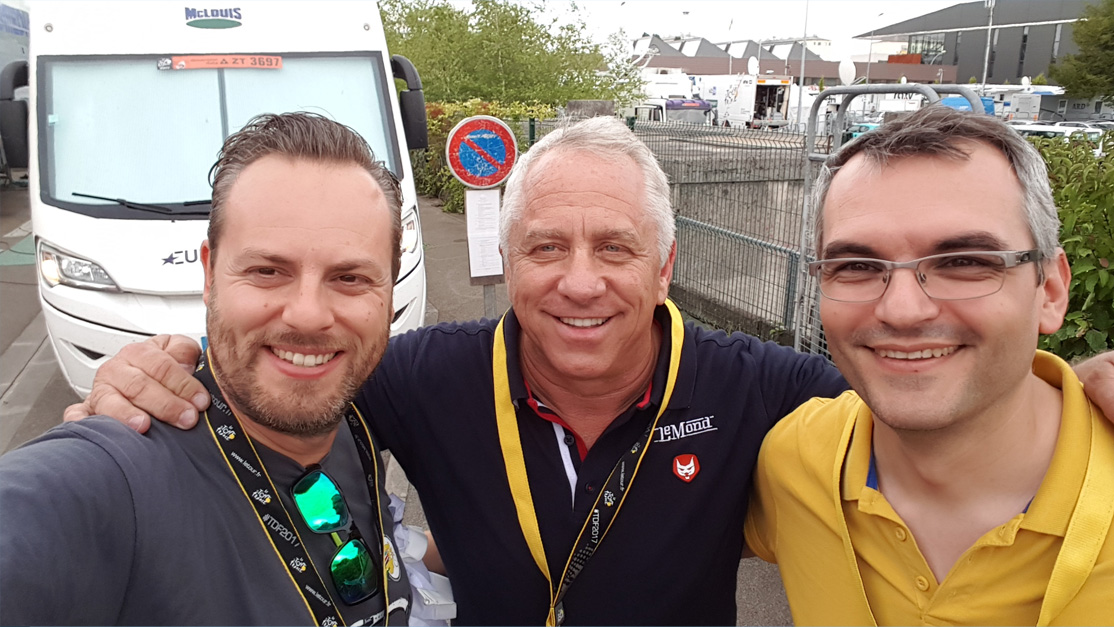 GLF: You said Guimard was the best coach you've ever had. What made him the best coach ?
GL: He looked at every rider as individual. He knew that I was not from France, he knew that I needed to go home and have my wife around. He didn't force me to do anything else because he knew I'd rebuild anyway. He learned that very quickly. He was really good at giving riders strategy in the race, positioning… He was savvy in racing tactics but he was also good because some people shame : « you're not trying, you got to try harder ». He never said that. He was more like « what's going on ? How do you feel ? Don't worry, you're gonna feel better ». That's how Guimard would do. When I was waking up before the worlds in 83, I was so nervous. I knew I could win, I was riding so well and the world championship was my goal, that year. I could not eat, I couldn't sleep. I had breakfast at 5, but I threw it up, so I had nothing to eat before I went to the race. So here I was « I've had no sleep, I'm not gonna do well… ». Guimard put his hand on my shoulder and he said (pulls out his best french accent): « Greg, tous les grands exploits sont faits sans dormir, parce que tu sais bien ce que tu peux faire ». And I went « Ah ? d'accord, je ne suis plus fatigué! ». Good coaches are psychologists too. Athletes are fragile at 22. It's a stressful sport. You got to bring the riders up to where they can build confidence. I was very fortunate getting to race in America because I won right away and that feeds excitement. You think you're really good. Now, if I had turned pro in Belgium and I wasn't ready, i would have been dropped and ending up discouraged.
...and, with this, our interview is cut short. Froome and all the 2017 Tour de France peloton are closing in on the Champs Elysées and Greg has to watch the race in order to share his thoughts on Eurosport later. Are you as frustrated as we are ? Then we have a little bonus for you. When we saw Greg in Troyes, earlier in the Tour, my 9 year old son Gabriel asked for an interview with him, as he's really getting into cycling. Before Troyes I showed Gabriel what the 85, 86 and 89 Tours were like. And he was curious about how things turned out. So here's what Greg had to say to a 9 year old boy who dreams of riding the Tour one day… (we spoke french during that discussion).
Gabriel : The ADR team wasn't really strong. Why did you go ride with them?
Greg : Because I had no team. In 87, I had a hunting accident and no team wanted me. The only one was PDM, a Dutch team but they got into trouble later that year and I left them. I asked my friend Johan Lammerts, who was at ADR, if they had a spot for me. They made room for me. It was good because because they had a good coach, José de Cauwer. And it was a rather good team, for the Classics. They weren't as strong for the Tour. They did their best, though. There were good vibes within the team. But there was no money. they had promised lots of money to riders but they never paid.
Gabriel : was it hard to beat Fignon in 89?
Greg : Oh, yeah. Very hard. He was in very good shape, in a better shape than I was in. We had a good fight. One day I'd take the yellow jersey, then he'd take it, then i'd take it back… Eventually I took it for good. That was hard. He was a good rider. I suffered a lot.
Nicolas (to Gabriel) : Did you think he could win?
Gabriel : Yes, because he had taken 56 seconds to Fignon in Rennes, so I thought it was possible but I wasn't sure. Because it was a shorter distance.
Greg : Yes, you're right. But I figured, since I had the tri bars… 6 weeks before, at the Giro, we did a 51km time trial and I beat Fignon with the same kind of bike than he had. 1 minute 21 seconds. So, I did the maths, that I could take 40 seconds this time. But I was in a better shape than in Italia, so I calculated that I could end up as close as 3-4 seconds. With the bars, it made things possible. I was the only one thinking I could do it. No, wait, there was another one. They asked 20 persons in "L'Equipe" if they thought it was possible and one of them said he believed it was. So that was him and myself. You have to believe that you can do it. Fignon and I shared the same coach for a while, Cyrille Guimard. He used to say "it's never over until you cross the finish line". The day before the ITT, Fignon came and put his hand on my shoulder to congratulate me on my 2nd place. That's where I thought "You guys just lost the Tour". Fignon thought he'd already won, but there was one day left. I think he started his ITT far too relaxed. I took 20 seconds off him in the first 10km. knew I had to warm up really well to start at the fastest pace right away. It's a good thing to know, that you have to keep going until you reach your goal, unless your personal health is on the line.
Nicolas : browsing through pictures of the 1989 Tour prologue, we can see you didn't use the bars that day but there are marks on the bars that show you've already tested the tri bars.
Greg : It was short, I wasn't sure it would make a difference there. I also wanted to keep it a secret, in case I did well later on. I wasn't comfortable with the tri bars yet. Prologue had turns right and left, it's only for the first ITT that I tested it for real.
Thierry : José de Cauwer also said you glued Mavic stickers on it so that people would ask them to provide, but it was Scott?
Greg : It was (laughs).
Gabriel : Was Bernard Hinault your friend?
Greg : Yes. A little less by the end of our last Tour together. He was more of a big brother to me. We were friends, we respected each other. During his last season, he was under the influence of our boss Bernard Tapie. Hinault is a good guy, in my opinion.
Nicolas : We watched the 86 Tour videos and when you finally take the yellow jersey in Serre-Chevalier, Gabriel said "but Hinault didn't help him, in fact ?!? He won on his own !"
Greg : Not really. He pulled a few stupid tactical tricks that helped me, though. It would have been better if he had worked for me. It was much easier to win with the Z team and Jérôme Simon (Jérôme Simon is seated with us during the interview). I had riders protecting me. I didn't have that at La Vie Claire. Even Hampsten and Bauer raced for themselves, at times. It was really individual.
Gabriel : Did you want to win Paris-Roubaix?
Greg : Oh, yeah. After my first Tour win I broke my hand, went back home. My brother in law shot me with a rifle,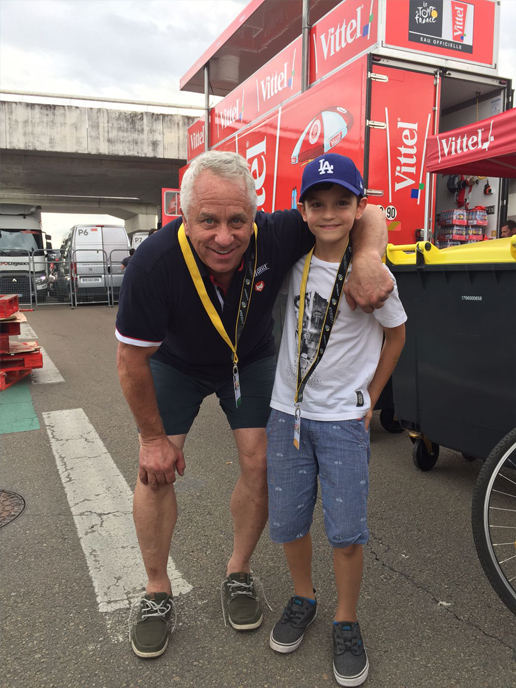 by accident. I was never really good after that. I never was in really good shape.
Nicolas : You liked Paris-Roubaix.
Greg : I love it. I was 9th in 92, I could have done even better, that day. But Duclos had saved my Tour in 1990, during the Pau stage. I wanted to work for him, it was a good compensation.
Nicolas : That was the peak of Duclos's career, Roubaix was his whole life.
Thierry : You were there when he won the following year. You had a puncture in the forest.
Greg : You know that better than I do I need you for my memory (laughs).
Nicolas : What advice would you give to a 9 year old who wants to become a pro cyclist?
Greg : (Looks at Gabriel) At your age, you have to do short efforts and different types of riding ; BMX, mountain bike… Any kind of bike. CX and track too. But only for short periods of time. Just for fun.
Nicolas : Short distances. We've already done 30km and he's always asking for more !
Greg : (laughs) Save your energy for when you're 14 or 15. If you enjoy it, it's fine, but it's better to keep under under one hour. And use a small gear to turn the leds like this (gestures a fast pace). I'm gonna make bikes for short people with the correct angles. Shorter cranks, so you'll be ok. Very light too. (I show Greg a picture of Gabriel riding a Giant TCR for kids) That's a nice bike. (looks at Gabriel) Is that you ? That's what I want to do. Is it carbon ?
Nicolas : Aluminium.
Greg : It's really good. Mine will be carbon, cranks and bars included. It'll be affordable.
Nicolas : (to Gabriel) Do you want a carbon LeMond bike ? (He shows a big smile).
Greg : I thought maybe our first bike would be this, a kid's bike. I want to make MB, BMX and road bikes for short people. How much do you weight ?
Gabriel : 27kg.
Greg : Imagine if your bike is 15kg ! It's too heavy. I want top quality, lighter than aluminium. 140 cranks. It'll be really custom. Biomechanics, geometry… I want to offer something different for brakes too.
Nicolas : His bike has brakes and shifters designed for adults. It's really hard for him. Fortunately he has CX brakes too.
Gabriel : I can't reach the big chainring.
Greg : Disc brakes have a shorter course. Some mountain bikes change both front and rear with one switch, but electronics are expensive. Any other questions?
Gabriel : No, we're done.
Greg : Very good, that was a good interview.
Gabriel : Thank you.
We end the interview. Gabriel shows Greg his vintage Renault kids jersey and cap and Greg signs them. He has a new fan for life.
Since Jérôme Simon is with us in Troyes, we ask him what was Greg like, as team leader. Here's his answer:
Jérôme Simon : Greg was different. Until he came to Z I had had Roche as a leader for La Redoute and he was very different. Greg didn't ask for us to race for him at every single race. Sometimes we could race for ourselves. He would even help us. Greg helped me win the Tour d'Armor. And he was thankful for the job we'd do. Always appreciative. That's the kind of leader he was.