Guy Andrews
Guy Andrews is the former Editorial Director of Rouleur and has been working in the cycling media for twenty years. He now is the co-publisher of the Bluetrain books project. He has edited Cycling Today magazine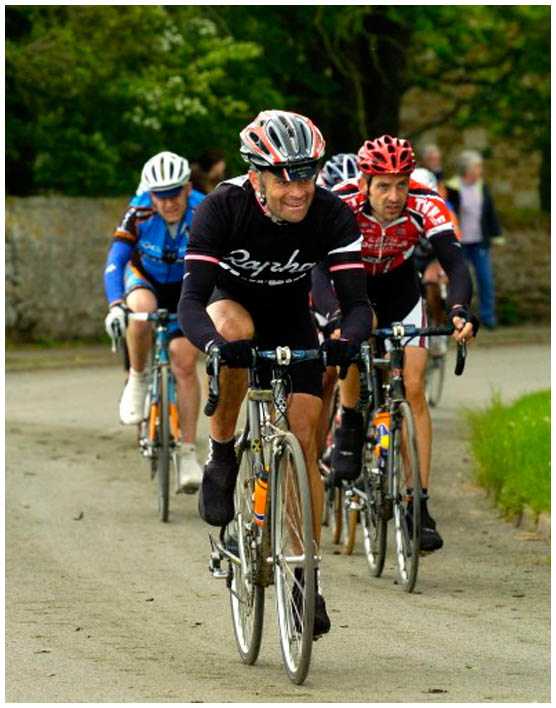 and worked as technical editor on Mountain Biker International magazine. He also contributed to some top UK titles including MBUK, MBR, Total Bike, The Bike Mag,. He also edited roadcyclinguk.com for three years and wrote several books about cycling. His latest work is Greg LeMond Yellow Jersey Racer that was officially launched on October 19 at Rapha in Chicago. We took the opportunity to ask Guy a few questions about this book.
GLF: Why write a book about Greg LeMond now ?
Guy Andrews: Thirty years since he first won the Tour seemed like as good a reason as any! And the fact that many of the stories are being re-visited. Also, 1986 was my first Tour de France and I went to watch. I wasn't much of a Greg LeMond fan at the time, I was much more interested in the underdogs and so the 'big stars' never really did it for me. That said, over the years we learnt that Greg was actually much more of an underdog than anyone, he was definitely an outsider and a maverick. I've always liked that attitude, too many people follow the herd and Greg never does, sure that has won him some enemies, but it also makes him a very interesting person. Added to the fact that he did race a bike rather well and wasn't just the Tour rider he was painted up to be. That's why I wanted to do it. We called it Yellow Jersey Racer as a bit of a joke really, because that was only half the story...
GLF: In your opinion, what makes Greg different ? How does he stand out from his peers ?
Guy Andrews: From a racing perspective, he is arguably one of the most talented athletes the sport has ever seen. Greg is a very unique character and I hope that comes across in the book. He's a challenge for all sorts of reasons, but he's also a very kind and warm–hearted man. He and Kathy welcomed me into their home and their help and hospitality was beyond generous. Having said all that I wouldn't want to race against him, he was a ruthless and fearless rider.
GLF: What was the most difficult in producing this book ?
Guy Andrews: The writing and picture editing all takes time, but it's not difficult - it was a great book and project to do, we found so many unique photographs and bits of memorabilia, we could fill several volumes. So I suppose the hardest part was knowing when to stop searching. We produced the book through three co-edition partners and that was difficult and challenging, but our publishing partners in the USA and UK (Velopress - USA, Bloomsbury - UK and Rapha - worldwide) have been wonderful and they really love the book, so let's hope it goes well! It's our first venture with our imprint Bluetrain and as such is an exciting start for a small publishing house like ours.
GLF: Are there things you didn't know about you learned when you wrote the book ?
Guy Andrews: Of course, because writing a book is all about finding out. I spent time with Greg and that was a joy for a writer because he talks - A lot. He remembers very interesting details but also has enormous enthusiasm for his old team mates, managers and even rivals. The captions for the pictures and stories all come from many hours of tape I have of him taking about his racing career. Of course I could (and probably should) have gone back for more once I started to piece the book together, but in all fairness it would never have gotten it finished! Much of the racing input came from the riders I interviewed about him, they all had much to say and that was often eye-opening and interesting – their thoughts and memories helped shaped the book. All his rivals and team mates all have very good things to say about Greg, he is very well respected and liked.
GLF: Do you think this book could have been released when Lance Armstrong was at his peak ?
Guy Andrews: This book is only about Greg's racing career so I don't see why not, perhaps the American market would have been a little trickier, but we've moved on far enough to know that period was a mess in so many ways for all involved. Incidentally Lance Armstrong barely gets a mention in the book, certainly not by Greg and certainly not by me. I get the impression that Greg's finished talking about it – Maybe the fact that he was right all along and that's enough for him.
GLF: In short, what's Greg legacy to modern cycling ?
Guy Andrews: I wrote about this in the book and I think his legacy was profound. Technology, contracts, nutrition, training, skills - Greg changed loads of things.
Cyclists get this reputation, like many professional sportspeople, as being a bit ruthless and singleminded. In the 80s there was a lot of contracts for all sorts of different things and many more deals done. It was the end of an era in may ways, as much of this type of 'on the bike' business was swept away with bigger sponsorship deals for the teams. There's no doubt that Greg's legacy was better money for all riders, better conditions on the teams and perhaps more respect from the managers and team leaders for the 'little guys'. Sadly I think his legacy of fairness and standing up for the little guy didn't stay in cycling for long though, these days it seems to be even more 'every man for himself'.
In many ways that's a great idea for another book!
GLF: How did you choose the people who ended up testifying for the book ?
Guy Andrews: Some because I already knew them and simply asked if they'd be willing to do an interview and some because I wanted to speak to them. Obviously people will say that Bernard Hinault is missing, but I didn't want that story told again. Hopefully this is a fresher story about Greg as a bike racer, rather than the problems he had with Hinault. There were a few more I'd liked to have included, but I think the balance is good.

GLF: What decided you to let them tell most of the story themselves rather than write it and using quotes as it's usually done ?
Guy Andrews: It seemed right to edit their 'story' on Greg into one piece, many didn't need any questions from as they all had a 'Greg story' and had a lot to say!

GLF: One of the few topics that you treat yourself rather than have someone reminisce are the 1982 worlds. Do you think this race, and the fact that Greg made a mistake that day could explain what Andy Hampsten laters calls "conservative" racing from Greg ?
Guy Andrews: Greg was a great tactical racer, arguably one of the best. But in the 1980s there were many great racers; Phil Anderson, Laurent Fignon, Joop Zoetemelk, Sean Kelly, Bernard Hinault, lots of Italians... the list is endless. Sean Kelly was perhaps the best tactical rider of his generation and he sums it up well in his chapter in the book I think, they both were marked out of many races because they knew what was going to happen and when, and as Andy Hampsten says about Greg's race-craft and the fact he could, "smell it" when a race was going to heat-up. As for '82, well the result was academic. Giuseppe Saronni was always going to win that finale, Greg was in form and massively confident but he wasn't experienced in that company (yet) and was perhaps naive... Anyway I don't think that anyone else stood a chance of winning that day against the Italian.
GLF: Almost everyone gives his opinion on it. What's your take on the 1985/86 Tour de France ? Who was the strongest ? Who should have won if LeMond and Hinault had not been in the same team ?
Guy Andrews: Greg was arguably the strongest in both Tours, but Hinault had the bigger stakes, he had the riders, the team and the race all backing him to win in '85. It's easy to say that, but bike racing isn't an exact science. Physically Greg was in a league of his own, as Jeff Bradley confirms in the book, he could take the beatings and always be strong the next day. Both those Tours against Hinault showed that Greg got stronger as the race got harder. Hinault was such a tough competitor and demanded so much respect that Greg would have his work cut out to beat him on strength alone. Hinault behaved appallingly in '86, but Greg's win highlighted his character. More than that though is that he shows no resentment or bitterness about it now, probably because he knows what happened and even if Hinault believes another story.
GLF: How did you choose the pictures you ended up using ? Was it a hard choice ?
Guy Andrews: It was very hard. The picture research took around three years. There are loads of well-used photos of Greg and I wanted to find some unique stuff for the book too. There are around a third of the pictures that no one would have seen before. I owe an awful lot to Fabrice Leboulanger at Pressesports who helped me find this good stuff, although we had way too much! So editing it back was a big job. The photographer Taz Darling is my partner and co-editor at Bluetrain Publishing and she's has a good eye too – We had pictures of Greg all around the house on every wall for months! It was a hard decision sometimes, but photographically we made the right choices I think.
GLF: What made you choose to focus on Greg's career rather than a full biography ?
Guy Andrews: I was never really a fan of Greg when he was racing, but interestingly I realise that now he was the type rider I'd always prefer: The underdog, the misunderstood maverick, the outsider and a truly modest and humble guy. Everyone I spoke to said that despite his competitive nature Greg was a really great human being (a rare attribute for any elite athlete) and always stood up for the little guys. Researching all the races (outside of the Tour de France) that he rode showed me he was a tremendously gifted and [sometimes] unlucky racer. The Yellow Jersey Racer title was a bit tongue in cheek and I alluded to that in the introduction (although it was also a attention grabber and something that works well for book sales etc.) I wanted to call it loads of different titles to do with him, but publishers are nervous enough these days… But the 'Yellow Jersey Racer' for me was more about his first race (he turned up in a yellow jersey) and not so much about his Tour de France wins.
As for Greg's life away from cycling. Well, I didn't want to probe into his family life or his life after and before cycling, that really wasn't the point of the book. Maybe that's maybe a book for another day? But I also don't think that story is over just yet!