Eric Boyer
"Moments of pure happiness the richest man in the world can't buy"
An in-depths interview with Greg LeMond team mate extraordinaire Eric Boyer.
This July is the 25th anniversary of Greg LeMond's 3rd and last victory in the Tour de France. Quite an achievement in itself, it is also an unusual victory for Greg. Because, whereas his previous wins were obtained on his own or inside a divided team (US teams at the worlds, ADR, La Vie Claire), the 1990 title is the result of collective work.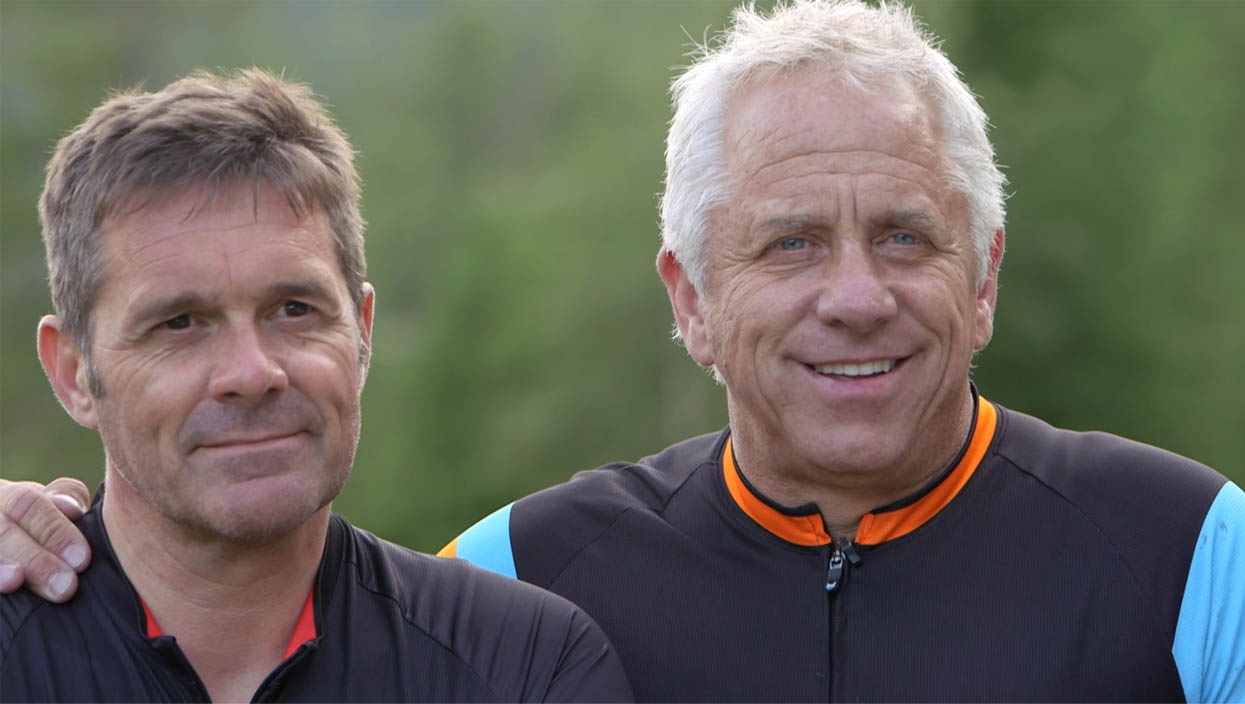 We've been wanting to meet with Eric Boyer for a long time. His insights and strong opinions are relevant on multiple levels. First, although a bit younger, he is a contemporary of Greg's. He can testify of the habits and customs of his era. Greg & Eric wore the same jersey between 1990 and 1994. Second, He worked for both Cyrille Guimard and Roger Legeay who coached Greg LeMond at pivotal moments in his career. Third, he is quite the accomplished rider himself, having finished at 5th place in the 1988 Tour de France, 6th in the 1991 Giro d'Italia, winning stages there and taking the pink jersey for a day. Fourth, he is an articulate and passionate individual : he coached the Cofidis team for a few years and he is now consultant for "L'Equipe TV", the only free sport broadcaster in France. This is in fact where we meet, at the "L'Equipe" headquarters in Boulogne, south west of Paris.
We expected Eric Boyer to be nice and interesting. We did not expect him to be so generous with his time. For half a day he took us on a Tour of the "L'Equipe" building, home of the newspaper & TV network, as well as Vélo Magazine. Eric Boyer talks a lot, as he has a message to deliver. He's been on each side of the cycling business and he wants to share what he has learned. Expect no tongue in cheek. He'll say all.
We came to talk about Greg LeMond and the 1990 Tour de France. We ended up being taught a valuable, genuine and undisputable cycling lesson. The discussion went way past this sole subject. It was too good not to be shared.
Eric fell in love with cycling very early on. Born in 1963, his family week-ends were spent watching his father race, having a picnic on the typical circuits in some remote but charming village, south of Paris. His brother and him were hooked on while they were young. When they asked to race themselves, their father instructed them to wait a few more years, so that they could build their bodies in order to endure the roughness of cycling. They also learned patience and strategy in the process. In his first year as a young rider, Eric was allowed to ride 8 races, 16 the second year, and so on. Progress was the keyword.
GLF: How did you become a pro?
EB: At the age of 17, I started to find that most races looked alike. I thought about which of them were the most challenging. The championships came up: county, region, nationals, worlds… You had to qualify for each one, in this order, be among the best each time to qualify for the next. I thought the worlds were inaccessible. I wanted to target those races, be prepared. At the time you had to buy books that were where the knowledge was. No internet. I bought Robert Leroux's book. He was Hinault's coach in his early years. That's where I learned about interval training. We were in 1980 and it taught me to do some research. I wasn't sure about what I was doing but it worked: I was 6th at the county race, 2nd at the region race and 3rd at the nationals. I was doing my stuff on my own, I was among the first ones to train like this but it worked. It didn't work at the worlds because the french team staff planned some heavy lifting when I needed a rest. How could they have known? I wasn't going to try and teach them a lesson.
GLF: they would have thought « Who does he think he is, this one? »
EB: Exactly. After this I insisted on racing the Ruban Granitier Breton. It was one of the toughest amateur races at the time (GLF: it is the same race where Greg LeMond was spotted by one Cyrille Guimard a few years earlier, actually). You could race against the Russians, East Germans, Polish… I wanted to evaluate my level, in order to progress. Everybody thought I was mad but they let me go anyway. I won the 2nd stage! I wore the leader's jersey! The french team then took me to the Tour du Limousin where I reached 3rd place, the Tour de l'Avenir where I almost won a stage. Instantly, I had Bernard Thévenet (La Redoute), Paul Koechli (La Vie Claire), Cyrille Guimard (Renault), Boishardy (Wolber) trying to have me sign a contract. I was 19, going on 20… It was a no-brainer! Renault was the best team in the world! Guimard was the best coach in town.
GLF: It was a no-brainer all right.
EB: Hinault had just left, LeMond was leaving too (GLF: it was during the 1984/1985 winter) but Fignon had just won the Tour de France twice, there was Madiot and Mottet. They'd won 10 stages during the last Tour! Every rider on the team had won one except rookie Yvon Madiot and Greg LeMond… Funny story: I had applied at Renault. Not the team, but the company! I was looking for a part time job to help out my parents and keep training. But the human resources employee read that I was riding and hoping to make it to the pro level, so she sent it to… Cyrille Guimard! I'm at home with my parents, the phone rings, my mother picks it up and it's Cyrille Guimard! I apologize and I tell him I don't think I'm ready yet; I'm just looking for a part-time job. He goes like « This is great, this is absolutely what you should do! ». It was 6 months before the Ruban Granitier Breton. So, when he contacts me again during the Tour du Limousin, he says « Was it you, last winter, looking for a job at Renault? ». Life is full of surprises.
GLF: What is it like, at Renault?
EB: Well, you had to earn a spot, you know. Riders today say it's hard, but… In THAT team? For the first training camp I stay in bed with a fever. That's rough. I hang on the following months and I'm doing reasonably well. Guimard calls me up to help out Marc Madiot at Paris-Roubaix. He knew I'd been 2nd at a cyclocross championship. I say « No problem. ». It's a hard race but I'm feeling good. I notice that Marc is standing behind the peloton and I offer to take him back up since we're closing in on the cobblestones: « What are you doing here? », I say. I bring him back and try to catch my breath. At this very moment there is a huge crash! I lift up my head. I see Marc passing by. He and 20 other riders get away like that.
GLF: Mission accomplished.
EB: I do another 50km and I quit. At the hotel, I turn on the TV and Marc wins. (GLF: Renault team mate Bruno) Wojtinek is 2nd. I'm in.
GLF: When you're in your first year at Renault, what do people say about Greg LeMond?
EB: There is a bit of nostalgia for people like Vincent Barteau. They liked him. Of course, it's more convenient for Fignon to be the only leader in the team but there's no animosity. Apparently, everyone was getting along with Greg, they weren't speaking ill of him. I think Guimard regretted him. He blamed Bernard Tapie (GLF: La Vie Claire team sponsor) for having the salaries blown up. Every rider was better for it. My rookie salary went up although I had not won a race, only because the salaries of the big stars had gone up too. Guimard felt like being ripped off by Tapie. I think Guimard would have offered the same money to Greg if he had had the budget for it.
GLF: There were words too. Apparently, Guimard said something to Greg, like: « If you leave, you'll never win the Tour! »
EB: That was Guimard's strategy, to scare the riders. He had just won the Tour with Fignon. He had a big ego because he knew too well he was the best in this sport. He couldn't imagine someone existing without him. That was his weakness. Greg was only the second, after Hinault, to dare and speak on the same tone as he did. « I'm not scared of you, we'll see what happens. ». That was upsetting, for him. That was an issue.
GLF: You make your Tour de France debut in 1986. Renault is now Système U. Fignon is in good shape after a rather good Dauphiné. The French press is making headlines about a new Hinault/Fignon duel. The team time trial comes and… You beat the shit out of everyone.
EB: Everyone, including the Panasonic team. That's my one and only stage win in the Tour de France. To be honest, we were perfect on that day. Relays were efficient; as soon as a rider felt good he was taking a longer relay, without accelerating. Of course we entered the red zone in the last 5 or 6km but it was linear, no timeout. Here's a little story: we had gone warming up further up a hill and we got lost, somehow. Clock was ticking and we had to come back. We ended up on the highway with a long and fast descent on our way back to the starting line. Guimard and Quilfen had the team cars, one at the front and one behind us. People were taking pictures of us from their cars, as they were passing us. Because we were so late, we ended up going 100km/h!
GLF: With the Deltas?
EB: With the Deltas! The bikes were shaking… We arrived 10 minutes before the start, just grabbed a towel and off we went! We were very warm! We started very fast and managed to keep the rhythm until the end. This might be why we won. And not by a second, we won with a 2 minutes margin. We were so proud, showing off a bit. Thierry Marie already had the yellow jersey since he had won the prologue. I took the white jersey, the rookie jersey.
GLF: At that moment, do you think the team can win the Tour with Fignon? It's looking good for him until the first ITT when he get crushed.
EB: I wasn't supposed to ride the Tour. At the time there were 10 riders in each team and we had so many injured people in ours that we had to hire 2 extras just in time for the Tour: Biondi and Gavillet. We did a training camp in the Col de Mente but these 2 didn't. They didn't last for long. I had done the Vuelta in april. I had finished it completely exhausted. Guimard told me: « I've had to hire new guys for the Tour. Just come with us and do what you can. ». I was in my 2nd year as a pro, it was my first Tour, and he could as well have shot me dead. Anyway… I finished it, but at what price! I thought my career was over. Parenthesis closed… Yeah, we thought we had a good shot with Fignon. But then he had a bad day at the ITT. Not doing any good. He quit after the first mountain stage in Pau.
GLF: In retrospect, do you think Hinault actually did LeMond win that year?
EB: No, absolutely not. I remember Bernard blowing up the race in Pau. Delgado wins the stage; Hinault takes the yellow jersey with a 5-6 minutes lead. He has won the Tour. He just has to follow, there's still an ITT in St Etienne. At Pau, in the evening, everybody thinks the race is over, Hinault's gonna win the Tour. The following day, the whole peloton is on its way to the start of the race, we're riding. Hinault stands 10m before the rest of us and says: « When the race starts, I attack ». We laugh. And when the race starts, he attacks! A bunch of guys go with him. In the Tourmalet, there's only one left (GLF: ex team mate) Dominique Arnaud. He says to Hinault: « Be careful, you have a 5 minutes lead, maybe you don't need to do this? ». Hinault replies « Don't worry; I'm a strong guy… », and all that. Typical Bernard. We pass Tourmalet, Aspin, Peyresourde… Comes Superbagnères and Bernard is stuck. Zimmermann does all the work to catch him. We don't have earpieces. Greg & Zimmermann catch Hinault, they pass him. There's no way Greg is gonna wait on Bernard after that. He then rides for himself.
GLF: And he wins at Superbagnères.
EB: The way I see it, Bernard wins the Tour in Pau and loses it the following day. I've never seen Greg riding against Bernard. Never. Between the Pyrénées and the Alps there's not much going on, but then there is the Granon stage. I feel very good on that day! I'm in the col d'Izoard in a 15 people strong group, including Greg LeMond and Zimmermann. Zimmermann pushes hard. Hinault is 2 or 3 minutes behind. The swiss wants to isolate Greg. Greg stays on his wheel. He never helps Zimmermann. I am dropped at the foot of the Granon and I am caught by Hinault. I stay with him for 1km. You can look at the footage: you can never see Greg riding against Hinault. Never. The day after that is l'Alpe d'Huez where Greg and Bernard end up arm in arm. Bernard sets the pace and Greg stays beside him. Greg always said to me he could have attacked but Hinault told him: « Stay behind, I set the pace and we win together. ». Knowing Greg, he's an honest man and he admires Hinault. He just says Ok. You get the feeling Hinault is dragging Greg, but it is in fact Greg staying put, because he was told they'd stay together. Greg is smart. He's thinking « Why attack? Zimmermann is out, I won, might as well stay with Hinault. ». He offers the stage win to Hinault, which is fair. Tour de France is over. But then, in front of the cameras, 5 times Tour winner Hinault won't admit this is over. He says « You know, I stayed with Greg… ». Everyone suggests he could have dropped him. He doesn't deny. He doesn't say he could have, but he doesn't deny. He implies he was the strongest. We're dealing with strong egos, there. Hinault suggests he « offered » the Tour to Greg, well (he laughs)… I always though Hinault lost the Tour at Superbagnères.
GLF: That's also what Jean-François Bernard thinks. He thinks Hinault wanted to go on a last big bang, being his last Tour and all…
EB: Maybe he was influenced by Bernard Tapie Too. But if Cyrille Guimard had been his coach on that day, in Pau, he would never have done that. He would have won his 6th Tour.
GLF: Except… If Guimard had been LeMond's coach, he would never have let Hinault go in the first place.
EB: That too, yeah.
GLF: When Hinault attacks, Greg doesn't know about it. They didn't communicate about it. Maybe this is where the scam lies.
EB: At this point, this is where the race starts. I don't see anything wrong. The first to draw wins.
GLF: That's true.
EB: Greg is trapped by his own naivety. Bernard is experienced. Greg is being naive if he thinks he is safe from Hinault. You can't blame Bernard. He makes sure he's taking the lead. It's not a scam. It's a good trap.
GLF: I talked with Hinault in 2008. It was just when it was announced Armstrong would come back to ride the Tour in the Astana team, with Contador. When I asked him about that, his reply was instant. He said: « It's simple; you have to be the first of the team to take the yellow jersey. After this, anyone from the team attacking you is a traitor. ». Then I asked him if that was what he did with LeMond, he said: « Nooooooooo…. » (laughs)
EB: Although that's precisely what he did. Greg learned a hard lesson in Pau. It's fair game. I can see why Greg would think it's not fair but I think it is.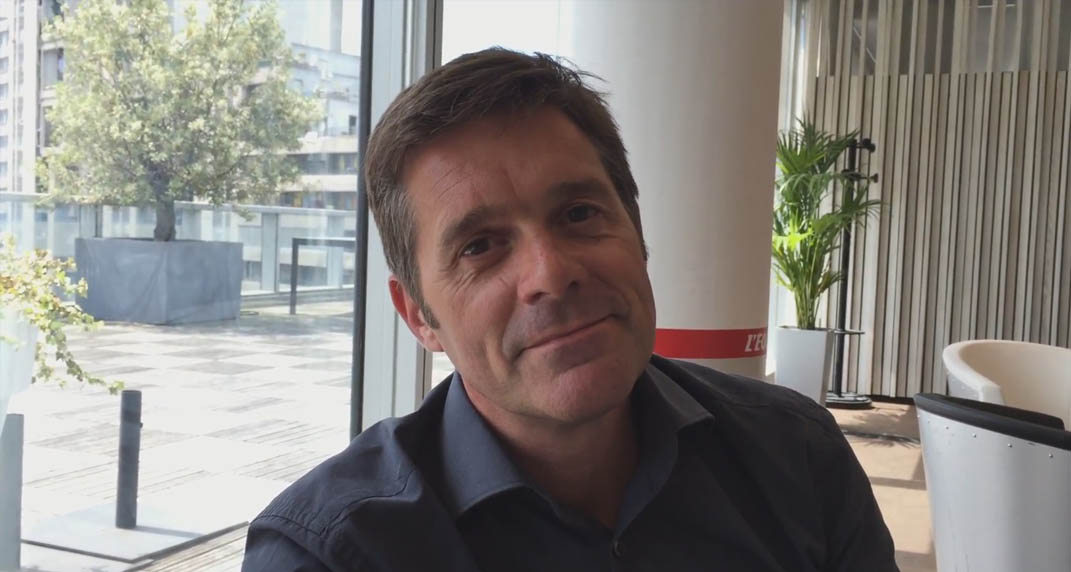 GLF: Let's move forward to the 1988 Tour de France. At the start, you have 2 team leaders: Laurent Fignon and Charly Mottet. And yet, they quit and you end up 5th in GC on the Champs Elysées.
EB: That's it. They both seem to be in a very good shape before the Tour. Guimard is happy because he has a strong leader in Fignon and a backup with Charly if anything goes wrong. I was doing well too; I was almost French champion a week before the Tour, being caught by winner Eric Caritoux in the last lap. Guimard thought I was individualistic, he warned me after that race: "I want you to dedicate yourself to Laurent and Charly for the Tour. You'll have to forget about your own agenda". I said of course, no problem. The Tour starts with a goofy prologue: we are supposed to do a TTT with only one rider finishing on his own… That's ridiculous! (Laughs). I don't remember the flat stages too much. We reach the mountain at Morzine. Not too hard a mountain stage, but still… Fignon vanishes very quickly. From the first climb he's very bad. I'm at the limit but I manage to reach the summit with the top 25 riders. Fabio Parra is already gone for the win. Charly Mottet's here. I'm told not to wait for Fignon. He's stuck. He'll quit the race en route to l'Alpe d'Huez the following day. This one is a big mountain stage with the Croix de Fer climb then l'Alpe d'Huez. At the foot of l'Alpe d'Huez, there are still 20 of us. I have to stay with Charly but it's really hard for him in the first few slopes. I wait for him and set the pace. He's going back and forth in my wheel for 4km. He screams at me: "Go ! I'm dead, it's no use. Go! », Guimard is yelling « Stay with him! ». After a while, Guimard realizes it's over and allows me to go. I must be in 15th position; we're all in small groups. I catch them one by one and I finish 6th at the top. It's a relief, but not enough to compensate the loss of Fignon and Charly's failing. We head to the Pyrénées and Charly calls it quits too. I have no leader anymore. Guimard is grumpy and orders us to go after a stage win. I'm 8th at GC but he thinks I'm gonna explode soon. He doesn't believe in me. I hang on.
GLF: You end up in the top 10 in every mountain stage.
EB: That's it. I exit the Pyrénées at 5th or 6th place. We're left with the Puy de Dôme climb and the last ITT. I'm not a hero but I kind of save the day, after all. There's a huge pressure from the media. The stars aren't there: Fignon, LeMond, Hinault… Delgado and Rooks lack charisma. The French media focus on the 1st French spot. Pensec and I embody the "new generation". He's already been 6th in the Tour, in 1986. Hinault is gone, Fignon is bad… People try to oppose us. Sometimes we fight a little. I tell him: "I don't give a fuck about being the first French!" To me, the 5th place is more important. My goal is to reach the podium. Pensec kind of liked the idea of having the spotlights on him…
GLF: Because he had already had them before. He knew.
EB: That's it. There's a big fight on the Puy de Dôme. I do a good time trial and keep my 5th place. Ronan ends up at 7th place. This is good for me, the sponsor has had some exposure but we still have to win a stage. Guimard is frustrated. 1988 was supposed to be his big come back at a Tour win with Fignon. He calls us for a meeting and starts yelling: "If you don't win the stage tomorrow, I cancel your bonuses, your expenses, everything! You don't get a dime!" Then he slams the door. It's a shock. Thierry Marie is kind of traumatized. The following day, in the last kilometer… We're going fast, I swear… Indian file like… Thierry Marie breaks out… Takes a 100m lead… It's a 1km avenue, straight line! Fuck… I swear… I'm trying to stay clear of crashes so I'm at the front of the pack and I see the guys… Van Poppel, Belgians, Dutchs, Vanderaerden (he winces) to prepare the sprint… My man Thierry Marie keeps his 100m lead, so impressive! All this because he was yelled at by Guimard. It worked with him. He wins. Honor is safe (he smiles).
GLF: Your status changes among the peloton? Is this why you're hired by « Z »?
EB: Of course. Right after the Tour I have 7 or 8 team proposals. It's a mess. I have no cell phone, no agent, and no counsel whatsoever. I have to stay by the phone, at home. I discover the pressure of being under the spotlight. That's not easy. I'm attracted to Z. Pensec and I are the same level and age, we're making progress. Roger Zannier (GLF:"Z vêtements" boss) has charisma. Bernard Vallet wants me at RMO… I'm disappointed because I feel like Guimard makes no big deal out of my 5th place in the Tour. I understand that when you've won it 7 times, having a kid doing 5th isn't all that exciting, but still… I feel let down. I suspect Fignon is going to do good again at some point, Mottet too, I'll always be 3rd in line if I stay at Système U. I don't feel like being the only leader, either, so sharing the load with Ronan makes sense. We know each other. It's an ambitious sponsor with a family business, colorful. I like that. Teka is offering me a ridiculous pile of money. I almost join Seven-Eleven at one point. It wasn't the typical American war machine, they were modest, dedicated with strong individuals like Hampsten, that was "exotic"… I choose the security and sign at Z. I call Guimard to warn him. I'll always remember when he says "The team is finished, then." He was crying. Madiot had gone at La Vie Claire, Charly Mottet was leaving too, for RMO, and it wasn't sure wether Fignon was going to do good again or not. Turns out Fignon has an awesome season in 89.
GLF: Awesome but frustrating
EB: Certainly. I do not do very well. I catch a viral hepatitis in the winter and tell no one. I figure it'll be gone in 2 months. In fact, it takes 6 months to heal. I quit the Tour on a crash where I break my wrist. It's a relief, really, as I don't think I could have finished the Tour anyway. I confess to coach Roger Legeay my illness. He's not happy with me.
GLF: Ronan Pensec doesn't do very good, does he? I don't remember him in 1989?
EB: He's not on the Tour. Zannier realizes that what we've been doing this far is nice but winning is a whole other thing. In order to win, you got to hit big: LeMond, Fignon, maybe Delgado or Roche… It's not a 50 names list.
GLF: Mottet and Fignon are number 1 and 2 on the UCI rankings.
EB: Yes. So… The team wants to keep us as team mates for a big name. They tell us they've made an offer to Greg LeMond. On the eve of the world championships, Greg signs at Z.
GLF: What made things go your way is that Roger Legeay was already trying to get Greg before the 1989 Tour de France.
EB: Yes. Greg was still trying to come back to his former self. His team management at ADR was ludicrous. Roger was the first to go and see him.
GLF: Greg is loyal, indeed. So, you see Greg integrating the team?
EB: He is the winner of the Tour and he brings a world champion jersey with him! That's quite impressive. He comes with his extended family: his wife, his kids, Otto Jacome, Julien De Vries. Greg also brings with him a new idea of cycling, with rigorous training methods. There is hard work, then relaxation after the race. His wife brings him comfort, calm… That was strictly forbidden with Legeay before. The rule was: no women on the races. I wasn't too fond of that rule. Guimard was much more flexible on that topic, believe it or not. Legeay had a shotgun for every woman in sight…
GLF: Kelly had a "no sex" rule 2 weeks before a big race.
EB: Yeah, well… Between what they say and what they do… Greg had sex the night before he won the worlds!
GLF: (laughs) That's what he said, yeah.
EB: Legeay was disturbed, but in a good way. He said a little flexibility could be helpful. I like when things aren't too tense. You have to have rigor, but you also have to let go once in a while. Greg's behavior with people was great and it was instantly appreciated. That's not marketing. Greg needed to check on his team mates, ask about their wives and families, about their kids. He's a natural. He's a born leader, both on and off the bike. He took care of his circle, his team mates, and his staff. His early 1990 season isn't too great, as usual. He's not winning. He's not too bad, either. We go to the Giro in order to prep for the Tour.
GLF: Is he working for you at the Giro ? You're doing well.
EB: No, I handle things myself. At one point we are by the seaside and a mountain comes. It starts raining, then snowing. We do not have earpieces. I call the team car where my coach is. Then I call again, and again… All the Italian riders are given clothes. I'm on my own in the front group. Greg is far behind and the car stayed with him to give him his clothes. We have to keep him safe for the Tour, it's natural. Then the descent comes. It's raining heavily. Everyone has a thermal vest, I'm in my summer clothes. No baselayer, nothing! I'm shivering and I get dropped in the descent. Then the team car arrives but… Go on and try to put on a waterproof jacket in the cold descent, with the wind and all… I stop because I am trembling. Duclos-Lassale catches me, we go down the road and I'm warming up again. We are 1 minute behind the leaders. We chase them for 50km, we can see them cars. We have 30 guys behind us and none of them is giving a hand. I explode, we give up. We're 20 minutes late at the finish. In the evening I flip out! I blame Legeay because I didn't make any mistake. He thinks I'm not brave enough, I should have put up with the cold… I'm on the verge of slamming the door and just go home. I'm in good shape so I stay in the race. Since I'm pretty far at GC, I'm allowed to attack. I win atop a 5km climb at Baselga di Pinè, then 2 days later I win again. We start in Austria. Greg is in a break away all day long. When he is caught I attack along with 6 or 7 other riders. There's a ramp at the finish where I escape 1,5km from the line and I win. I save the team's Giro and the more we move forward, the better Greg is feeling. Things are looking good for the Tour, except… When the Tour begins, we get a 10 minutes deficit from the start. Pensec, Bauer, Chiappuci and Maassen are away. We have to play the Pensec card, you never know… We didn't think Chiappucci would become what he turned out to be. We're on the razor's edge.
GLF: And Bauer is a friend of Greg's.
EB: True. For the first mountain stage in St Gervais, Claveyrolat wins, Greg is right there but he stays put. Pensec attacks during the finish because Bauer and Chiappucci aren't too good. He takes the yellow jersey. The following day, at l'Alpe d'Huez, there isn't much happening. Pensec and Chiappucci lose some time, Greg stays with the best. He doesn't attack; he lets Pensec do his race.
GLF: Did you believe, at one point, that Pensec could win the Tour?
EB: No (silence). He's having a good day in St Gervais but other than that, he loses time constantly. Chiappucci shows he is better than Pensec, a little bit every day. It prevents us from working just for him. It's too dangerous. Ronan, Kvalsvoll, Millar, Cornillet, Jérôme Simon and I had a goal : shake Chiapucci off, make him blow up.
GLF: The Saint Etienne stage is beautifully played: Pensec attacks, Chiappucci's team has to chase him, only to see Greg counter attack when they're cooked.
EB: That's magnificent. But it's not done yet; Chiappucci is still in the lead. En route towards Luz Ardiden, he attacks and we catch him on the Tourmalet.
GLF: Greg attacks in La Mongie.
EB: Delgado and Indurain accelerate. Greg goes along but Simon and I are dropped. Cornillet is a bit forward. I try to come back but I see Greg's group catch Cornillet and he's riding ahead! Chiappucci is not doing well so Cornillet is right to go full gas but if he had waited just a little bit, we could have ridden, both of us. Cornillet leads Greg to the bottom of Luz Ardiden and Greg does the rest, with Indurain on his wheel, Miguel wins the stage. I think I end up 9th on that stage, not too far. I had to, for the sake of the team classification. After this, we almost lose everything at Marie-Blanque, with Greg's flat. Simon and I had just been dropped; we were 300m behind LeMond. All of sudden, we see Roger Legeay's car coming, full gas. Not as in the Giro. He almost crushes us. A little further we see Greg climbing back on his bike. We understand. We go down like crazies! In the valley we find ourselves 1 minute behind Chiappucci and his cowboys. Duclos and Kvasvoll were in a break up front. They wait for us. When we catch them, we all ride like a train and recapture Chiapucci eventually.
GLF: Greg takes the yellow jersey at the Vassivière ITT.
EB: I don't want to sound pretentious but when we arrive there, we know Greg will win the Tour. He's extremely confident, serene, relaxed. He makes up his 5 seconds deficit pretty quick, sets a gap and then manages to get to the finish. He knows nothing can happen to him on the last day.
GLF: Then, there is a big party.
EB: The Zannier family knew how to party and reward the team. They had rented a houseboat on the Seine. It was an open bar party and we slashed the champagne at 6AM, showering ourselves with it. There was a one inch deep sea of champagne on the boat, swaying left and right as we crossed other boats. Zannier told us that when he went back to the houseboat to pay for the party, the captain told him: « I've had soccer players, I've had rugbymen, that was my first time with cyclists… never again! »… These are moments of pure happiness that the richest man in the world can't buy. Riding the Champs Elysées with the yellow jersey in your wheel…(long pause)… The richest man on the planet cannot buy that. It's not something you acquire with money. You have to live this, you have to go and get it. I said this to bankers: The feeling of victory in sport, this is something you can't buy. The richest man in the world can't buy these emotions. They're not for sale. That's impossible.
GLF: There are good things in 1991, your Giro is successful.
EB: I want to go back there because I have the feeling of an unfinished business. Greg wants to go too because that's how he won his 3 Tours. He has a training plan, landmarks. We win the 1st stage with Casado, he takes the pink jersey, that's great! After a few days, we take the boat one morning and we arrive in Napoli. We go check the circuit for tomorrow because it's 6 or 7 times the same route. I feel great! There's one climb and I'm doing very well on it. Right next after it, I notice the descent is in betweens fields of oliviers. It's june and the road is greasy. I'm making mental notes about which turn is full speed and which one isn't. Greg having no ambition, I'm free as a bird. In the last lap, I attack mid-way through the climb. I'm caught 500m from the top but rather than letting myself be absorbed by the peloton, I remain in the first few ranks, and… I attack again ! It's not something that's normally done when you get caught (he smiles). I start the descent on my own, full blast. The TV motorbike behind me crashes. On TV, you see the sky, the road, the oliviers, the road, the sky (he makes rolling gestures)… The helicopter has to take over. I win the stage and I take the pink jersey. It's frustrating because for my day in pink, there is a climb 10km before the finish and nobody's there to help me. I'm attacked from all sides. Since there was no prologue, gaps are very small at GC. I catch one guy, then the next guy, the next one after that but at one point I can't go anymore. I don't blame anyone, it's just frustrating. I end up the Giro at 6th place because every day I'm feeling well and try to score another stage. But I feel much more tired after the race than I did in 1990.
GLF: When he leaves the Giro, Greg says it has become too hard a race to prep for the Tour.
EB: Making the same program year after year is difficult. Back then, we didn't have SRMs, we had to act on sensations. We feel like Greg isn't too bad, but he's not the same as last year. It's also true for me, Pensec and Kvasvoll… We're all in between places. The Tour starts well; Greg takes the yellow. But then comes Jaca… Greg is at the front, but he has no team mate. Not a single one.
GLF: What happened ?
EB: We're no good (long pause).
GLF: Are you ? Or is it the rest of the bunch that's doing super good?
EB: In 91? We're no good. Less good than in 1990. Just a tad below, but it makes a world of difference. Indurain, Bugno, Chiappucci, Fignon, Mottet… They're all doing well. Greg is attacked. Luc Leblanc is flying that day and he takes the yellow. At dinner, we're not proud of ourselves.
GLF: Greg is pissed.
EB: He's angry at us, angry at everyone but he's never mean. He says: « It's not lost yet, we can win the Tour but we'll figure it out as soon as tomorrow. I want you by my side. We have to make things work. ». Fortunately, I feel better the next day. I can feel the taste of blood. It is a big stage: Tourmalet, then Aspin and Val Louron. The race blows up as soon as the Tourmalet. Fignon is dropped. Is it where Indurain goes away?
GLF: I looked back at the footage last night. In fact, Greg attacks at the foot of the Tourmalet, he's bluffing. After that, the leading group climbs together until the last 400 meters, where Greg jams. Indurain and Chiappucci go away in the descent.
EB: OK, that's it. But I see Greg all along. He's like 30 seconds away the whole time. It's too much for him to wait for me. I'm 5 seconds behind Fignon. I remember this because my father was standing at the summit and he told Fignon to wait for me… As if Laurent gives a fuck! (laughs). We both go or an « open coffin » descent but there is fog and I can't catch Fignon. In the valley, I'm like 15-20 seconds away from Greg and Roger tells me "Go! Go! Go!" I'm like: « Tell him to slow down a little, I'm right there! ».
GLF: This is after Aspin.
EB: Yes! But for the whole Aspin climb I'm standing 20 seconds behind! I'm not on camera because they're focusing on Luc Leblanc who's about to lose the yellow jersey.
GLF: You only get mentioned when you're about to join Greg.
EB: And I've been there since Ste Marie de Campan! (GLF : Foot of the Tourmalet). Had I been there in Aspin…? We now know that it wouldn't have made much of a difference because Greg was no good anyway, but still… So, I feel very good when I catch Greg and go through the valley to Val Louron at full speed. But as soon as we start climbing, Greg suffers a lot. I wait for him, of course, there's no point in trying to win the stage, and we're too far from the lead. When the race is over, we still believe that if Greg comes back to being "THE" Greg LeMond, he can blow everyone away. But as it turns out, it's over.
GLF: He takes a big blow in Morzine, I think.
EB: He takes blows a little bit everywhere.
GLF: However, looking back at it, it seems that Greg's ascent on l'Alpe d'Huez that year was the fastest he's ever made. He's slower in 86, which is to be expected since Zimmermann is already far, in 89 he's fighting with Fignon, in 1990 nobody's really attacking, the whole group stays together.
EB: Sometimes, it doesn't make much sense. Indurain win his first Tour eventually, Chiappuci is second. Where's Greg?
GLF: 7th.
EB: 7th. The Z team is just not as good as in 1990. We try to redeem ourselves in 1992 but this time it's Greg that's no good at all.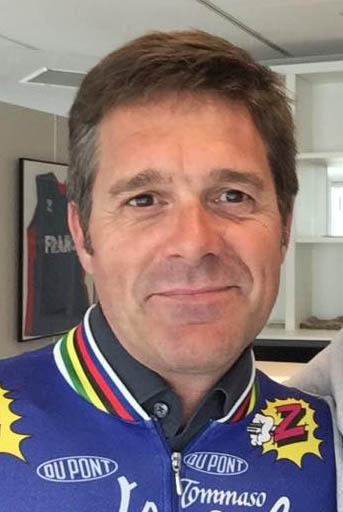 GLF: 1992 is Greg's best spring season since 1986: Great team work at Paris-Roubaix with Colotti and Casado protecting Duclos, Victory in the
Dupont Tour. Both of you make a good Tour de Suisse. My brother meets Greg there and it seems Greg is confident he's going to smash Indurain in the Tour.
EB: Of course, he is. He has a good spring, linear results. All signs are good. No sign of weakness whatsoever. We're very confident for the Tour.
GLF: But en route to the start of the Tour in 1992 there's an air strike and a truck drivers strike. It takes him 2 days to cross France, by car.
EB: He hasn't slept in 24h when we meet him. He's grumpy. We feel that he just needs a good night's rest. No big deal. There is an average mountain stage right from the start but afterwards he can relax for a week or so. He's doing Ok until the big guys attack atop Marie-Blanque. He's not feeling well. I'm at the front; Greg is 30 seconds behind with a few team mates. Legeay asks me to wait and I comply. I have to say, I feel so great that day that I am able to bring everyone back on my own. When we reach Pau, there's no harm. At the hotel, Kathy LeMond is in tears and she gives me a big hug. Greg is adorable, very appreciative of the work I've done. Sometimes, you have an exceptional momentum and you're able to ride so fast… Anyway, we think it's gonna be alright, we dodged a bullet, it's gonna be fine. Except everything goes wrong.
GLF: There is the infamous Luxembourg ITT where Indurain puts everyone 3 or 4 minutes behind. Don't you start asking questions? With the PDM epidemic the year before, it raises eyebrows, doesn't it?
EB: Yes, it raises questions, but not that kind of questions. We don't have an answer for Greg not doing well. Not in 92. In 93, when we think about it, we realize it started in 92. But in 92, we believe only 6 or 7 guys are on EPO. And these guys aren't just anybody. Only Chiappucci is dubious, he's never done a thing and reaches an A-list level in no time. This one is really fishy. Indurain had a really linear progress over the years, and Bugno isn't a John Doe. There's hardly any crook. Mottet, Fignon and Delgado are still there, not as good as they once were, of course, but they are. It's Greg who looks nothing like who he was back in 89 or 90. He has a huge breakdown in the Alps. With Duclos, they're stuck on the Galibier, like 50 minutes behind! We don't question Chiappucci or Indurain, we question Greg first. He clearly has a problem. He's never been that way, 50 minutes behind! The tank is empty, there's no fuel left. When someone regresses, it happens little by little, there are signs. This, on the other hand, is a full stop. The man just won't ride. It has to be a health issue.
GLF: Recovery was one of his biggest assets, so far.
EB: We believe that, if it's a health issue, we're gonna fix it! There's still hope for next year. We have to narrow down the problem to its source. It's not age related, we can't fix that, but it's a slow process. This, once again, is full stop. Problem is, Greg's problem is very atypical. It's never been seen. His body is starting to react in the worst possible way to training. We won't know exactly for another 2 years. Greg still has lead pellets in his chest from his hunting accident in 1987. They're in his very heart! It's poisoning him, little by little, until it reaches his mitochondria. It's a form of myopathy. And Greg announces it 2 days before the French telethon, in 1994. Late 92, Greg is absolutely certain he can be the one he once was, once again. But 1993 is blank for him. It is blank for me too. I just have one good day, which is a kind of a miracle. There's one rainy mountain stage at the Dauphiné where I feel awesome and I do 3rd. I end up 3rd at GC as well but it's truly a miracle. That's the only day of the whole year I have felt any good. That's it for 93. I don't even remember Greg in 93.
GLF: It's funny that you say that, because he told me the same thing! He can't remember the years 93 & 94. To make him smile, I said "You don't miss much." He has a tendinitis, I believe, in 93; he's DNF at the Giro. In 94 he's 3rd at a Dauphiné sprint where Kelly is 2nd. Then there's the Tour. You're not at the Tour, are you?
EB: No, I'm not. I watch the TTT on TV where the guys are waiting for him… That's an awful sight. He quits. Roger Legeay wants Greg to announce on the spot that he's retiring. Greg basically tells him he can stick it up where it belongs. Even when he learned he had a myopathy, Greg was not giving up. Maybe not for long, but he was in denial. Then he went back to the States and we didn't see him again after that.
GLF: How does your end of career look like?
EB: I'm not good at all in 94. Before the Tour, Roger instructs me not to go to the Tour, as some kind of punishment. He treats me as a child, like I'm grounded. I'm 32, there's no way I'll ask to go to the Tour. I'd be useless. Now THAT would be a punishment. But there's no dialogue, no vote of confidence. He's being bossy as if I was a young stud. I tell him: "Thanks Rodge!" (Ironic) "I don't even want to go to the Tour, for fuck's sake! Since you're acting that way, I inform you that I'm not signing for that team again. And since I'm informing you this soon, you owe me to take part in any race I want, so that I can find another team!" He's like "We'll see". We part ways. I race as I want but I'm not doing any good. I go to team Polti's coach, Stanga. Cyrille Guimard vouches for me. He tells Stanga I'm trustworthy. My salary is beyond ridiculous but I don't care. It's all or nothing. I bounce back or I retire. I work like a dog: Giro, Switzerland, Tour de France… I quit at Marie-Blanque. It's that place again. I could have grabbed the team car since it was the day after Casartelli died so the race was cancelled. I wouldn't have been eliminated. But I wasn't going to cheat, that's all. I call it quits 2 months later… This year, 1995, is when I discover that everything I had suspected was true.
GLF: Meaning ?
EB: I had first read the letters EPO in a small article in 1992. Dr De Mondenard was writing about suspicious activities in the peloton, use of EPO. Word started to spread in 93-94 but it was mainly the Dutch, the Italians, and the Belgians. Ferrari and Conconi started it. Dutch and Belgian doctors went and got trained. No French doctor wanted to be a part of it. We'd heard about deaths in Belgium, in Holland. We weren't buying this.
GLF: (ex-team mate) Phillipe Casado ?
EB: We will never know about Philippe. He retires in October 1994, dies on a rugby field in January 1995 of an aneurysm rupture… It's not conclusive. He's not doing well while he's at Jolly, in 1994. He would have been better if he had taken EPO. It works for everyone. On the contrary, he's so bad that he quits. You can't say he took it. When I'm at Polti, it's right there (he shows the table). I was bad. If I had taken it, I would have been much better. I saw average riders take it and do really well. I was dropped all the time. I was still able to do the "domestique" job, but when it got tough, I was out. EPO allows you to last longer. I could have done it.
GLF: I think Greg told the story of Casado telling his old team mates everybody was on EPO. There was a pow-wow in the Gan team and Roger Legeay refused to take part in the distribution of EPO. Greg said he'd always respect Legeay for this.
EB: I wasn't there but that's probably what happened. In France, there was no access in those years. We weren't winning, sponsors were moving away. It's only later that some French teams hired foreign doctors. 96, 97, 98… The doctor at Festina is Belgian; I'm not even naming the other ones… (hopeless smile). Did Gan do it later? I don't know. It doesn't look like it.
GLF: That's depressing.
EB: It went so fast, you know. From one year to the other, everything changed.
GLF: Even as a spectator, I couldn't believe it anymore. Greg gone, my interest softened, but these guys… I couldn't relate to these guys, climbing with their hands at the bottom of the bars. I couldn't identify.
EB: No failing, Only accelerations…
GLF: …Riders popping out of nowhere.
EB: No attacks, the purge coming from behind… Everyone accelerating until there's only one left. Climbing landmarks blown up to pieces. We were lost (GLF: he says the word 3 times). I was doing so well in the 1992 Tour de France. Greg gone, I was free of my movements; I was doing great at l'Alpe d'Huez. I finished 3rd. There's a guy in 2nd place. His name is Vona. Franco Vona (ironic tone). Hampsten wins, he's better than I am, there's nothing wrong with that. But… Franco Vona, man…You think "Where does this dude come from???"
GLF: Right, a crook. We're running out of time, let's change the subject. What's your memory of LeMond bikes ?
EB: First and foremost there are the triathlete aero bars. It's funny because people thought Greg had tested these for a year, using a wind tunnel, with engineers and stuff… (laughs). But in reality, Greg just came to the Tour, screwed that thing on his bars, refined the position and just went for it! Just like that! He led people to believe it was an elaborate thing and all (laughs)… It was a slap on the face of Guimard because all new technologies were supposed to come from him and bike brand Gitane : the Delta wings, the TT bike… they had done such a tremendous job. When they were told to do as Greg, their reply was that they couldn't possibly use a wind tunnel as well! (laughs)… It's too bad they couldn't be more reactive. Greg was always very thorough about the hardware. We were the first to ride carbon bikes with TVT.
GLF: Did you keep one?
EB: No. I regret it. Then there were the black ones (GLF: Calfee). Greg was always the innovator. We had the Giro helmets. We were sure to be granted the best equipment available before everyone else.
GLF: You never used the Scott drop in bars?
EB: Of course, I did, but… That was ridiculous.
GLF: They looked cool.
EB: They looked cool but they were pointless. When you're testing stuff, sometimes there's a miss, it's normal. You make mistakes. You have to try to be sure. It could look like folklore but it wasn't. Greg really was on top of things regarding aerodynamics. It's a thing watching triathletes; we'd all seen them, but to be the first to seize the potential… I thought those guys were just resting their shoulders because they had just swum! I'd never have thought it was for aerodynamics's sake. But then again, triathlon was already big in the US.
GLF: Were you and Greg ever roommates?
EB: Oh yeah, sure! We were both messy. You could have tracked us to our beds: jersey, then shorts, then shoes and socks… We were stripping as soon as we entered the room. Duclos and Lemarchand could never have coped with such a mess. Then, there was the matter of the open window at night. Greg was always too hot at night and left the window open. He did it in the summer, which was fine. But he did it in winter too! He was naked on the bed with the window open. The guys were scared to catch a cold. I was Ok with it. Besides, we got along well.
GLF: Wasn't he talking all the time?
EB: I don't think so. He was going to sleep late, I did too when I was doing Ok. Maybe he was reading and I was watching the television. There was no internet and I could keep the remote for myself, although I liked to read too. That was convenient. On the Tour, he was on his own most of the time, since there were 9 of us. But as soon as someone quit, like Millar did in 1990, we were together. We also bought an extra room when there was one because his family was there, etc…
GLF: 3 words to describe Greg ?
EB: (thinks for a while)… Holy cow, that's harsh, uh…?... Human… Loyal friend… And a great champion. That's it.
We would like to express our many, many thanks to Eric Boyer for that wonderful moment. In our book, "human", "loyal friend" and "a great champion" suits him very well too.